4/28/17: This recipe for Summer Strawberry Pie with Shortbread Crust has been updated from the original- if it looks different than you remember, that's why. The end result is exactly the same and the changes are just slight tweaks in the method. 
Also! If you love the sound of this but would prefer a nut-free crust, simply use the crust from the Grapefruit Tart instead. 
I remember the first time I had strawberry pie.
I thought it was disgusting.
In my defense, it probably was. It was made with strawberry Jello, and I'm guessing a whole lot of white sugar. The pie crust was store bought, which to me, tasted like chemicals. Store bought pie crusts were a thing of mystery to me, since the only pie crusts made in my mom's house were made from scratch with a lot of swearing. (I learned from a young age that the more difficult a pie crust was to handle, the better the end result)
Fast forward 20 something years, and the pie crusts made in my house are made with an assortment of grain-free flours, and I'm actually seeking out gelatin. But not the day-glo stuff we've come to associate with hospitals and school cafeterias, but the good stuff. It turns out that gelatin is pretty damn good for us when it comes from good sources. I could go on, but I'd be amazed if you were still reading this, considering there's a recipe for strawberry pie right around the corner. I know that Grass Fed Girl and Balanced Bites have all sorts of nerdy nutrition fun about how good it is for you… Some good reads for you while the pie is cooling!
Having a flat of strawberries from the Farmers Market inspired me to give this bad memory of a pie a paleo makeover. The simple shortbread crust is barely sweet, and holds up remarkably well to the sweet berries that are held together by strawberry puree and gelatin.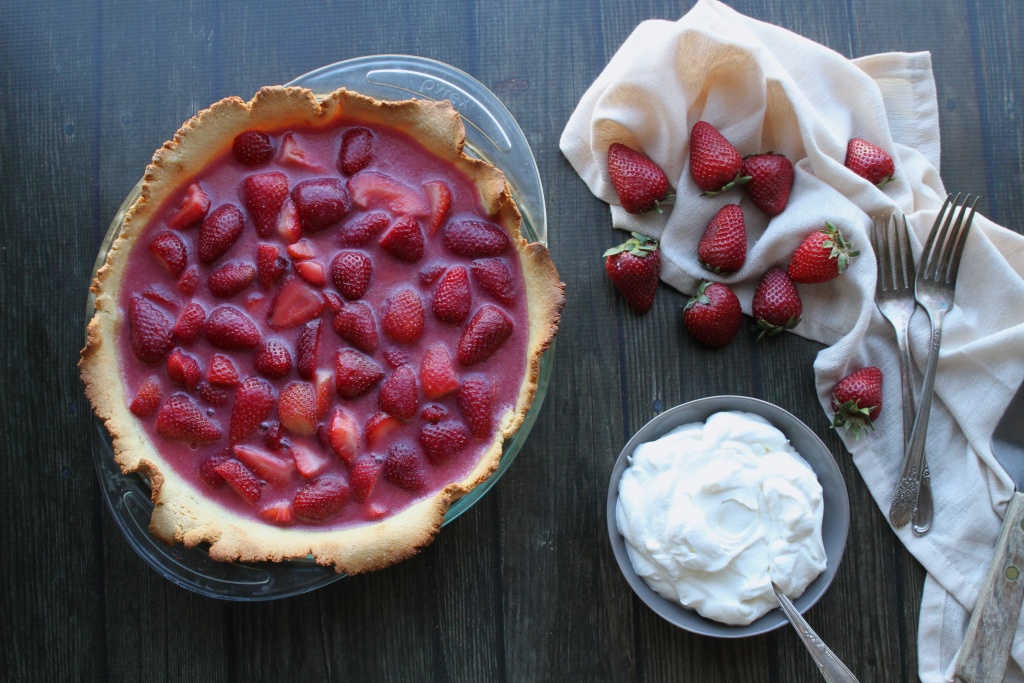 And [shocker] it's even better with whipped cream, dairy or coconut, whichever you prefer. As far as whether you serve it on the side or plop it right on top, that's completely up to you.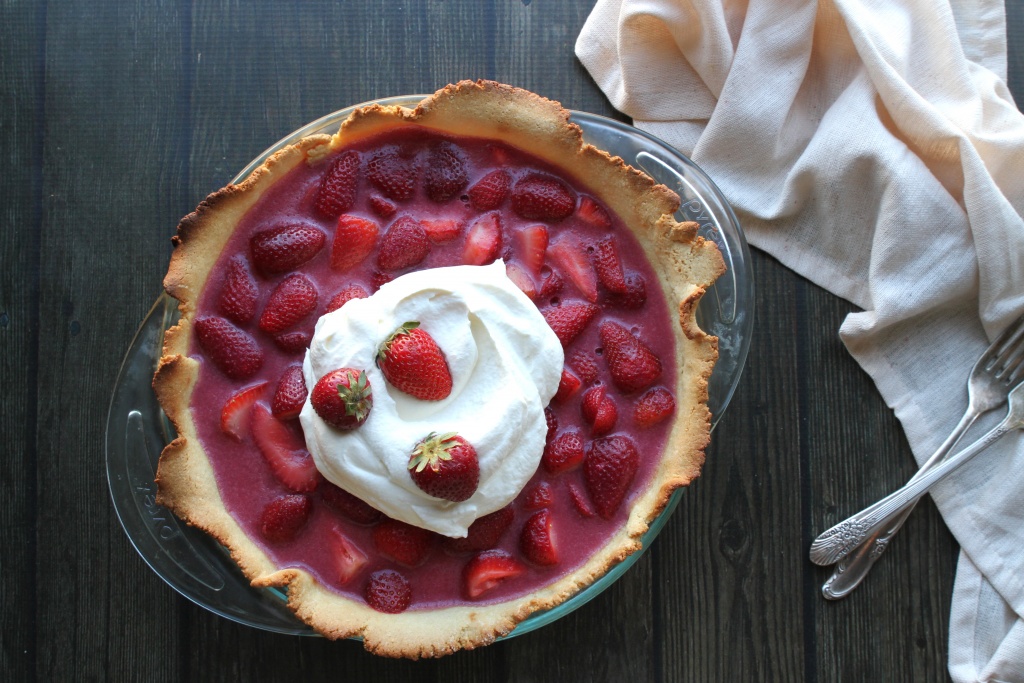 Summer Strawberry Pie with Shortbread Crust
For the Crust:
2 tablespoons butter, melted (coconut oil for a dairy-free version)
2 tablespoons honey
1 large egg, well beaten
1 ½ cups almond flour
1/2 cup plus 2 tablespoons arrowroot starch 
1 tablespoon coconut flour
⅛ teaspoon salt
For the filling:
1 tablespoon grassfed gelatin
2 pounds strawberries, washed and hulled
1/2 cup water
1 tablespoon honey (optional, if your berries are on the tart side of you'd like your tart a touch sweeter)
Preheat oven to 350

Combine the melted butter, honey, and beaten egg in a small bowl. 

In a large bowl, whisk together the almond flour, coconut flour, arrowroot, and salt.
Combine the wet and dry ingredients and stir / knead to combine. It should be just a little but sticky, but still kneadable. If it's too wet, add a teaspoon of arrowroot at a time until it comes together.
Wrap in plastic wrap and refrigerate for 30 minutes, or until chilled. (If you're feeling really impatient, you can skip this step, but it helps make rolling out easier)
Roll out a 10 inch circle in between two sheets parchment paper. Remove the top sheet of parchment and using the bottom sheet, flip the crust into the pie dish. Crimp the edges as desired. Poke holes in the bottom of the crust with a fork.
Bake at 350 for 14-18 minutes, or until golden brown. (Cover edges with aluminum foil after about 10 minutes if they're browning before the rest)
Allow to cool. (I put it in the fridge on a rack after it's cooled at room temp for a bit)
Meanwhile, make the filling:
In a small bowl, sprinkle the gelatin over 2 tablespoons of cold water.

In a blender, puree 1/4 of the strawberries (about 1/2 pound) in a blender with 1/2 cup of water until very smooth. 

Pour into a small saucepan and heat until just steaming. Turn off the heat and whisk in the honey and gelatin mixture to dissolve. Allow to cool slightly, about 5 minutes.
Slice remaining strawberries and place in the cooled crust.
Pour the gelatin into the crust, give it a little shake to evenly distribute.
Return to the fridge to cool and set completely. (about 2-3 hours, depending on how cool your crust and gelatin was when you assembled)
If desired, top with coconut whipped cream (or regular whipped cream if you're a dairy eater.)
To make coconut whipped cream: Go back in time and put a can of coconut milk in the fridge. The next day (today!), Open it without shaking, and scoop off just the thick cream that has settled at the top. Whip as you would regular cream, adding honey and/or vanilla if you'd like.
PIN THIS RECIPE!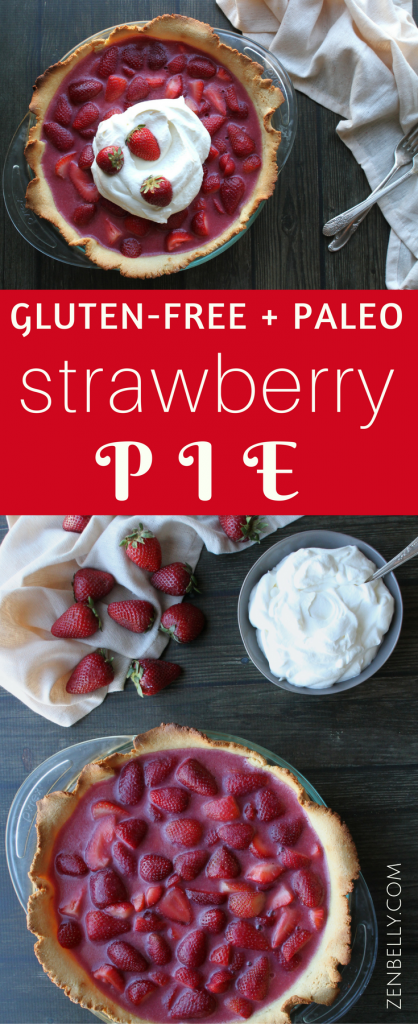 All of the links on zenbelly.com are for information purposes, however some are affiliate links to books, products or services. Any sponsored posts are clearly labelled as being sponsored content. Some ads on this site are served by ad networks and the advertised products are not necessarily recommended by Zenbelly.