The salads I like the most are almost always the salads that someone else makes for me; I feel like I make the most boring salads! This Summer Strawberry Salad is an exception though, and I tend to make it over and over again when strawberries are at their best.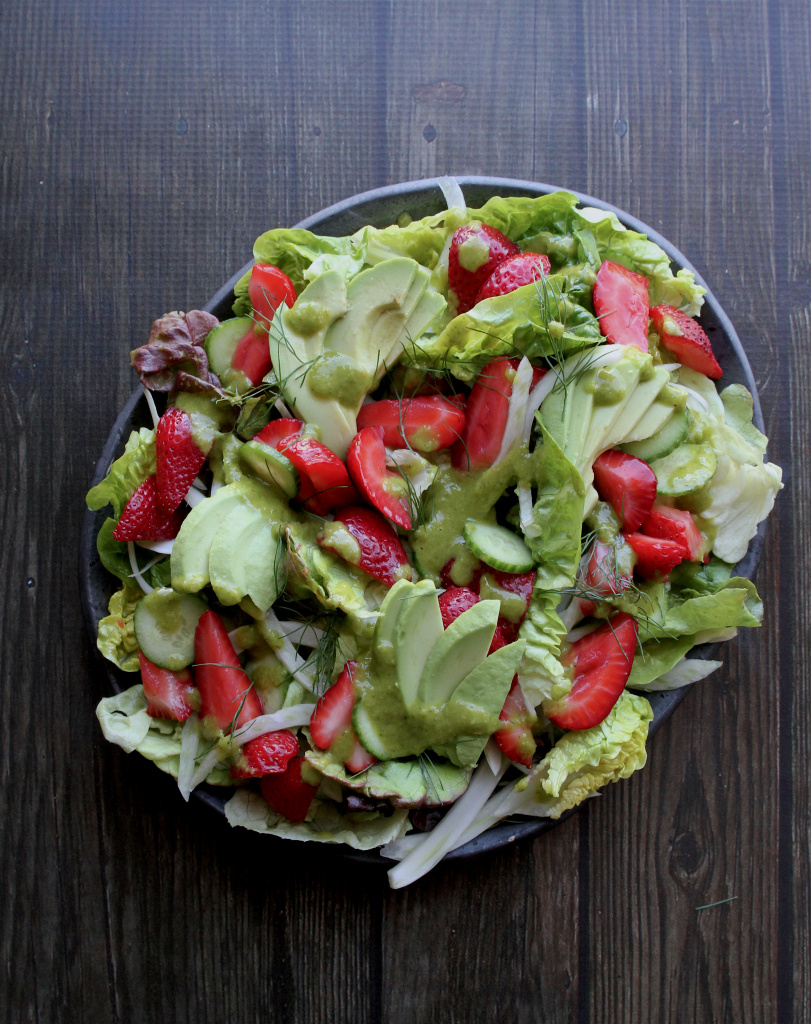 Summer Strawberry Salad is on repeat all summer long in our house.
One of the reasons I haven't written many salad recipes is because I feel a little funny about measurements. I mean, it's salad, and there is really not much that needs to be measured here. Since it is a recipe I did my best, but feel free to glance at the ingredients and eyeball how much of everything you want on it.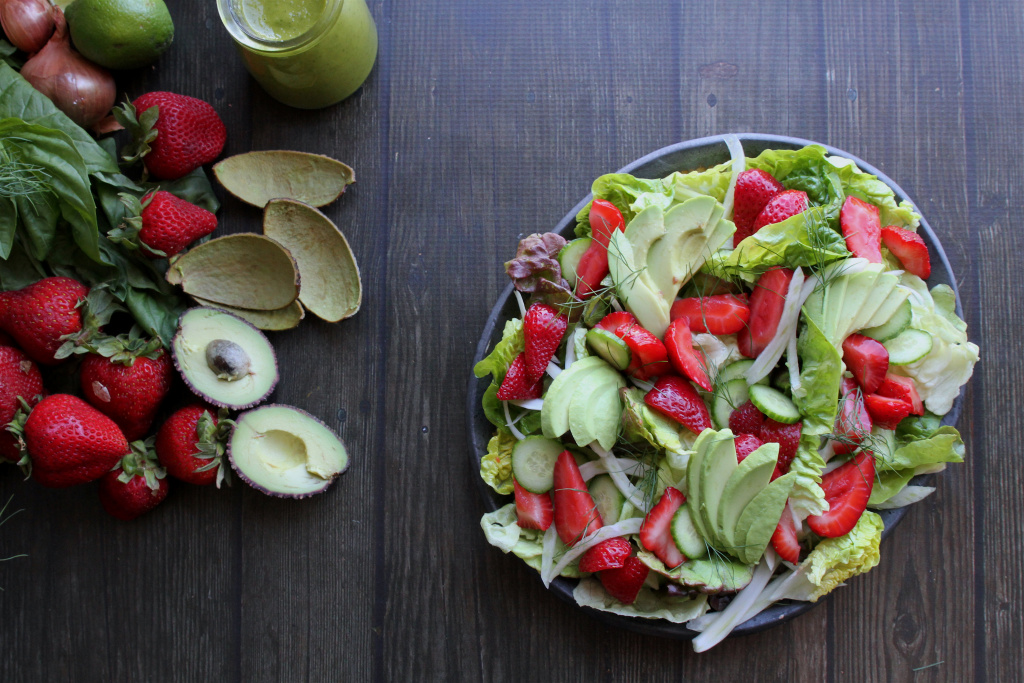 This salad is lovely simply tossed with some good balsamic vinegar and extra virgin olive oil, but I especially love it with the Basil Lime Vinaigrette I recently shared- the herby brightness of it is the perfect counterpoint to the sweet strawberries.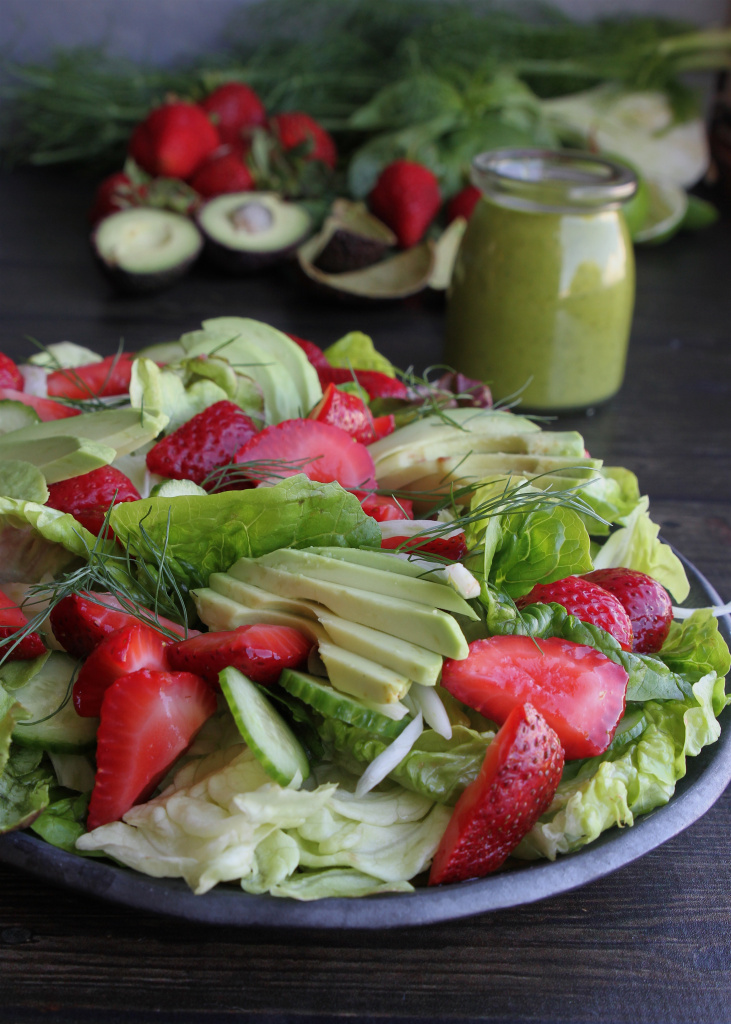 See how juicy those strawberries look? That's no photo editing trick (I don't know how to do those). They're actually that juicy because I tossed them with a pinch of salt while I prepared the rest of the ingredients. The salt brings out their natural juice, sweetness, and flavor, which will give your salad even more oomph.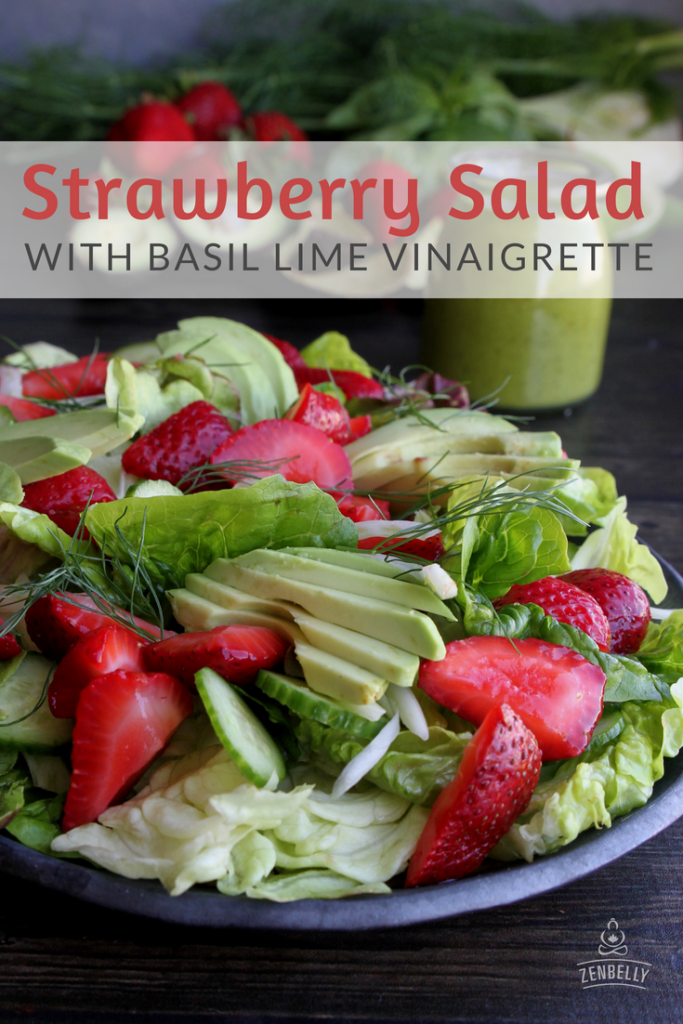 Summer Strawberry Salad
prep time: 15 minutes
serves: 4-6
8 ounces strawberries (about 10-12 medium strawberries)
10-12 ounces greens, or 1 large head butter lettuce (a handful of greens per serving is a good gauge)
1 Persian cucumber, sliced
1/2 small bulb of fennel, cored and thinly sliced
2 avocados, thinly sliced
1/4 cup crumbled feta cheese, optional
basil lime vinaigrette – about 1/4 cup
Wash, core and cut the strawberries into quarters (or sixths if they're on the large side). Toss them with a pinch of salt in a small bowl. Set aside.
Meanwhile, prepare the rest of your ingredients.
Assemble the salad and toss with dressing right before serving.
All of the links on zenbelly.com are for information purposes, however some are affiliate links to books, products or services. Any sponsored posts are clearly labelled as being sponsored content. Some ads on this site are served by ad networks and the advertised products are not necessarily recommended by Zenbelly.