I think it's time to start the official countdown to the release of Paleo Soups & Stews! To celebrate, every Saturday between now and October 8th, I'll be sharing a special sneak peek from the book!
Since it's now officially Fall, I figured a recipe for Thai Pumpkin Soup would be a great way to kick off the festivities.
I am SO excited to share this book with you. It's been a work in progress for almost a year now, and I'm really thrilled with how it turned out. One of my favorite features of this book is the multiple cooking methods. In every recipe, I give you instructions for cooking on the stovetop as the default. And for most, I also provide instructions for adapting to your slow cooker or pressure cooker. I have gotten tons of requests for more slow cooker and pressure cooker / Instantpot recipes over the years, and I'm so glad I can finally offer you a whole bunch! For more about all of the fun features of Paleo Soups & Stews, head over here!
Plus! Everyone who preorders Paleo Soups & Stews will get my exclusive bonus recipes as a free gift! It contains 9 special recipes, including Flavor Bombs, Garlic & Chive Monkey Bread, 3 Instantpot recipes, and Pumpkin Spice Snickerdoodle Sandwiches with Marshmallow Filling! Preorder here, then go to this page to enter your order number and you'll receive a link to download the ebook! If you ordered a while back, just search your email for your order confirmation- you'll see your order number in there.
Thai Pumpkin Soup
prep time: 20 minutes | stovetop: 1 hour | slow cooker: 8-10 hours | pressure cooker: 45 minutes
yield: 4-6 servings
1 sugar pumpkin (about 31⁄2 pounds) or 4 cups canned pumpkin puree
2 tablespoons coconut oil, divided
3 (6-inch) sections lemongrass, chopped (about 1⁄4 cup)
1 thumb-size piece fresh ginger, peeled and grated
1 serrano chile or jalapeño pepper, seeded and chopped
1 cup chopped shallots (about 2 large)
1 teaspoon salt
6 fresh kaffir lime leaves, veins removed (see Tip)
1 (14-ounce) can full-fat coconut milk
3 cups Chicken Broth
Sliced fresh Thai basil leaves, for garnish (optional)
If using canned pumpkin puree, skip ahead to Step 2. Preheat the oven to 375°F. With a sharp knife, cut the stem off the pumpkin and slice the pumpkin in half lengthwise. Scoop out the seeds. Rub the inside of the pumpkin with 1 tablespoon of the coconut oil and place it cut side down on a rimmed baking sheet. Roast for 30 to 40 minutes, until very soft. When the pumpkin is cool enough to handle, remove the esh from the skin and discard the skin. While you're waiting for the pumpkin to cool, prepare the rest of the ingredients.
Heat the remaining tablespoon of coconut oil in a large heavy-bottomed pot over medium heat. When the oil is hot, add the lemongrass, ginger, serrano chile, and shallots. Stir in the salt and sauté for 5 to 7 minutes, until the mixture
is fragrant and the shallots are translucent. If they start to brown, turn down the heat.
Add the kafir lime leaves and coconut milk and turn the heat up to high. Boil for 5 minutes, then add the pumpkin and broth. Return the soup to a boil, then turn the heat down to medium-low and simmer, covered, for 20 minutes.
Puree the soup in batches in a blender or with an immersion blender. Add additional salt, if needed. Garnish with Thai basil, if desired.
Slow Cooker Instructions: After completing Step 2, transfer the contents of the pot, along with the pumpkin and remaining ingredients, to a slow cooker. Cover and cook on high for 3 to 4 hours or on low for 8 to 10 hours. Proceed with Step 4.
Pressure Cooker Instructions: After completing Step 2, transfer the contents of the pot, along with the pumpkin and remaining ingredients, to a pressure cooker. Secure the lid and set it to high pressure for 8 minutes. Vent to quick-release the pressure and then open the lid. Proceed with Step 4.
Chef's Tip: If you can't find kaffir lime leaves, use the zest of 1 lime instead.
AIP Modification: Omit the serrano chile.
PIN THIS RECIPE!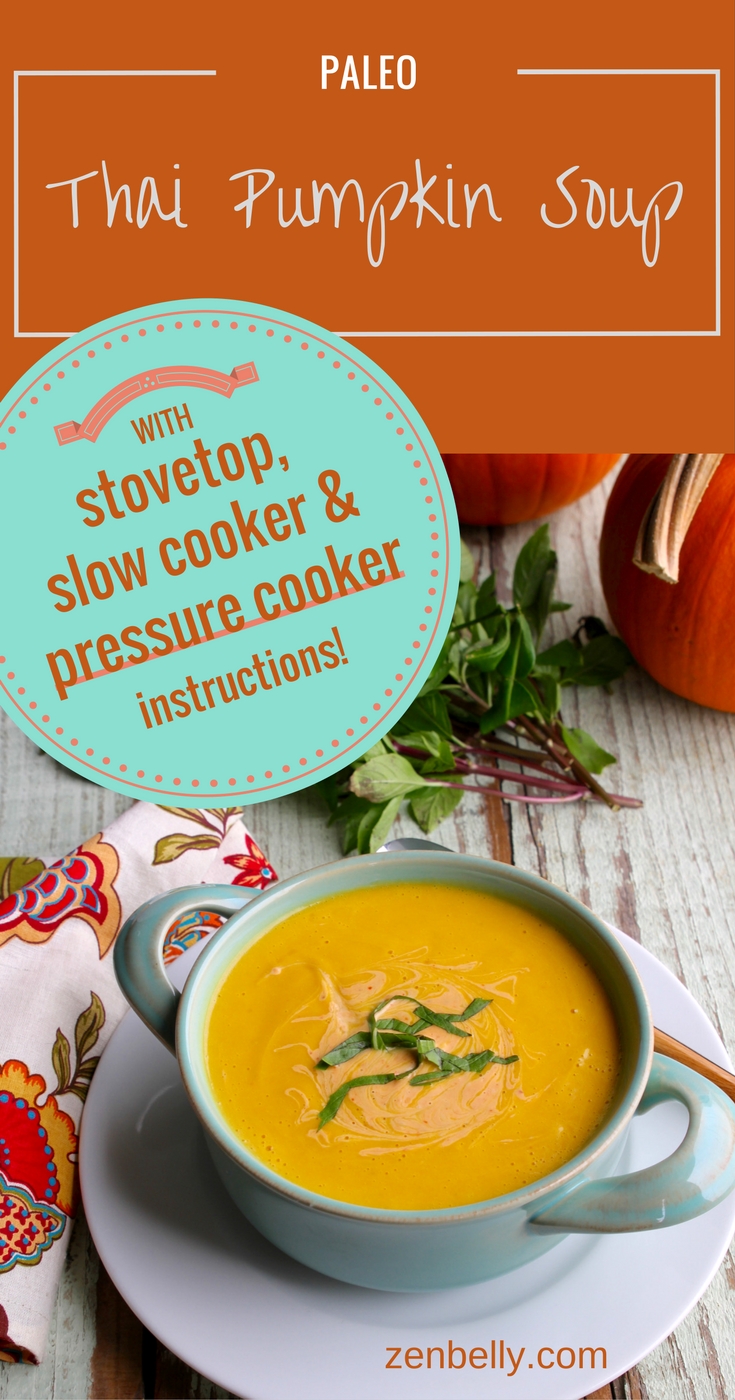 All of the links on zenbelly.com are for information purposes, however some are affiliate links to books, products or services. Any sponsored posts are clearly labelled as being sponsored content. Some ads on this site are served by ad networks and the advertised products are not necessarily recommended by Zenbelly.