If takeout isn't in the cards because of questionable ingredients or food allergies, you've got to try this Orange Ginger Beef Stir Fry! It's a cinch to make and you'll want to have a jar of the stir-fry sauce on hand for all sorts of things. It's packed with flavor and is made with easy to find ingredients.

This recipe is a special sneak peek from my first cookbook, if you don't already have it, here's more about what can you expect from The Zenbelly Cookbook:
How To's: The beginning pages of The Zenbelly Cookbook are chock full of tips and techniques, complete with step by step photos to go with them. You'll learn everything from how to source quality ingredients, to how to hold a knife, to how to cut up a whole chicken.
Photos: 2 per recipe! Each recipe in the book has an ingredients photo (like the one below) and a plated photo (like the one above) I had so much fun doing both of these shoots, but mostly the ingredients shots. There's something about organizing things neatly that brings me zen. Plus, I love how it gives a visual "before", so you can see all of the ingredients you'll be using. I hope you love them, too.
Recipes! Duh, I know. But I'm so excited to share these recipes with you. While there are some favorites from the blog that just had to be included (like NY Style Pizza Crust and No Joke Chocolate Cake), about 100 out of the 110 recipes are brand new.
Menus: I've included several menus for you, including an adventurous Thanksgiving spread, and a fancy multiple course dinner party menu that you can make 98% of ahead of time. Imagine how impressed your guests will be when you present them with an incredible dinner, all the while being nothing short of cool and collected. HOW DO YOU DO IT?! (Don't worry, your secret's safe with me!)
I'm very excited to be sharing these little sneak peeks with you, and will plan on posting one every Wednesday for the next few months. So stay tuned, and subscribe if you don't want to miss a post! (Don't worry, I'll never share or sell your email address, and the only time you'll hear from me is when I post a new recipe, or have news directly relating to this blog or the book)
This week, I'm sharing my recipe for Orange Ginger Beef Stir Fry, which comes with a bonus recipe for my Stir Fry Marinade and Sauce. Two recipes in one! Aside from the time it takes to marinade the beef, this one can be on your table in 30 minutes. Chinese food is one of the things I miss the most since going paleo, so I've made sure to recreate all of my favorites for when I have a craving for it. While it's still a bit easier to pick up the phone and place an order, this recipe is super quick and simple to make, and so much cleaner, being free of soy, gluten, corn, MSG and added sugar.
 
Orange Ginger Beef Stir Fry
prep time: 10 minutes, plus 30 minutes to 2 hours marinating time |  cook time: 10 minutes  |  serves: 4
1¼ pounds sirloin
1 batch Stir-Fry Marinade and Sauce (below)
1 tablespoon arrowroot powder
2 tablespoons coconut oil, divided
Wide strips of orange zest (reserved from preparing the marinade and sauce, below)
½ pound bok choy, chopped
½ pound string beans, stemmed and cut in half crosswise
1 jalapeño pepper, thinly sliced (and seeded for a milder version)
2 teaspoons black and/or white sesame seeds, for garnish
cauliflower rice, for serving
• Cut the beef across the grain into thin slices and place in a bowl with the stir-fry sauce. Marinate for 30 minutes, or up to 2 hours. Set aside. (It's fine to leave it at room temperature for up to an hour, but refrigerate if you'll be marinating it longer.)
• Remove the beef from the sauce and drain well, reserving the liquid.
• Stir the arrowroot into the reserved liquid.
• Heat 1 tablespoon of the oil in a large skillet or wok placed over medium heat. Add the orange zest and cook for 2 minutes or until brown on the edges.
• Turn the heat to high and add the beef to the skillet or wok and stir-fry 2 minutes until brown on both sides. Remove the beef and the orange peels to the bowl with the sauce.
• Wipe out the pan, add the remaining tablespoon of coconut oil to the pan, and place over medium-high heat. When the oil is melted and glistening, add the string beans and the jalapeño. Stir-fry for 3 to 4 minutes; you want the string beans to blister a bit.
• Put the beef, orange zest, bok choy, and sauce in the pan and cook another minute or two, until the sauce boils and thickens a bit and the bok choy wilts.
• Sprinkle with the sesame seeds and serve over cauliflower rice or zucchini noodles, if desired.
Stir Fry Marinade and Sauce
prep time: 5 minutes | makes: 3/4 cup
1/2 cup coconut aminos
1/3 cup orange juice (from 1 large orange; see Note)
2 teaspoons fish sauce
1 (1-inch) piece ginger, peeled and grated
2 cloves garlic, minced
2 teaspoons chili paste or Sriracha
• Place all of the ingredients in a small bowl. Stir to combine.
• Store in a jar, refrigerated for up to 1 week.
Note: If you plan on making Orange-Ginger Beef Stir-Fry, using a vegetable peeler, peel off wide strips of zest (the outermost, colored part of the peel) before juicing the orange. Reserve the zest.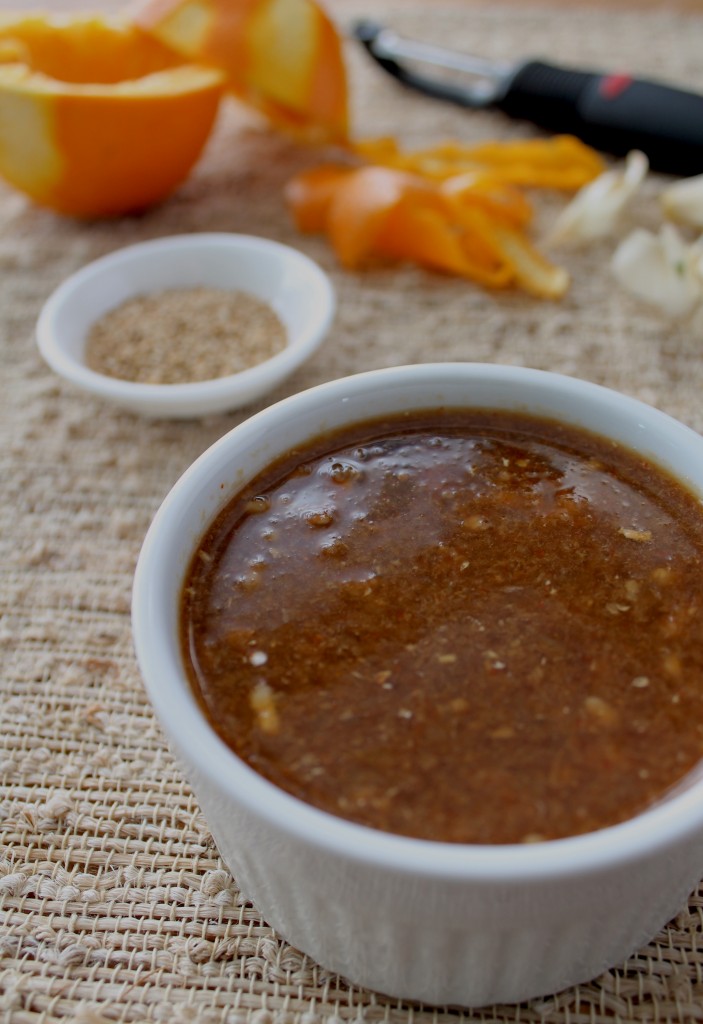 PIN THIS RECIPE! 
This post contains affiliate links, which means I receive a small percentage if you make a purchase from the link(s) provided. This helps cover the cost of ingredients and running a blog, and I greatly appreciate your support! 
All of the links on zenbelly.com are for information purposes, however some are affiliate links to books, products or services. Any sponsored posts are clearly labelled as being sponsored content. Some ads on this site are served by ad networks and the advertised products are not necessarily recommended by Zenbelly.