Breakfast. Let's talk about it.
I know that as someone who is mostly paleo, I should be eating dinner for breakfast. I should abandon the notion that breakfast food should look different than the foods we eat for the rest of our meals. We are, after all, the only species who does that. It's silly. I know.
But I'm not always in the mood for dinner for breakfast. And guess what happens if nothing in the house looks appetizing and I have to run out? That's right; I don't eat. And then I get hungry, and can't find anything acceptable to eat, and then before I know it, it's migraine city. Bad news.
I love the idea of the Morning Glory muffin for those days that eggs and bacon isn't happening, and leftover beef stew doesn't sound quite right at 7am. When I started looking at recipes to get a basic idea of what went into this iconic breakfast muffin, it occurred to me that while I like the idea of it, I don't actually like it. We have a strict no raisins in baked goods rule in this house, and there's no way I'm posting a recipe that features apples in April. It's pretty much the opposite of apple season. That ruled out two of the essential ingredients, so I was on to something else. I decided to go tropical, while keeping the carrots that go into a traditional Morning Glory muffin.
These muffins are barely sweet, and are loaded with good fats and protein, so they'll keep you going. Just promise me you'll eat a well balanced lunch.
Tropical Breakfast Muffins
Makes 12 large muffins
1.5 cups almond flour
1/2 cup arrowroot powder
3 tablespoons coconut flour
1 teaspoon baking soda
1/4 t salt
1/2 cup shredded unsweetened coconut, plus more for the tops, if desired
1/2 cup chopped pecans, plus more for the tops, if desired
1 tablespoon orange zest (about 1 small orange)
1/2 cup very ripe mashed banana
1/2 cup grated carrots (about 2 small carrots)
1/2 cup minced pineapple (fresh is best, canned is okay)
1/4 cup coconut oil, melted
4 eggs
1 tablespoon vanilla
1/2 teaspoon apple cider vinegar
2 tablespoons maple syrup
Preheat oven to 350. Line a muffin tin with parchment liners.
Place the chopped pecans and coconut on a baking sheet and toast for about 5 minutes, until just golden.
In a large bowl, combine the dry ingredients; almond flour through pecans. Stir to combine.
In a medium bowl, whisk together the wet ingredients; orange zest through maple syrup.
Combine the wet and dry ingredients and stir to combine
Pour the batter into the prepared muffin cups. Top with additional coconut and pecans, if desired.
Bake for 18-22 minutes, or until they bounce back when you lightly push the top.
Allow to cool on a wire rack before eating.
Pin this recipe: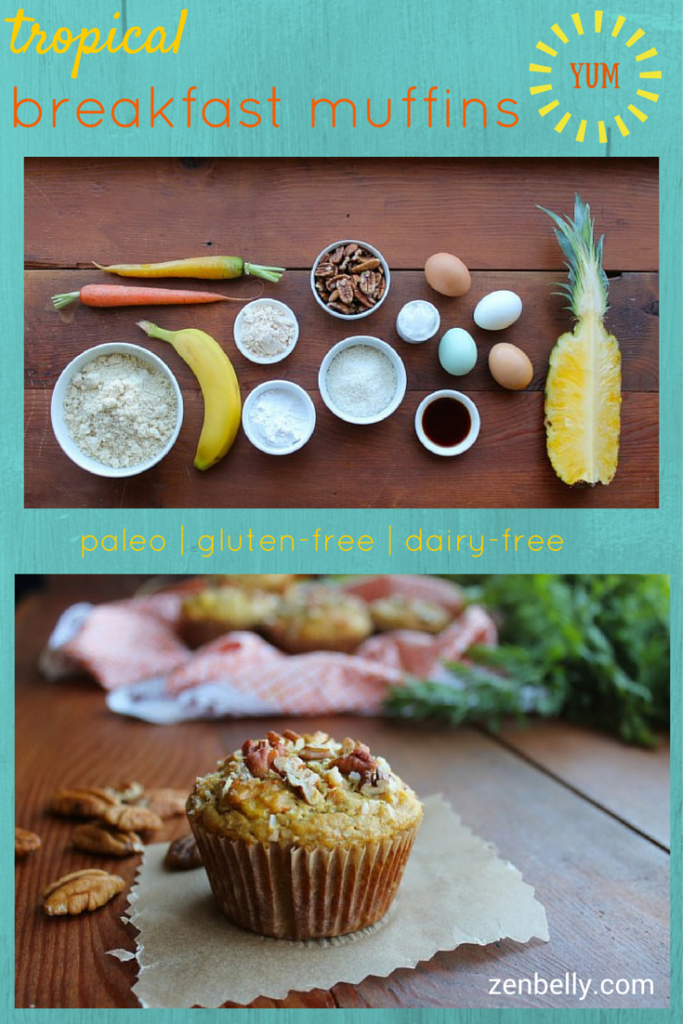 All of the links on zenbelly.com are for information purposes, however some are affiliate links to books, products or services. Any sponsored posts are clearly labelled as being sponsored content. Some ads on this site are served by ad networks and the advertised products are not necessarily recommended by Zenbelly.