Yeah, I know. Zoodles with Kale and Lemon sounds too healthy to be awesome. We're making "pasta" out of vegetables AND adding kale? Peace out.
But hold up. We've met, right? Have I ever said things like "Carob tastes just like chocolate" or "Pizza crust made out of meat tastes just like the real thing"? Nope, I would never. When perusing this blog or my cookbooks, do you find your self saying "I really want to eat better but all of this looks so bland and health-foody"? I'm guessing you don't. Remember, I was into food wayyyyy before I was into nutrition, so loving the food on your plate is the numero uno priority for me.
What I'm saying is: Trust me on this! This is one of those super-healthy dishes that happens to taste really great. It's a lovely side dish for any meat, and would be great as a light meal as well. It's great at any temperature, making it the perfect thing to bring to a potluck or picnic.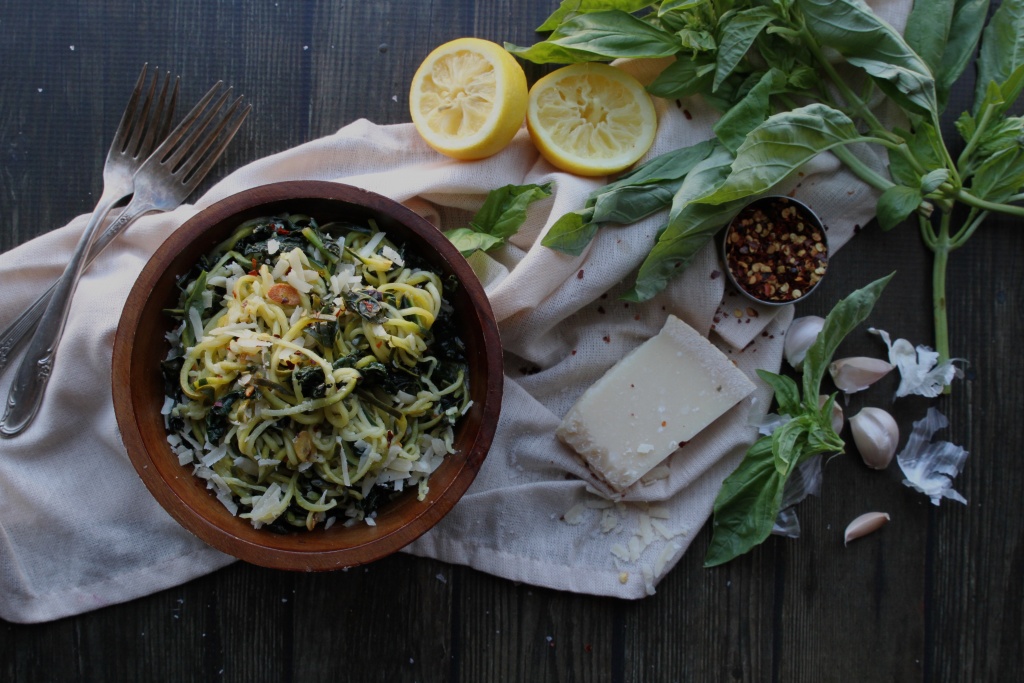 Zoodles with Kale & Lemon
prep time: 15 minutes, plus time to sweat the zucchini noodles
cook time: 8-11 minutes
yield: 4 side dish servings
2 1/2 pounds zucchini (about 6 medium)
2 teaspoons salt
4-5 cloves garlic
1 bunch kale (about 1/2 pound)
1/4 cup extra virgin olive oil
1/2 teaspoon red pepper flakes, plus more for serving, if desired (optional, omit if AIP or avoiding pepper)
1/4 cup lemon juice (about 1 lemon)
1/4 cup chopped basil or mint
freshly grated Parmesan, optional
Using either a spiral slicer or julienne peeler, cut the zucchini into noodles
In a large colander, using your hands, toss the zucchini with the salt. Place the colander in the sink or over a bowl to catch the liquid- The zucchini will release a lot of it, which means it won't wind up watering down your dish later! Allow to sit for 30 minutes to one hour (this can be done ahead of time)
Meanwhile, slice the garlic and clean, stem and chop the kale. Don't completely dry the kale, a little bit of water clinging to the leaves will come in handy when you cook it.
Once the zucchini has shrunk down to about half the original volume, rinse under cold water and squeeze out the excess liquid. I like to also squeeze it with some towels to get out as much liquid as possible.
In a large skillet over medium heat, heat the olive oil. Add the garlic and red pepper flakes and sauté for 2-3 minutes, or until golden brown and softened.
Add the kale to the skillet and turn the heat up to medium-high. Cook until softened, about 4-6 minutes, stirring often.
Stir in the zucchini noodles and cook until warmed, about two minutes. Stir in the lemon juice and basil and turn off the heat.
Serve with additional red pepper flakes and grated Parmesan, if desired.
PIN THIS RECIPE!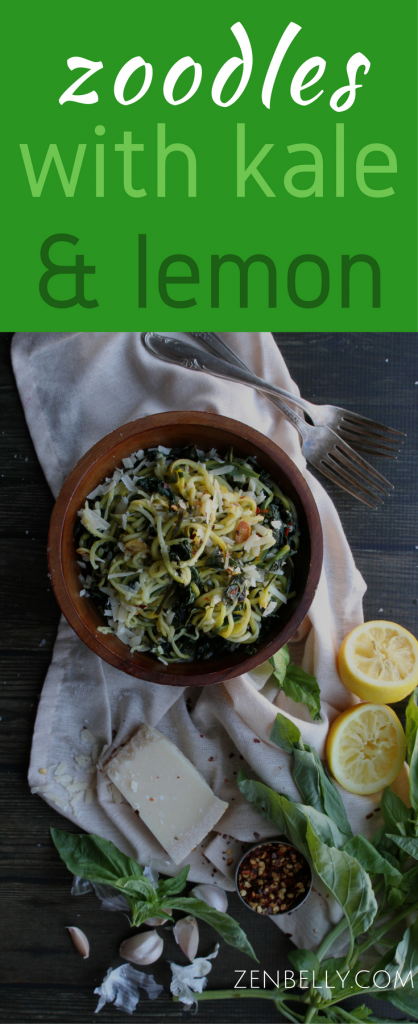 All of the links on zenbelly.com are for information purposes, however some are affiliate links to books, products or services. Any sponsored posts are clearly labelled as being sponsored content. Some ads on this site are served by ad networks and the advertised products are not necessarily recommended by Zenbelly.