Aside from generally clean-eating, I'm pretty terrible at sticking to a particular diet or eating plan. I've completed several 21 Day Sugar Detoxes (yay!) and also done a couple of them that ended early (womp). The closest I've gotten to a Whole 30 was more like a Whole 19. And this past week, I attempted a keto diet. In fact, I succeeded! For a week. I am well aware that a week isn't enough to see or feel much in the way of results. Needless to say- I saw zero results.
I blame my lack of willpower around this subject on my former incredibly fast metabolism; Until about 5 years ago, I was naturally lean despite the fact that I didn't exercise or count calories. Sure, I've eaten really well for the past decade or so, but before that it was pretty up and down- I ate terribly in high school (when not at home), was a soy-eating vegetarian after that, and a wtf-ever eater after that. Still, I was thin without trying, and I'm not saying that as a humble brag, at all, it's just how it was.
WAS. As in not anymore, now that the apparently very real late 30's metabolism slump has reared it's ugly (so, so ugly) head.
So here we are. I am now a person who does not lose weight easily, and, frankly, would like to lose 10 pounds. More importantly, I would like to feel stronger in my body. But I'm still that person (in my brain, anyway) that basically eats whatever they want without consequence and thinks that diets are depressing. Plus, food is kind of my job, and having to constantly think about the macros of what I'm consuming instead of just enjoying it doesn't do the best thing for my mental health.
I am not telling you this to be a bad influence. I'm just being real here: I'm done. Instead of changing the way I eat AGAIN, I'm going to force myself to exercise- something I absolutely loathe – and yes, I've tried all the things and don't like any of them. But I I can't keep being as sedentary as I naturally am, I know this. I'm not going to go crazy and join a Cross Fit box or go to boot camp on Saturday mornings or start training for a marathon. I know myself better than that. I'm going to walk a lot more, I'm going to do yoga, and I'm going to just move.
So that's my plan, and probably more information than you needed in the intro to a granola recipe.
What you do need to know about this granola is that it is super tasty, and you certainly don't need to be eating a low-card diet to enjoy it! I created this recipe during my "week of keto", and based on the calculations I did (which I don't usually do for recipes but was curious), it's probably borderline as far as low-carb goes. I always think of nuts as being essentially all fat, but of course they're not. I think as a snack, it passes. I'm not calling it keto to be safe, but as far as granola goes, it's pretty darn low carb. This is what I calculated based on 10 small servings out of this recipe (since it's mostly nuts and pretty heavy, I think that's reasonable)
Yacon Syrup is a low carb sweetener that tastes a lot like molasses. It is not cheap, but a little bit goes a long way. If you're not concerned about carbs, you can use honey or maple syrup instead. Yacon syrup is sweeter than those, so 1 tablespoon of either of those might not cut it flavor-wise. If using honey or maple syrup, you might want to taste a little before you bake it and adjust accordingly.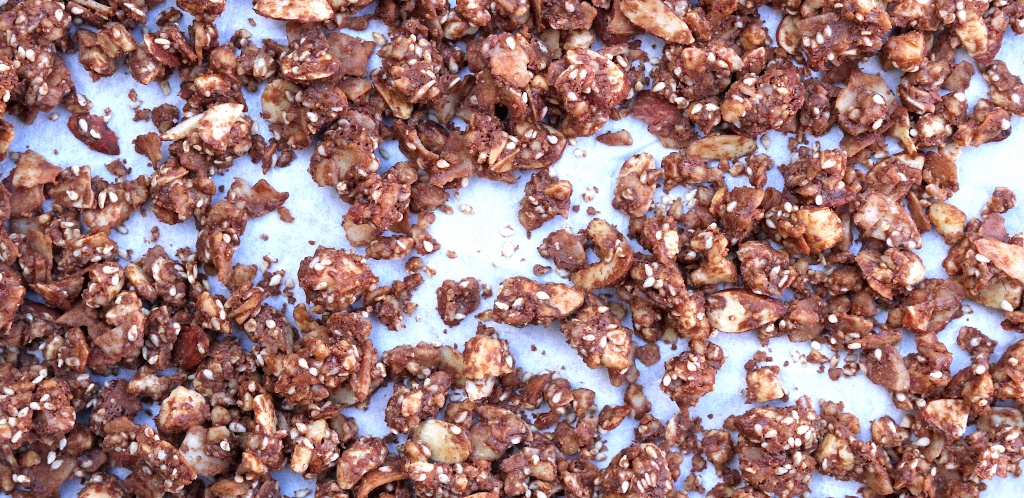 Chocolate Peanut Butter Granola
prep time: 5 minutes  cook time: 20 minutes  yield: 8-10 servings
1 tablespoon coconut oil
1 tablespoon peanut butter (or almond butter or your favorite nut butter)
1 tablespoon yacon syrup
1 tablespoon cacao powder
1/8 teaspoon salt
1/3 cup raw cashews
1/2 cup raw pecans or walnuts
1/2 cup coconut flakes
1/4 cup sliced almonds
2 tablespoons sesame seeds
Preheat the oven to 300ºF and line a baking sheet with parchment paper.
In a medium saucepan over low heat, melt the coconut oil. Turn off the heat and stir in the peanut butter, yacon syrup, cacao powder and salt. Set aside
In a food processor, pulse the cashews and pecans, 6-8 times or until it's coarsely ground. Add the flaked coconut and pulse a couple more times to break it up a bit. Add to the saucepan along with the sliced almonds and sesame seeds. Stir to coat.
Spread out onto the prepared baking sheet and bake for 18-20 minutes, or until it's very fragrant and toasty-smelling. Allow to cool for about 20 minutes on the pan.
Store in an airtight container.
PIN THIS RECIPE: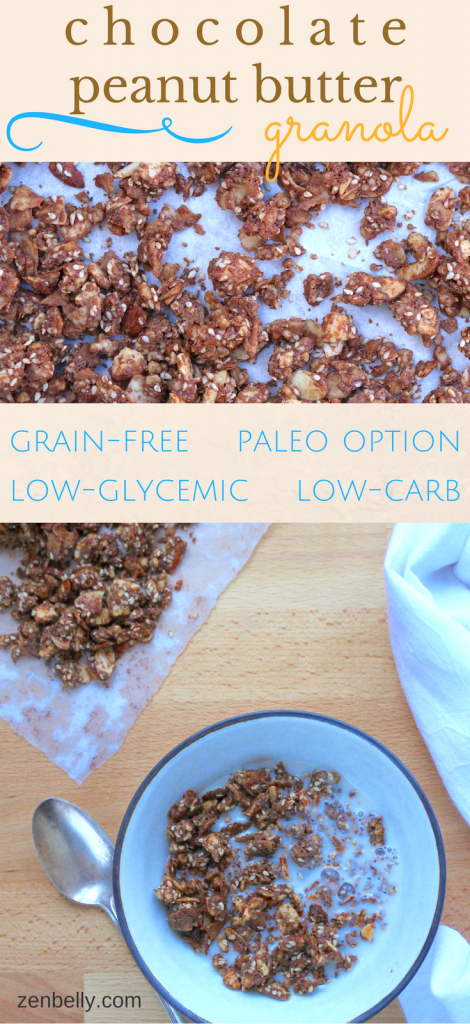 All of the links on zenbelly.com are for information purposes, however some are affiliate links to books, products or services. Any sponsored posts are clearly labelled as being sponsored content. Some ads on this site are served by ad networks and the advertised products are not necessarily recommended by Zenbelly.