Earlier this year, I was sent some extra virgin olive oil from Cobram Estate, and was really impressed with it. It's all I've been using for months. So when I was invited to attend their two day harvest festival my answer was an enthusiastic Yes.
Cobram Estate Extra Virgin Olive Oil
I arrived at the Cobram Estate facility in Woodland, California on a windy Wednesday afternoon and was introduced to their entire operation. We got some history of the company; which is originally from Australia, where they are the number one producer of olive oil. Since expanding to the US, they have become one of the top three producers in California. They're clearly about quality first, though: Cobram Estate is one of the world's most awarded olive oil companies. Their California Select olive oil just won a gold award at the LA International EVOO Competition.
They produce an impressive amount of olive oil, but the truly impressive part is how they do it.
Fully integrated, Cobram Estate's Tree to table approach means that they ensure the quality of their product from seedling to full grown olive. The idea is simple; produce the freshest, highest quality olive oil possible. The operation though, is a bit more complicated – and so specific- there are technicians in the groves that determine when exactly the olives can be harvested. There is a lab on site that tests every batch for acidity and overall quality, where they also determine the sell-by date (as opposed to going with the standard 2 year expiration date).
I was in awe of how they have this all down to a science. What I found the most impressive, aside from the actual taste of their olive oil? They press the olives within 4-6 hours of being harvested. That is some seriously fresh olive oil!
Health Benefits of Extra Virgin Olive Oil
The fresher the olive oil, the better it is for you, so you're not only getting exceptional flavor, but great health benefits as well. To ensure the olive oil remains as fresh as possible, they don't bottle it until they receive an order from a buyer. Until then, it's kept in temperature-controlled stainless steel tanks – this keeps the olive oil away from light, air, and heat, keeping the maximum amount of integrity and health benefits in the olive oil. Cobram Estate Extra Virgin Olive Oil is chock full of polyphenols. These flavor-packed antioxidants have been proven to help fight inflammation, aging, and weight gain. They're also great for your heart.
After touring the facility and learning all about the process, we headed out to the beautiful groves to see harvesting in action.
The harvester is a truly impressive machine, and we got to ride on top of it and see the olives get picked right under where we stood! Once back on the ground, we were greeted with wine, cheese, and of course olive oil…
Before being led to a table amongst the groves…
Where we were served a delectable family style dinner by Chef at Large Kevin O'Connor, all featuring different varietals of olive oil. He makes incredible food, and you can find some of his recipes on the Cobram Estate Blog.
Cooking with extra virgin olive oil
I've avoided cooking with olive oil for years, for two reasons: I thought it wasn't a stable fat once heated, and I thought the flavor would be lost and it would be a waste of good olive oil. I'm happy to say I've turned my life around. Olive oil has a smoke point of 410ºF, so it's perfectly safe to heat. (Smoke point doesn't predict an oil's performance when heated, anyway) Cooking with olive oil isn't only safe, it's also really just an excellent choice from a culinary standpoint. Perfect for all your favorite fall recipes, their extra virgin olive oil is great for roasting, drizzling, grilling, baking, frying, dipping, sautéing, and making salad dressings.
The icing on that cake isn't avocado, it's olive oil "butter" cream, and you have not lived until you've experienced it. Unreal.
After this dreamy sunset dinner, we trekked over to Napa for the rest of the harvest celebration.
The next day was all about the food, and this time we got to help cook the feast! I don't have as many photos from this day because I was cooking, but it was another wonderful day with lovely people and incredible food, all prepared with the best damn olive oil I've ever had.
It's safe to say I am now a devoted fan of Cobram Estate Extra Virgin Olive Oil. I've also started thinking about it more along the lines of how I think about wine- you wouldn't have just one bottle of wine for everything – so you shouldn't have just one bottle of olive oil, either! I love the idea of having a variety of bottles, ranging in flavor and complexity. Some for cooking, some for baking, some for finishing dishes, some for dressings and sauces… Find them all at a store near you.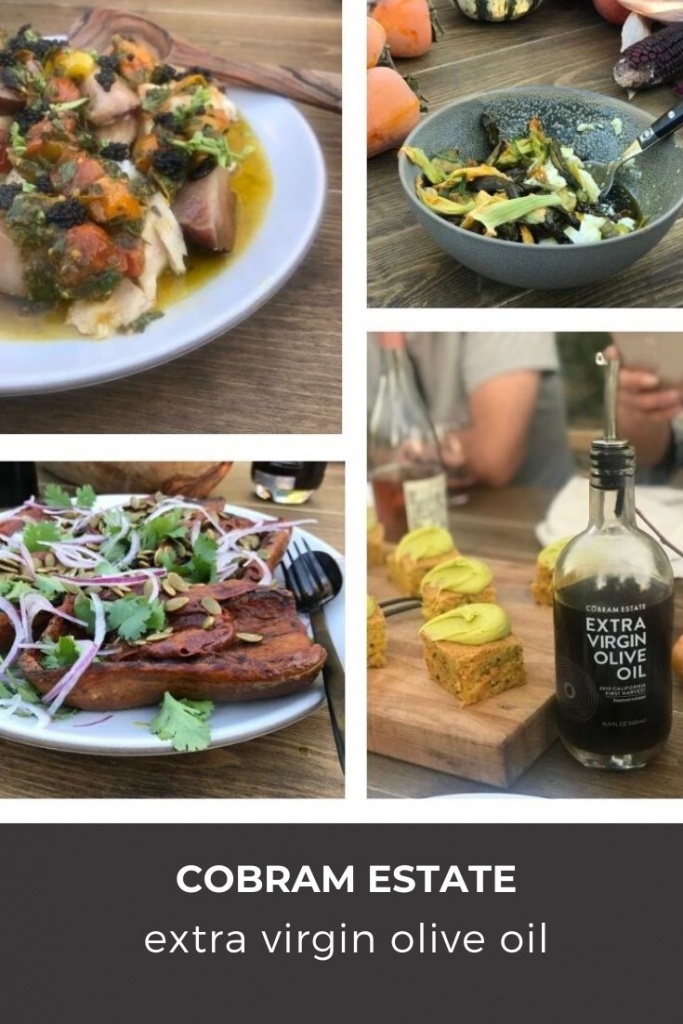 Some of my favorite recipes that feature olive oil:
Thank you, Cobram Estate, for sponsoring this post!
All of the links on zenbelly.com are for information purposes, however some are affiliate links to books, products or services. Any sponsored posts are clearly labelled as being sponsored content. Some ads on this site are served by ad networks and the advertised products are not necessarily recommended by Zenbelly.