I have been fighting with my hair most of my life. This year, I decided to finally start embracing my curly hair. As a tiny human, I had fine, stick straight hair. You know how it goes; people with straight hair want curly hair and vice versa. In third grade, my dad let me get a perm at JC Penny. (My mom was thrilled, as you can probably imagine.) It wasn't until years -YEARS! – later that I realized the perm was long gone and my hair, at some point, had become naturally curly.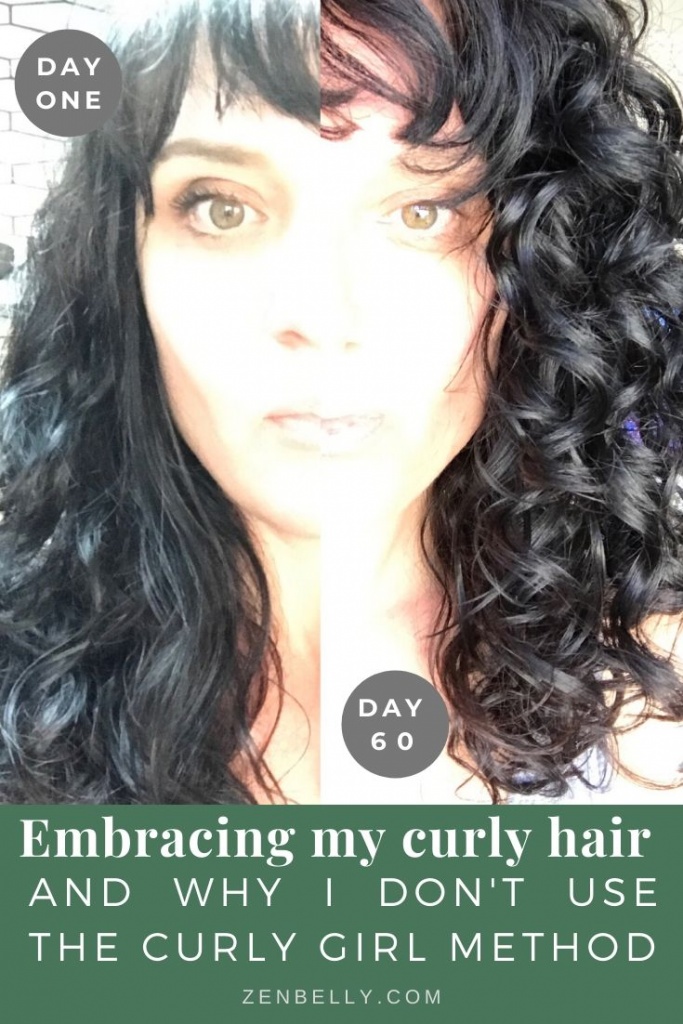 It wasn't until this year – I am 42 – that I started to learn how to treat my hair like curly hair. Up until that point, I ran the gamut of blowdrying / burning it straight (and of course then adding "beachy" waves with more heat), getting keratin treatments, braiding / twisting it while it dried to keep it from turning into a total frizzy mess, and trying every shampoo and conditioner on the planet. I was hopeful that the perfect product or hair cut existed to give me wash and wear hair.
I have never had anything against curly hair, in fact I have always loved it on other people. I always just assumed that I didn't have Good Curly Hair. I mean, if I simply wash it and let it air dry, I absolutely do not have Good Curly Hair.
Here's an example of just how bad my hair can be; this is after a couple of weeks in mineral hot springs in Costa Rica: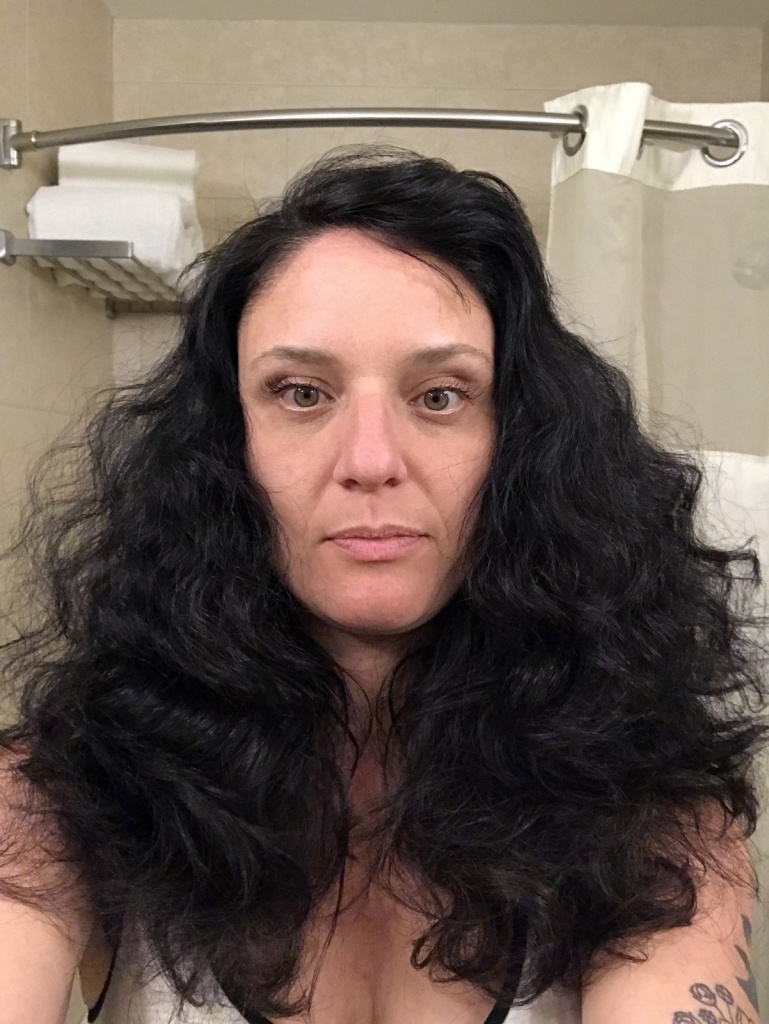 While scrolling Facebook this summer, I saw an ad for a curly hair product that made me realize – HOLD UP. I just haven't been treating my hair like curly hair. That was my big curly hair aha moment. And that's when I fell deep into the curly girl method rabbit hole.
It's been 3 months of researching and experimenting with the Curly Girl method and variations of it, and I'm finally coming up for air. I've been sharing my progress on Instagram, and people on there have expressed interest in what I'm doing and what I'm using, so I'm spilling it all on this here blog post.
Here I am after my first wash day, using (sort of) the curly girl method: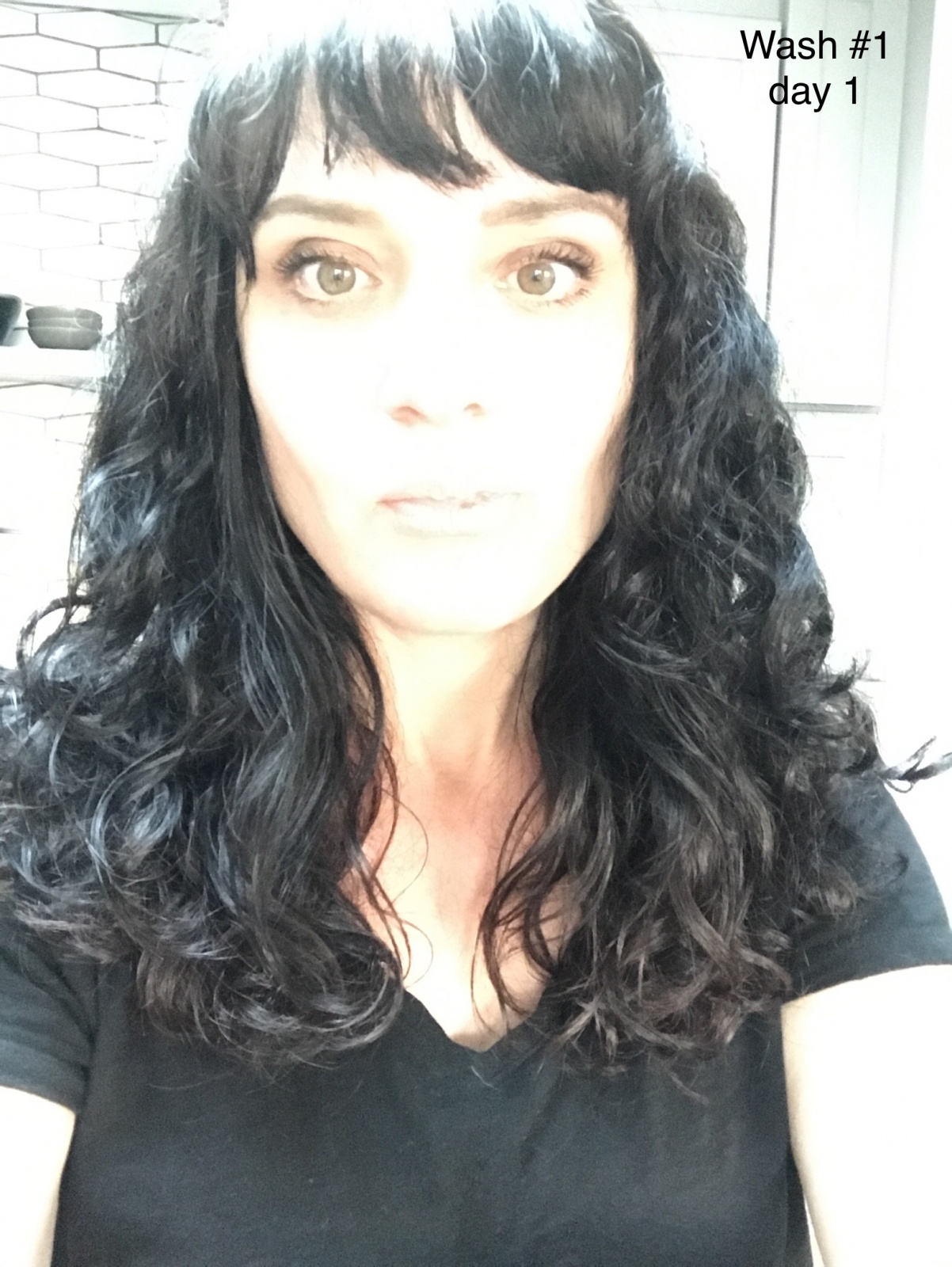 And here I am after wash day number two; already a pretty big difference: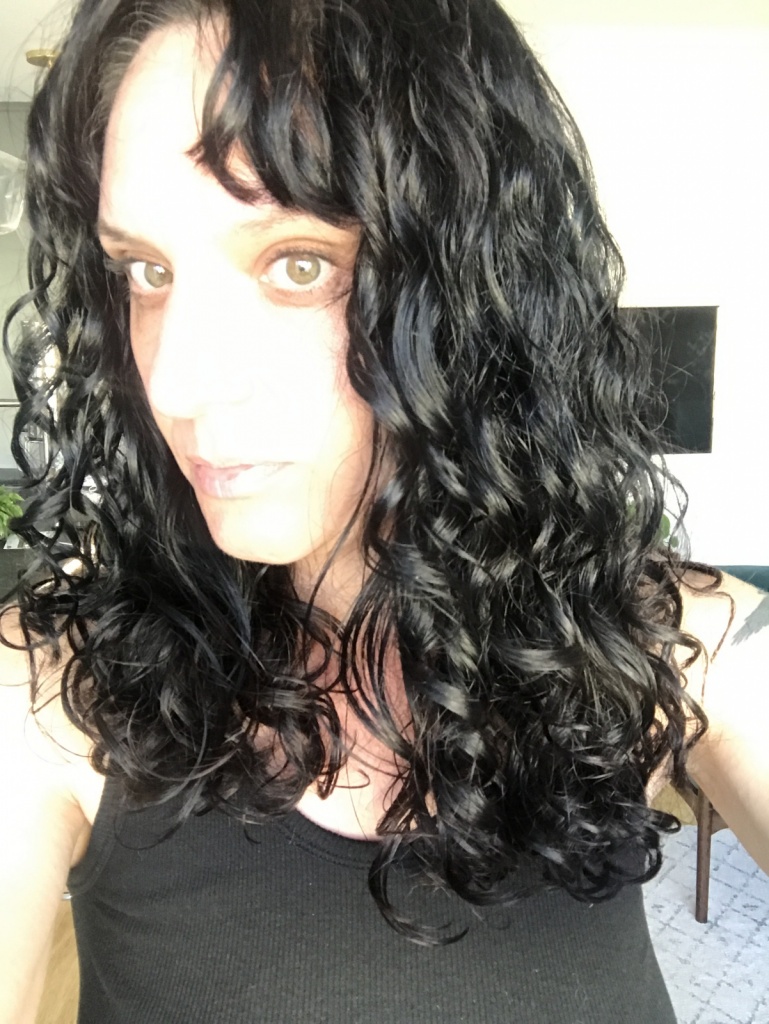 Getting a curly cut made the biggest difference. Curls need layers and shape. Going to a curly hair specialist resulted in the cut my hair really needed: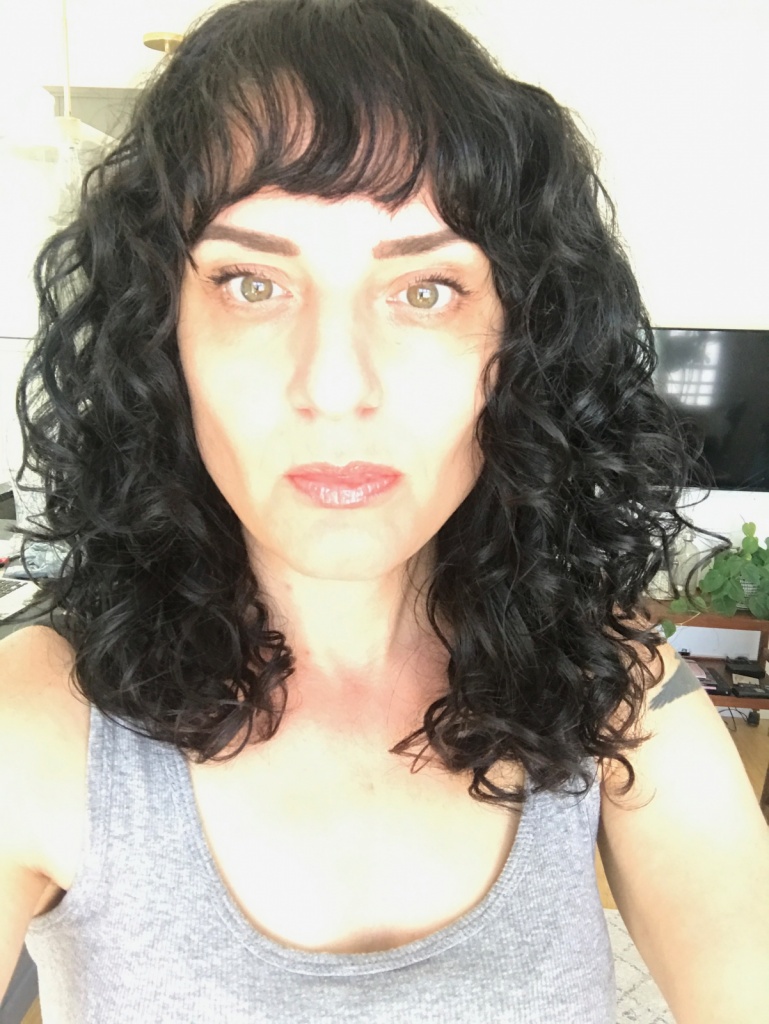 This blog post is not intended to be a rabbit hole, so I'll sum up the Curly Girl Method for you.
What to avoid on the Curly Girl Method:
shampoo
heat styling
brushing your hair (especially when dry)
terry cloth towels
sulfates, parabens, and silicones.
What I think about all of that:
I can easily get behind eliminating certain ingredients. No problem there. I'm happy to use a micorfiber towel and t-shirt instead of a terry cloth towel to get the excess moisture out of my hair. And if brushing my hair when it's dry is only causing damage, that's not something I'll miss. On those elements, I'm all about the Curly Girl Method.
As far as shampoo goes, I haven't found any cowash (cleansing conditioner) that I like. Low lather? Sure. No lather? Nah. I need a little lather for my scalp to feel clean.
I haven't plugged in my flat iron or barrel roller for months, and I feel great about that. However, using zero heat to dry my hair means my hair is wet for hours; we're basically talking all freaking day. That's just not practical. My hair dryer has a cold, warm and hot setting. I use it on warm until it's mostly dry and then switch to cold to finish it. My curly hair specialist stylist gave me the okay on this, btw. She uses heat to dry in her salon, and just advised against using flat iron level heat. If you can smell your hair burning, that is way too hot.
What I have found over the course of 3 months – my big takeaways:
Technique is as important, maybe even more important than, the products.
There is as much dogma in the curly hair world as there is in the food world. (Hard pass on both)
It is a process. Do not expect your hair to be magically changed after one wash day. My hair has continued to get curlier (and healthier) week after week.
In the epic battle against frizz, I've found the things that have helped the most are: using a moisturizing shampoo, and applying leave-in conditioner.
Products are necessary. I was so low maintenance once upon a time, and those days are over.
Curly hair needs moisture, and products all need to be applied to wet hair.
Using less heat means longer dry time. A microfiber towel was one of the best purchases I made, it cuts my dry time in about half!
What has worked on my curly hair – technique:
My wash day routine (every 3rd day or so, based on how my scalp feels and how my hair looks) to cleanse: I shampoo using a low lather, moisturizing shampoo, and then condition- I apply plenty of conditioner, both raking it in and squishing it in – Squish to Condish- it's a thing. This is when I detangle, using my fingers and sometimes a wide toothed comb. I leave the conditioner in for a few minutes (singing optional) and then rinse with warm (cool is good too, but not hot) water.
To style: Still in the shower, I gently scrunch out a little bit of the moisture, but not much, and then apply leave-in conditioner, and detangle again. For the following steps, I do most of it flipped over, with my hair hanging off the top of my head: I apply a defining cream, which I rake in gently for even distribution, and then glaze in (between flat hands, like you're putting them together in prayer, if you will, and/or use a curly hair brush like this one to clump my curls. Then I scrunch. Then I apply a gel also using the praying hands method, and then scrunch.
And then, if I haven't fallen in the slippery shower and knocked myself unconscious by this point, I use the microfiber towel to squeeze out the excess moisture. And then – can you even believe – I scrunch in a wee bit more gel. Isn't it funny that going natural is way more work than burning the shit out of it was? Hilarious.
Finally, I plop with an old t-shirt. I would not do a great job explaining how to plop, so the google is your friend in this situation.
I leave the plop on for 20-30 minutes, and then I take it off and do a combo of air drying and diffusing on medium and low heat. It doesn't matter what kind of hair dryer and diffuser you have, but make sure you know how to use it. I realized after watching this video that I was doing it all wrong. Once you're there, feel free to go ahead and watch all Mel's videos, she's hilarious and they're super informative.
Searching for curly hair videos on Youtube? You'll easily fall into the Curly Girl rabbit hole. Bring snacks.
Before and after in one photo- wild right? My curly side is looking a little lower, which is disturbing, but you get the idea: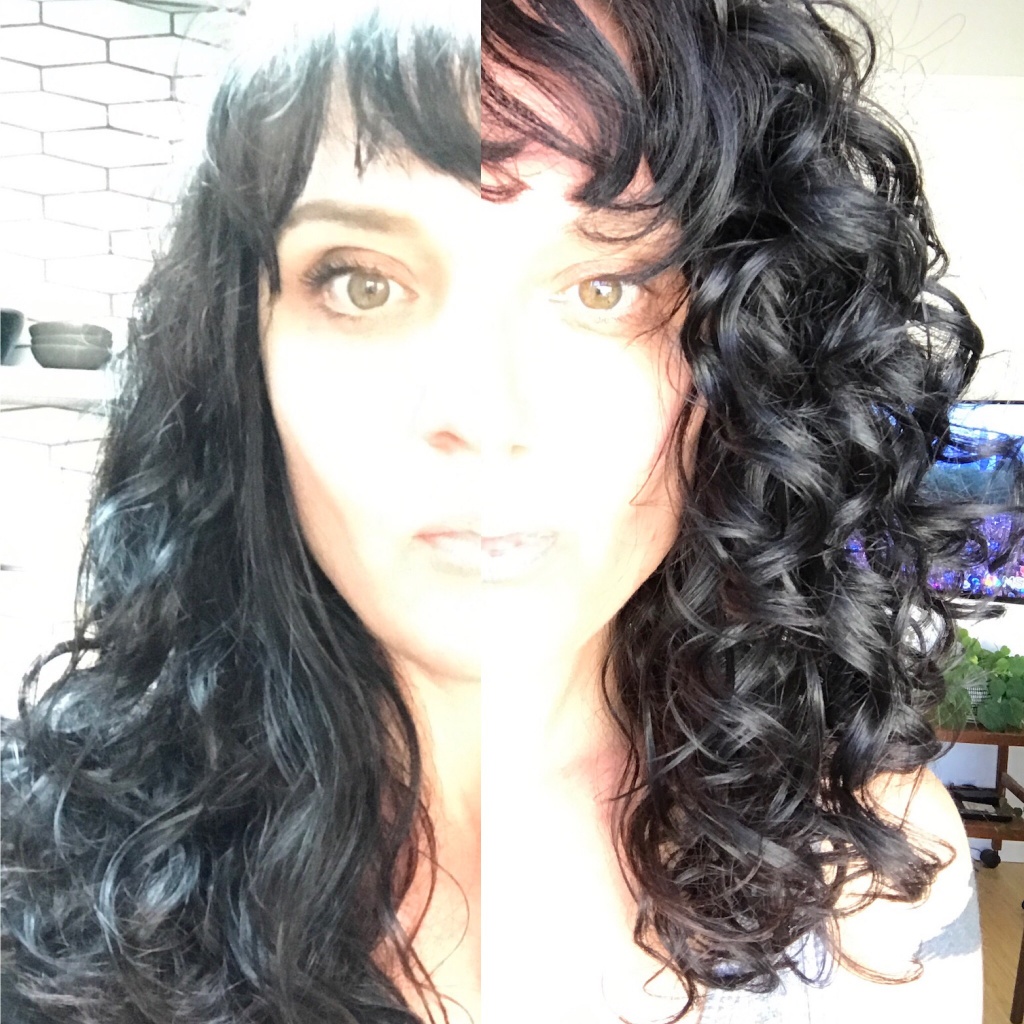 What has (and hasn't) worked on my curly hair – products:
I've tried a bunch of curly hair products, and will probably continue to try more if they look promising. I am aware that my hair will continue to change and get healthier, so the first products I tried might "work better" now than they did when I was new to the curly hair thing. Keeping that in mind, I'll rotate them all and try ones I wasn't sure about originally.
My consistent favorites so far have been from Bouncecurl. I use the moisturizing shampoo (on most days), clarifying shampoo (once every few weeks), the cream conditioner, leave-in conditioner, clump and define cream, and cream gel.
The first curly products I tried were from LUS, which I liked at first, but didn't love after a few washes. The shampoo is on the clarifying side (more lather, less moisturizing) and the 3-in-1 third step isn't quite enough for my hair. The scent is also not my favorite.
I was excited to try the line from Raw Curls, since it is probably the cleanest line of products I've come across so far. I love their gels and their anti-frizz spray, but haven't loved their shampoo and conditioner. Like I mentioned above, I will try them again now that my hair has changed quite a bit!
Most recently, I used the softening 4 step system from Curl Mix. It definitely made my hair softer, but I didn't get quite as much definition as I have with the Bouncecurl and Raw Curls stylers. (update 9/4/20: I've been really liking the Curl Mix moisturizer and flax gel. It gives me the best crunch, which is just so satisfying to scrunch out once it's completely dry.)
On my list to try: Innersense and Rahua, but this shit is getting expensive so I might stick with Bouncecurl for a while since I know it works!
Here is my most recent hair, about 3 months in of treating my hair like curly hair!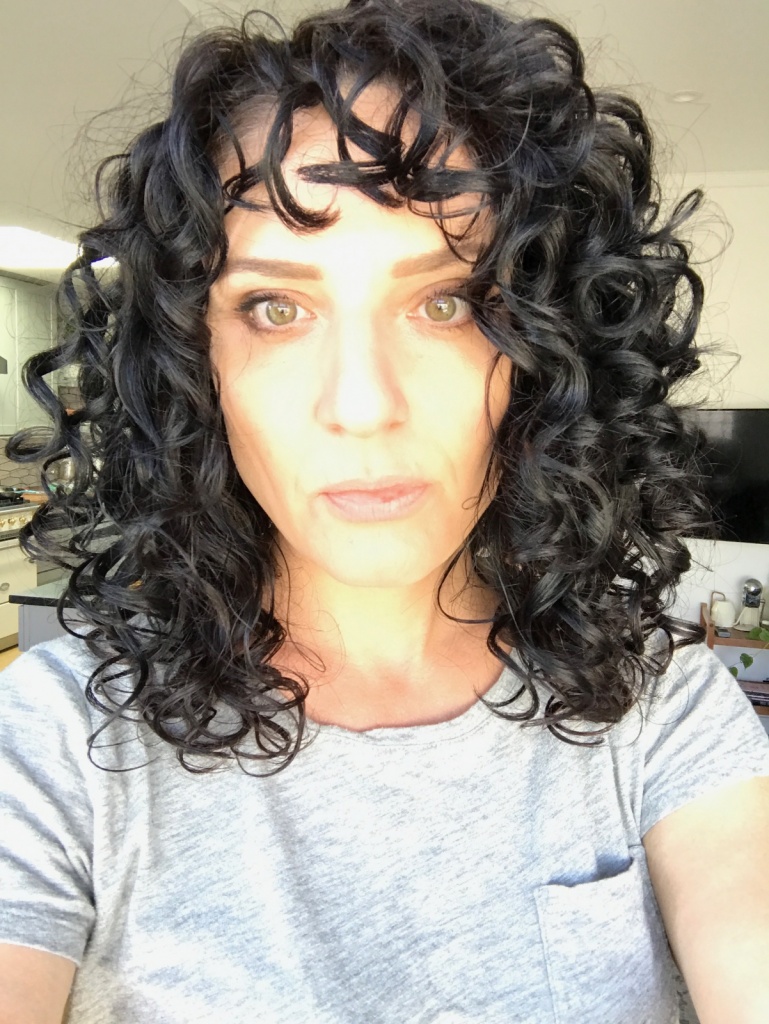 As I mentioned, this is a process, so I will continue to update you with my favorite new products and techniques I like for my curly hair! Do you have favorite curly products you think I should try? Let me know in the comments.
More non-food girly shit can be found here and here.
All of the links on zenbelly.com are for information purposes, however some are affiliate links to books, products or services. Any sponsored posts are clearly labelled as being sponsored content. Some ads on this site are served by ad networks and the advertised products are not necessarily recommended by Zenbelly.