When I run into the store unsure of what to make for dinner, seven times out of 10 I'll grab some bone-in, skin-on chicken thighs. They're just so simple and versatile- you can simply roast them on high heat rubbed with your favorite seasonings, pan roast them with bacon and apples, or you can get them extra crispy one the stove top, which happens to be my new favorite method.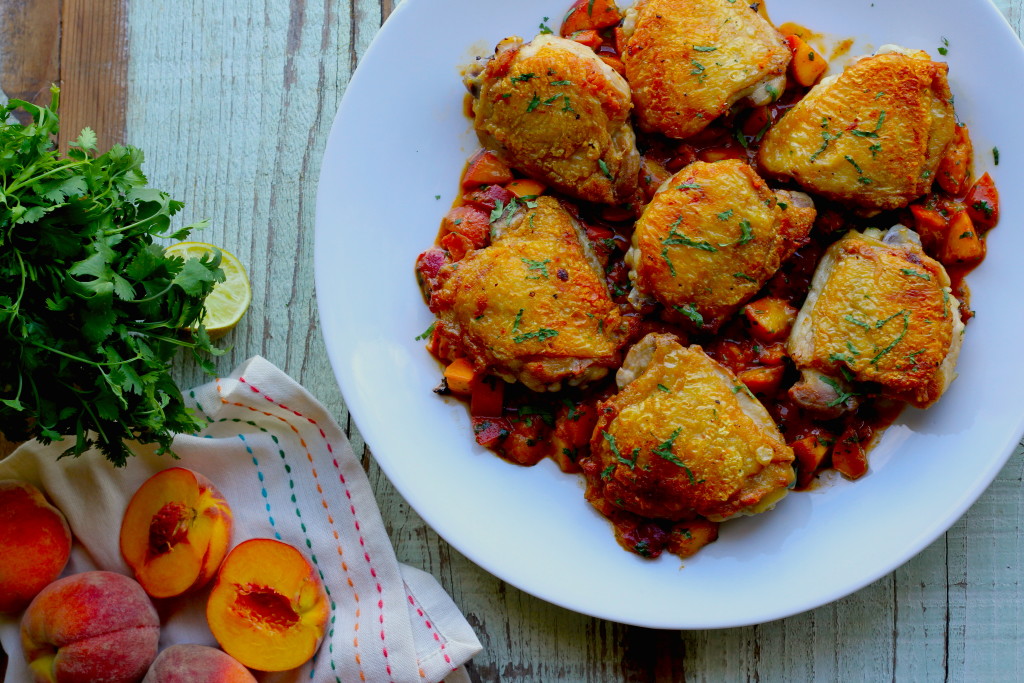 The key here is to walk away from the pan while the chicken is cooking. This is not a stir-fry; you don't want to mess with it. If you try to turn the chicken too soon, you'll wind up flipping a skinless thigh, while the skin remains adhered to the pan. Not what you want. If you practice your patience on this one, you'll be putting unbelievable crispy chicken thighs on the table, no breading or deep frying required. Heads up: There will be splatter. If you have a splatter guard, now's the time to use it!
The quick peach compote adds a wonderful sweet & spicy dimension to this dish, and I love crispy chicken thighs with some kind of sauce. But if you're going for easy peasy weeknight dinner, the chicken is still delicious on it's own. Either way: Winner Winner Super Crispy Chicken Dinner.
If you're following the autoimmune protocol, feel free to omit the chipotle, cumin and coriander and add some freshly grated ginger instead.
Crispy Chicken Thighs with Spicy Peaches
prep time: 5 minutes
cook time: 35-40 minutes
serves: 4
3 pounds bone-in, skin-on chicken thighs (about 6-8 thighs)
1 1/2 teaspoons salt
1 teaspoon ghee (or coconut oil)
freshly ground black pepper
3 peaches (about 3/4 – 1 pound)
1 teaspoon ground chipotle
1/2 teaspoon ground coriander
1/2 teaspoon ground cumin
1 tablespoon lime juice
small handful cilantro, minced, plus additional for garnish
Melt the ghee in a large skillet over medium heat. Sprinkle half the salt on the skin side of the chicken and add to the pan, skin side down. Once in the pan, sprinkle the exposed side with the remaining salt, and some freshly ground black pepper.
Allow to cook for 10 minutes without moving. Rotate the pan if need be, but it's important to let the fat render from the chicken skin; it will stick if you move it too soon. After 10 minutes, check the skin and rotate as needed. (If it's still sticking, let it be for a few minutes longer) Cook for another 10-12 minutes, again moving as little as possible, or until the skin is evenly deep golden brown and crispy.  Once crispy, flip the chicken and cook for another 10-12 minutes, or until cooked through. Remove to a plate. Drain all but about 1 tablespoon of the fat from the pan and return the pan to the heat.
While the chicken is cooking, dice the peaches into 1/2 inch chunks and toss with the chipotle, cumin and coriander. After removing the chicken, add the peaches to the pan and sauté for 3 minutes or until soft, but not mushy. Stir in the lime juice and cilantro.
Serve the chicken over the peaches, garnished with additional cilantro.
PIN THIS RECIPE: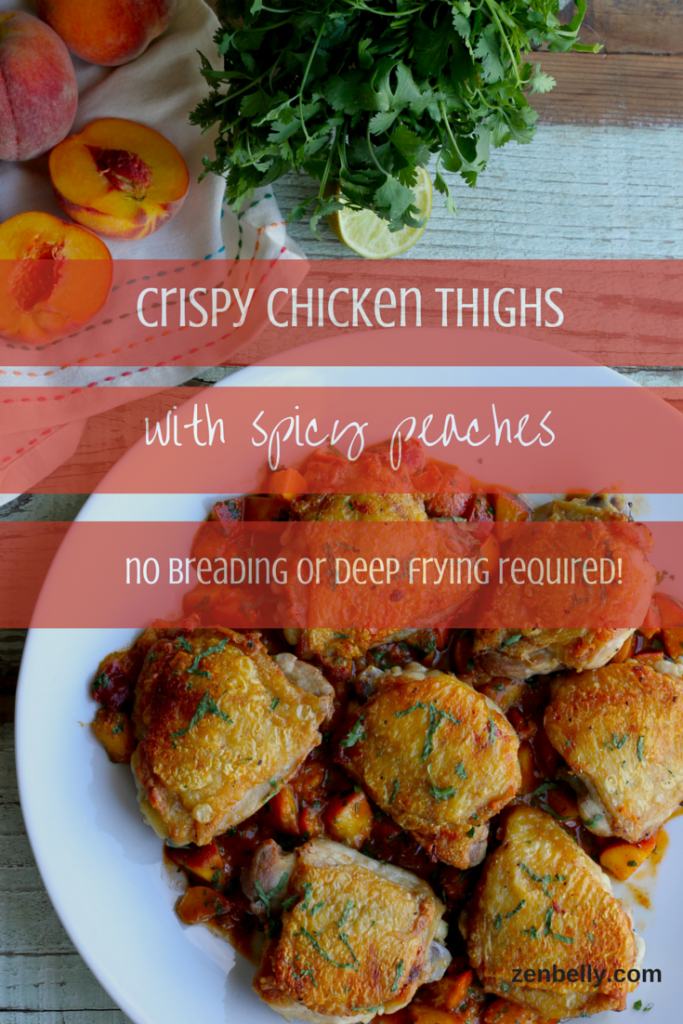 All of the links on zenbelly.com are for information purposes, however some are affiliate links to books, products or services. Any sponsored posts are clearly labelled as being sponsored content. Some ads on this site are served by ad networks and the advertised products are not necessarily recommended by Zenbelly.