One of the most common complaints I hear from people who are attempting to transition to a paleo diet is that it's just too expensive. It certainly can be! I know in my house, when we miss the Farmers Market and don't plan ahead for the week, we wind up spending a small fortune on groceries. But it doesn't have to be this way.
You can absolutely eat well without breaking the bank. Don't believe me? Well my friend Ciarra, the blogger behind Popular Paleo, wrote an entire book about it! It's called The Frugal Paleo Cookbook, and it's going to be released on December 2nd.
I was lucky enough to get a sneak peek at her soon to be released cookbook, and it's a real gem. I mean, there are a LOT of recipes in there, obviously, but there's so much more, including:
4 keys to budgeting on the Paleo diet
Tips for maximizing your time in the kitchen (who couldn't use more time?!)
15 spice blends with 5 ingredients of less
And if you pre-order, you not only get the book at 25% off, you also get
Ciarra's exclusive bonus materials:
Her 20 Frugal Finds at Costco
10 Paleo Diet Myth Busters
7 special offers from Paleo companies like Barefoot Provisions, Fat Face Skincare, Tx Bar Organics, PrimalPal, Pure Indian Foods, Exo Protein Bars, and WholeMe.
I'm so thrilled to be able to share one of the recipes from The Frugal Paleo Cookbook before it's even on the shelves. I saw a picture of this dish on Instagram a while back, and left a comment to the tune of "holy crap I want that right freaking now please bring it to me" Something like that. Doesn't it look fab?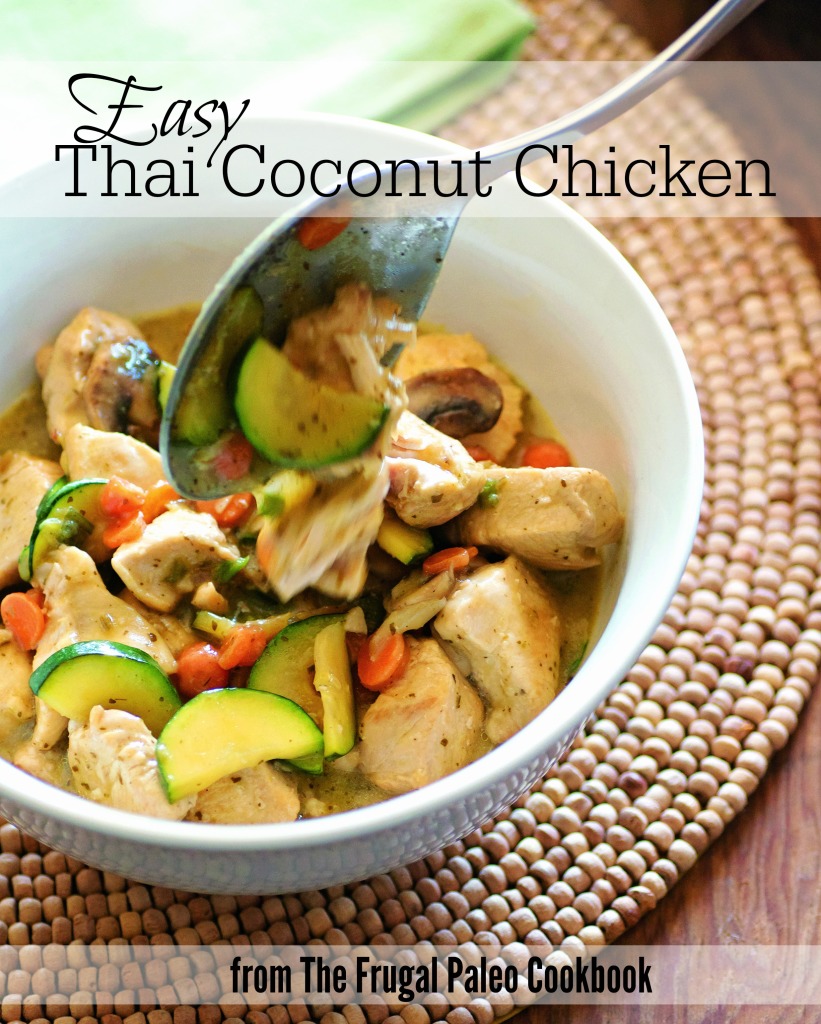 Easy Thai Coconut Chicken from The Frugal Paleo Cookbook
This recipe transforms basic chicken and vegetables into something exotic and fantastic thanks to a couple dynamic, yet accessible, ingredients: coconut milk and green curry paste. These ingredients can be found in any normal grocery store; no additional stops at exclusive health stores required.
Serves 4
Ingredients:
1 pound (454 g) chicken breasts (boneless, skinless)
2 cloves garlic, minced
1 cup onion, diced
1/2 cup (40 g) sliced white mushrooms
1/2 cup (75 g) carrots, sliced into coins
1 cup (150 g) zucchini, sliced into half-moon shapes
1 (13.6oz/403 mL) can full fat organic coconut milk
3 tsp (45 mL) green curry paste
1/2 tsp, plus a pinch kosher salt
1 tbsp (45 g) red chili pepper slices
1 tbsp (45 g) coconut oil
Optional: Prawns can be substituted for chicken for a seafood option or double the recipe and use both chicken and prawns to feed a crowd!
Prep:
In a small bowl combine the canned coconut milk with the green curry paste. Set aside.
Preheat a large, high-sided skillet with a lid, to medium-high and melt the coconut oil in the pan.
Meanwhile, cut the chicken breasts into 2-inch (5-cm) cubes and season one side with a sprinkling of kosher salt.
When the coconut oil is hot, drop the cubed chicken into the pan. This is one time when you don't want to stir the meat while it cooks. Let the chicken sear, undisturbed, for about 5 minutes before flipping or turning the cubes to a second side to sear for about 3 minutes.
Reduce the heat to medium, then add the carrots, onion and garlic to the chicken. Cook and stir for about 4 minutes. Add the zucchini, mushrooms, chile pepper slices and the remaining 1/2 teaspoon salt.
Continue to cook and stir for another 5 minutes. If at any point the pan is getting too dark with what looks like burnt bits on the bottom, use about a 1/4 cup (60 mL) of water to deglaze the pan. Deglazing means that liquid is used to loosen the browned bits stuck to the bottom of a hot pan during the cooking process. The liquid "lifts" them up and incorporates the browned bits as added flavor to the dish. If you need to do it while you prepare this portion of the recipe, do it. If the browned bits are not overwhelming the pan, don't worry about it.
When the zucchini and mushrooms are golden brown, pour in the coconut milk mixture. Simmer for 8 to 10 minutes at this temperature to reduce the coconut milk slightly and concentrate the flavors.
I recommend serving this dish over cauliflower rice (which can be found on page 169 of the book) or eating it as a chunky soup, garnished with fresh basil—regular, sweet or Thai basil is fine.
For a pescatarian variation, 1 pound of prawns (about 31 to 40 per pound [1 kg] size is ideal) can be substituted. Select wild prawns that have been shelled and deveined, for added convenience. Cook the vegetables as directed, then add the prawns to the pan at the same time as the coconut milk mixture. The prawns will cook as the coconut milk simmers and thickens.
All of the links on zenbelly.com are for information purposes, however some are affiliate links to books, products or services. Any sponsored posts are clearly labelled as being sponsored content. Some ads on this site are served by ad networks and the advertised products are not necessarily recommended by Zenbelly.