Call me crazy, but I never loved the idea of smothering innocent sweet potatoes with marshmallows. I mean, sweet potatoes are already, well, sweet. And marshmallows are super sweet. I totally get that it's a classic comfort food that people just can't live without, and if that's you, marshmallow on. But I just can't go there.
I do love a good marshmallow, don't get me wrong, but I'll save them for dessert. I might even get them all toasty over a fire and make s'mores with my grain-free graham crackers and some good chocolate. I might be getting off topic.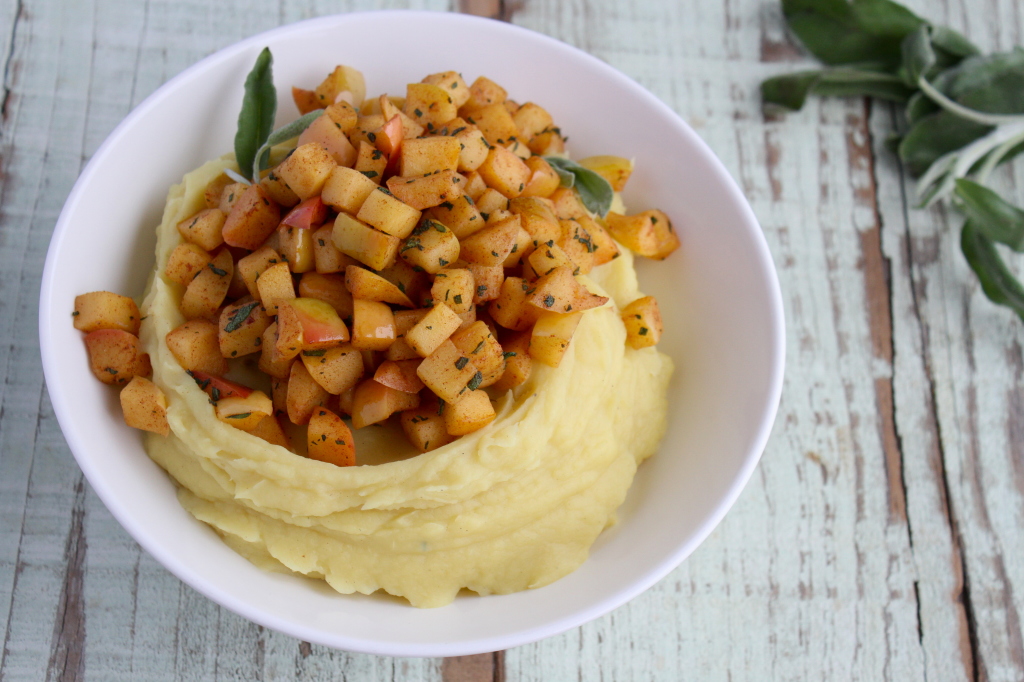 sweet potato puree with apples and sage
Back to the spuds.
I made this dish for a wedding I catered recently, and they were a bit hit. They were one of three family style side dishes, along with Roasted Brussels Sprouts with Lemon and Thyme, and Sunchokes with Gremolata. The wedding itself was lovely; an intimate gathering tucked into the redwood mountains outside of Santa Cruz, California.
It was one of those events that just naturally meshed perfectly with the food that I make, rustic yet refined. Bright white tablecloths in the redwoods. It was the first wedding I've catered since returning from my own wedding in Connecticut earlier in October, and was the perfect reintroduction to work. A good reminder of why I love what I do.
This dish tastes a lot like Thanksgiving, to me, and would be a wonderful addition to your Holiday feast this year. And maybe each year that follows, as well.  The silky smooth sweet potatoes are the star, as they should be, with the apples and sage offering the perfect counterpoint of flavor. The apples also offer a little hit of texture, as long as you don't over cook them. You want them to be just softened, not apple sauce.
Sweet Potato Puree with Apples and Sage
serves: 4, easily scaled
For the puree:
3 pounds sweet potatoes (about 3 medium), peeled and sliced in 1 inch thick rounds
3/4 teaspoon sea salt
1/4 teaspoon nutmeg
1/8 teaspoon cardamom
1/4 cup butter, ghee, or fat of choice
For the apple topping:
2 apples, preferably a firm variety, cut into 1/2 inch dice
1 tablespoon butter, ghee, or fat of choice
1/2 teaspoon cinnamon
1 tablespoon minced fresh sage (about 5-6 leaves), plus additional for garnish, optional
1/8 teaspoon sea salt
For the sweet potato puree:
In a medium stock pot, add enough water to cover the sweet potatoes and bring to a boil.
Once very soft (likely after about 15-20 minutes), drain.
Transfer the sweet potatoes to a food processor along with the butter, nutmeg, cardamom and salt, and puree until smooth. You may have to scrape down the sides a few times to get it smoothly pureed. Alternately, you can use a food mill, or a hand held masher. (The masher won't get them as silky smooth, but does the trick.)
Meanwhile, make the apples:
In a large skillet over medium-high heat, melt the butter.
Add the apples and saute, stirring often until just softened but not mushy, about 8 minutes.
Add the sage, cinnamon, and salt and saute another 30 seconds. If there is anything stuck to the bottom of the pan, add a tablespoon or so of water and scrape it up and mix it into the apples. There's good flavor in there!
Serve the apple mixture over the sweet potatoes.
All of the links on zenbelly.com are for information purposes, however some are affiliate links to books, products or services. Any sponsored posts are clearly labelled as being sponsored content. Some ads on this site are served by ad networks and the advertised products are not necessarily recommended by Zenbelly.