These Pumpkin & Fresh Cranberry Scones are one of the only pumpkin things I'll make during the Fall… I should probably come clean.
Pumpkin & Fresh Cranberry Scones
I'm not a huge lover of pumpkin. I'd pick just about any dessert over pumpkin pie, and if anyone ever put pumpkin in my coffee, I can't promise that I wouldn't punch them in the neck.
But still, it's tough to resist the urge to play with pumpkin recipes this time of year, considering the all out pumpkin mania that occurs. It seems that every year, I get a craving for some kind of pumpkin something, and have to get in the kitchen to create it.
This year, it was a simple scone; slightly sweet, buttery, spiked with tart fresh cranberries, and are of course just a little bit pumpkin-y.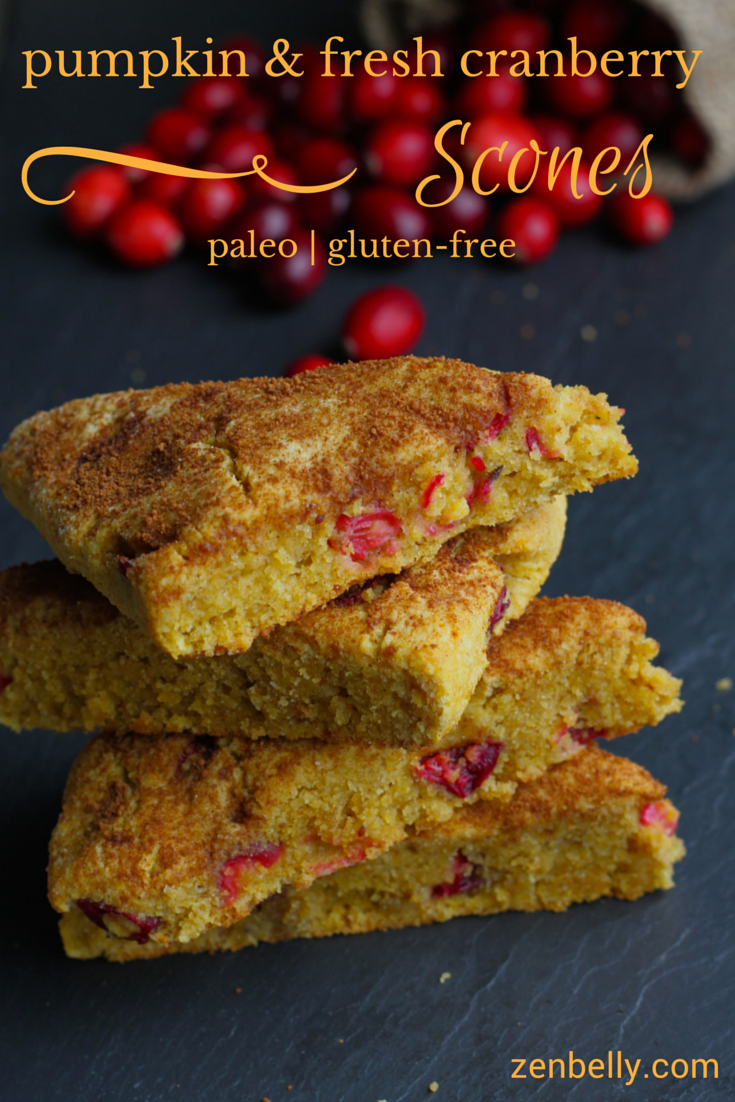 Pumpkin & Fresh Cranberry Scones
makes 16 scones
3 cups finely ground almond flour
1 cup arrowroot starch, plus more for dusting
1 teaspoon ground cinnamon
1/2 teaspoon ground ginger
1/4 teaspoon ground nutmeg
1/4 teaspoon salt
1/2 teaspoon baking soda
6 tablespoons grass-fed butter
2 eggs
1/4 cup maple syrup
1/2 cup pumpkin puree
1 cup fresh cranberries, halved
1 teaspoon coconut sugar
1/4 teaspoon cinnamon
Preheat the oven to 350 and line a baking sheet with parchment paper.
In a large bowl, whisk together the almond flour, arrowroot, 1 teaspoon cinnamon, ginger, nutmeg, salt and baking soda.
With a dough blender, cut in the butter until it resembles coarse crumbs
In a medium bowl, mix together the eggs, maple syrup, and pumpkin puree.
Pour the wet ingredients and the cranberries into the dry ingredients, and mix until combined.
Turn the dough out onto the prepared baking sheet and dust your hands with arrowroot. Press the dough into a rectangle, about 8 inches by 10 inches, and about 3/4 inch thick.
Mix together the coconut sugar and 1/4 teaspoon cinnamon and sprinkle on top.
Dust a knife with arrowroot, and cut an X through the dough, from one corner to the other. Make two more perpendicular cuts through the center. Lastly, cut each quarter in half, so you wind up with 16 triangles (See pattern above)
Bake for 18-22 minutes, until golden brown and somewhat firm to the touch. Allow to cool before separating the scones.
All of the links on zenbelly.com are for information purposes, however some are affiliate links to books, products or services. Any sponsored posts are clearly labelled as being sponsored content. Some ads on this site are served by ad networks and the advertised products are not necessarily recommended by Zenbelly.