This past week, I was chatting with my friend Jennifer of Predominantly Paleo about the Jewish food we missed from our childhoods and pre-paleo days, and challah was at the top of the list. Since I have compulsive recipe developing issues, I basically RAN to the kitchen to play mad scientist. It was one of those recipes that I decided to lock myself in the kitchen for until I perfected. I do that sometimes. (And we don't have a dishwasher, so just imagine what it looks like in here a lot of the time.) In this case, I realized that Rosh Hashanah was coming up in a matter of days, so I had to get it right by then. HAD. TO.
Speaking of Jennifer, her and I are doing some fun collaborations these days, and she's got a recipe up on her site that's another Rosh Hashanah must-have. Apple Kugel! Go make it. And keep your eye out for more creations from the #YiddishKitchen.
An important note about this recipe, and most grain-free doughs: They're different than the gluten containing doughs you remember, and even different than gluten-free versions. The "dough" for this challah is more like cake batter, even though it's a yeast dough. It will rise due to the yeast, but it won't be kneadable. It's pourable, like cake batter. Because of this, you won't be able to braid this bread like you would traditional challah. So you'll need to pour it into loaf pans instead.
BUT WAIT! Because there is apparently nothing that you can't buy on Amazon, you could, instead, buy a challah mold. (Yes, of course I bought one) I got this one, which it turns out is a braided loaf pan, but not necessarily a challah mold. The finished bread looked a bit like a caterpillar, or as people said on Instagram, a baby's butt (in a good way), or perhaps even boobies. (I'm quoting here, don't judge).
There's also this option, which I believe yields a more traditional challah shape. I'm not completely sure of the volume of it though, but will report back when I know more. (I mean, a girl needs more than one challah mold, right?!) It looks deeper, so you might need to adjust the cooking time.
It's also important to note that this recipe makes either 2 8″ loaves OR 1 large braid (like the one I got, above) plus about 9 "rolls", which you can make in a muffin tin. It's sort of random, I know, but to make the recipe yield just one large braid, I would have had to cut the recipe back to 3/4, which would have made the measurements kind of difficult.
One last thing! Please get a kitchen scale. The cup measurements are not nearly as reliable as the weights provided. There are a huge variety of them available, and they'll up your kitchen game like whoa. Trust me.
Regardless of the shape you wind up making it, this challah is off the chain, real deal challah. As my Jewish sista from another mista Jennifer says: "It's so good it will make you challah"
On that note…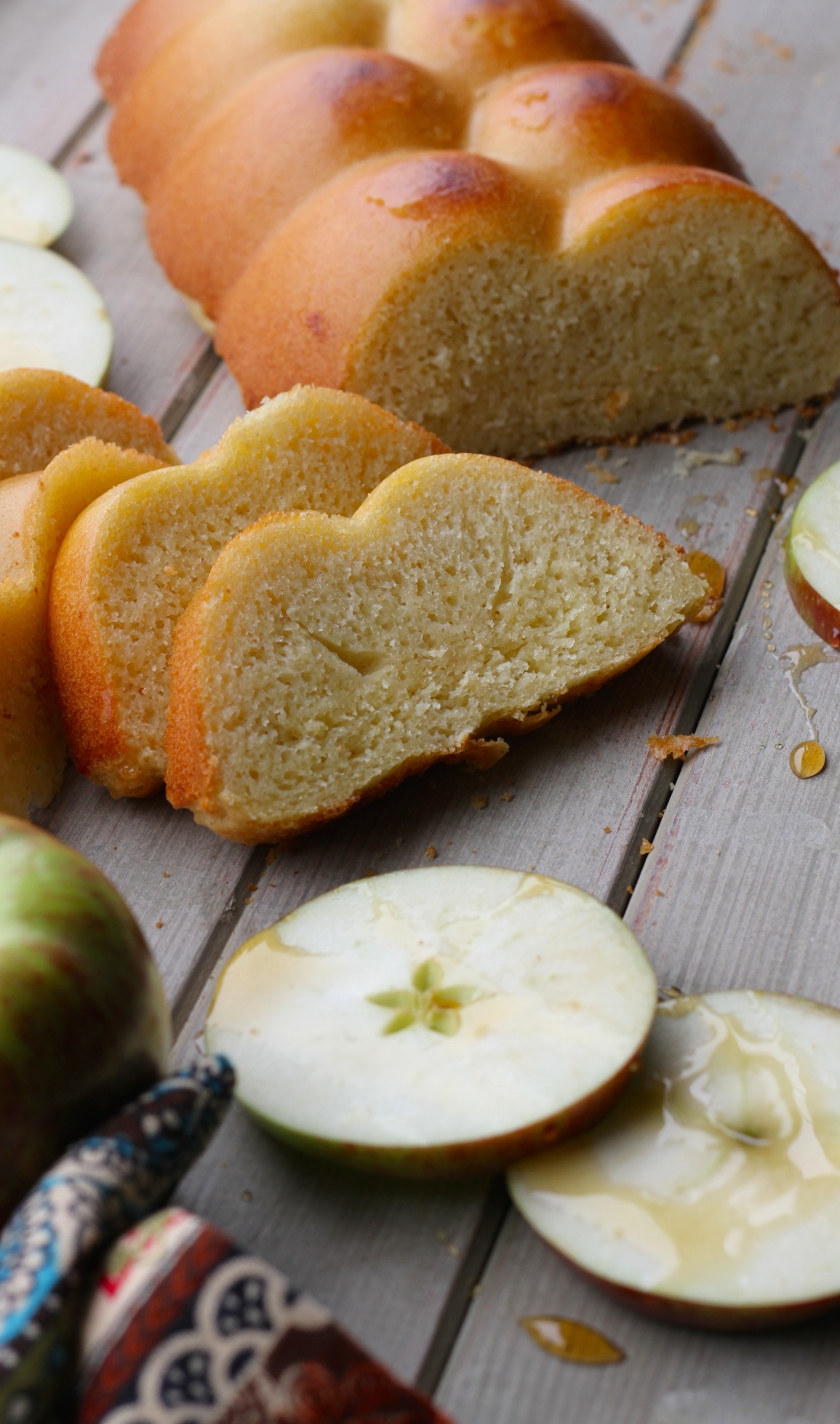 Grain-free Challah
Makes: 2 8″ loaves or 1 large braid + 9 muffins/ rolls
In the warmed bowl of your stand mixer or large bowl whisk together:
1/2 cup warm water (warm enough to feel warm on the inside of your wrist, but not burn)
1 tablespoon active dry yeast
1 tablespoon honey
In a medium bowl, whisk together:
8 eggs
12 tablespoons butter, melted and cooled
1/4 cup honey
Once the eggs, butter and honey are well beaten, remove 1 tablespoon of the mixture and set aside in a small bowl. This will be your egg wash.
In a large bowl combine:
150 grams almond flour (about 1 1/2 cup)
200 grams tapioca flour (about 1 3/4 cup)
200 grams potato starch (about 1 1/4 cup)
2 tablespoons psyllium husk
1 1/2 teaspoons salt
After about 5 minutes, your yeast mixture should be foamy and active. (If this doesn't happen, you should throw it out and start over, either the yeast was bad, or the water not warm enough)
To your foamy yeast mixture, add the egg mixture and the flour mixture and beat with the paddle attachment (or beaters if using a hand help mixer) for 2 minutes, scraping down the sides a few times.
The dough will NOT appear to be the dough you're used to, but will be more like cake batter. This is okay. Don't panic. It's just the nature of grain-free dough. Cover the bowl with a clean kitchen towel and set in a warm place.
Allow it to rise for 60-90 minutes, until the dough is at least doubled in size (the warmth of the room will determine how long this takes)
Once risen, preheat your oven to 350.
If using loaf pans: Grease with butter. Pour half of the dough into each, and bake for around 10 minutes. After 10 minutes, brush with the egg wash you had set aside. Bake for another 10, or until golden brown and it bounces back when you lightly push on the top.
If using a challah mold: Brush the inside of the mold with the egg wash you have set aside and pour in the dough so it reaches to about 1 inch below the top. Pour the rest into parchment lined muffin tins, about 3/4 full. Bake the muffins for 10 minutes, and the loaf for about 25. Allow to cool before removing from pans.
L'Shanah Tova!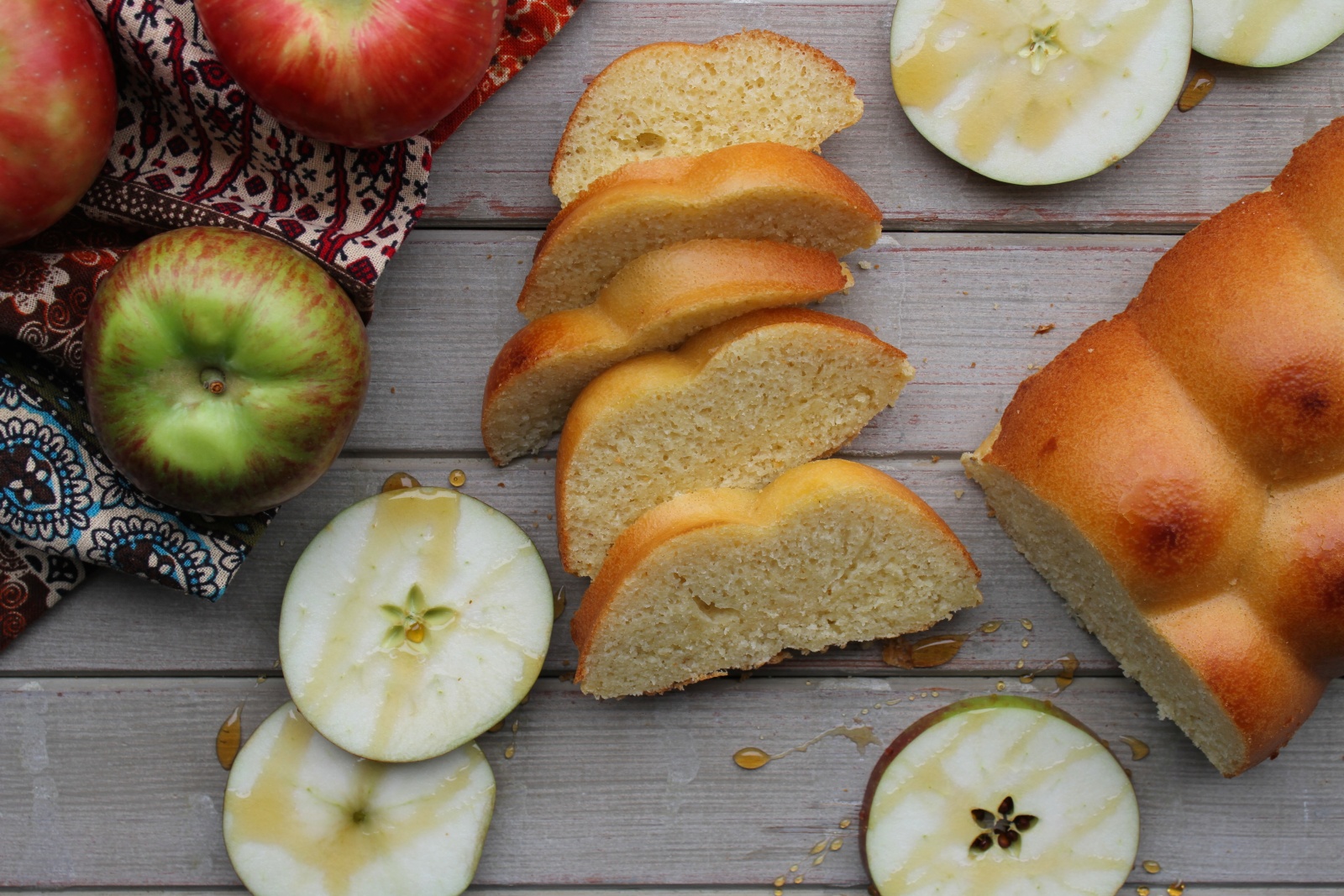 All of the links on zenbelly.com are for information purposes, however some are affiliate links to books, products or services. Any sponsored posts are clearly labelled as being sponsored content. Some ads on this site are served by ad networks and the advertised products are not necessarily recommended by Zenbelly.