Last week on Facebook, I asked the question: "Any favorite Thanksgiving recipes that you'd love to see cleaned up a bit or made gluten-free or Paleo? I'm in the mood for a challenge, lay 'em on me."
Overwhelmingly, people wanted stuffing. More specifically, grain-free stuffing that wasn't meat based. Huh. I already have a sweet and savory pork stuffing and a gluten-free sourdough stuffing, both of which I love. But grain-free AND vegetarian? That's cutting the ingredient options down quite a bit… I figured I could make a simple grain-free bread to use as the stuffing base, but that would mean you'd have to make bread BEFORE making the stuffing, and Thanksgiving is already a pretty intense week, prep-wise. Plus, Any bread recipe I'd be able to whip together this week would be almond flour based, and that would make it off limits to all of my nut-free and AIP readers.
Well, I did say I was in the mood for a challenge, didn't I?

Wild Mushroom & Parsnip Stuffing
Serves 8-10 at the Thanksgiving table, 4-6 as a single side dish
1 ounce dried porcini mushrooms
1 cup boiling water
1 tablespoon ghee, butter, or coconut oil, melted
2 pounds parsnips, cut into 1″ cubes
3 medium carrots, cut into small dice
3 stalks celery, cut into small dice
1 large onion, cut into small dice
6 ounces crimini mushrooms, cut into small dice
3 cloves garlic, minced
6 leaves fresh sage, minced
3 sprigs fresh thyme, minced
1 tablespoon balsamic vinegar
2 tablespoons arrowroot powder
Preheat the oven to 425.
In a large bowl, pour the boiling water over the porcini mushrooms and set aside to rehydrate
Toss the parsnips with the ghee and 1/2 teaspoon salt. Set on a roasting pan and roast for 20-25 minutes, until golden brown and softened.
Meanwhile, heat a large skillet over medium high heat and add the onion, carrot, and celery. Saute for 8-10 minutes, or until softened.
Add the crimini mushrooms, garlic, and 1 teaspoon salt. Cook for another 2 minutes, until the mushrooms are softened. Remove from heat.
Strain the porcini mushrooms and reserve the liquid. Mince the mushrooms and add them to the skillet along with the minced herbs.
To the large bowl with the porcini liquid, add the balsamic vinegar and arrowroot and whisk to combine.
Add the roasted parsnips and contents of the skillet to the liquid mixture. Stir to combine.
Transfer to a medium baking pan and cook for 30 minutes, uncovered. Allow to sit for 5-10 minutes before serving.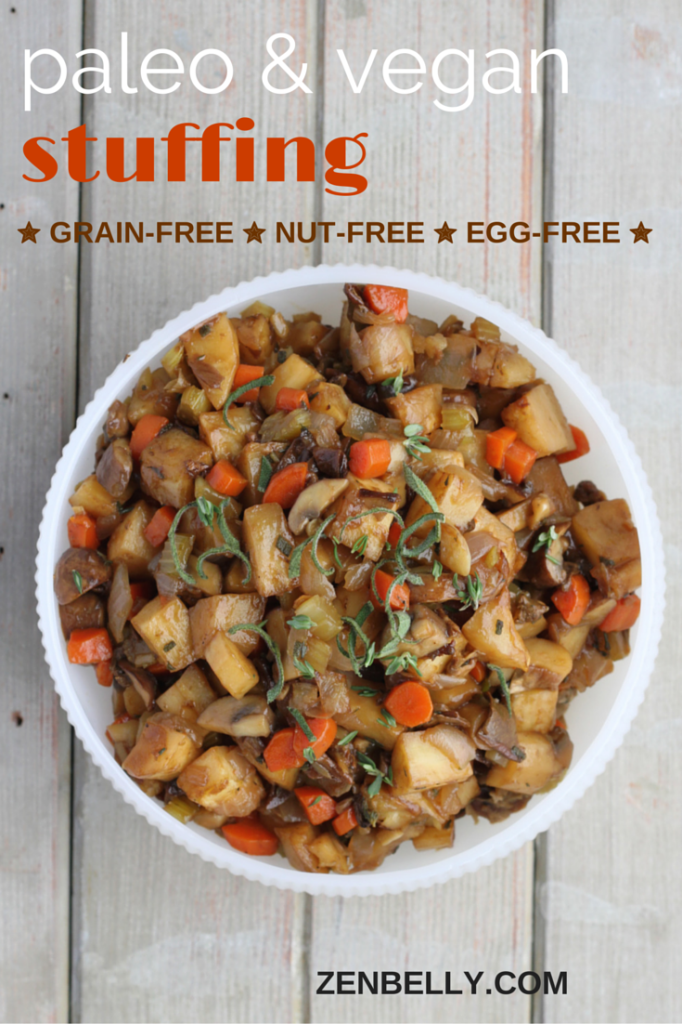 All of the links on zenbelly.com are for information purposes, however some are affiliate links to books, products or services. Any sponsored posts are clearly labelled as being sponsored content. Some ads on this site are served by ad networks and the advertised products are not necessarily recommended by Zenbelly.