HOLY MOSES I just had the best idea.
Well I had the idea on Sunday, the day of the first night of Hanukkah. I wasn't planning on cooking up a traditional feast, but got inspired earlier in the day. This tends to happen with the holidays in general. I pretend they don't exist and then find myself compulsively cooking and shopping and being festive.
I'm a last minute holiday celebrator.
Back to this brilliant idea I had. I was pondering what to make, and of course the first thing that popped into my head was the classic Roast Chicken and Latke meal, complete with apple sauce and sour cream. Maybe even a proper vegetable in there somewhere. There is absolutely nothing wrong with that meal; I could eat it almost daily.
But! What if I truly embraced Hanukkah for what it is, which of course is the holiday where we fry everything we possibly can, to celebrate the oil miraculously lasting 8 days instead of one? What if I FRIED the chicken? And I mean, if I'm going to fry the chicken, if only makes sense to make the latkes into waffles. Because Fried Chicken and Waffles is quite possible the most perfect meal that exists on this planet. If you ask me, anyway.
Happy Hanukkah!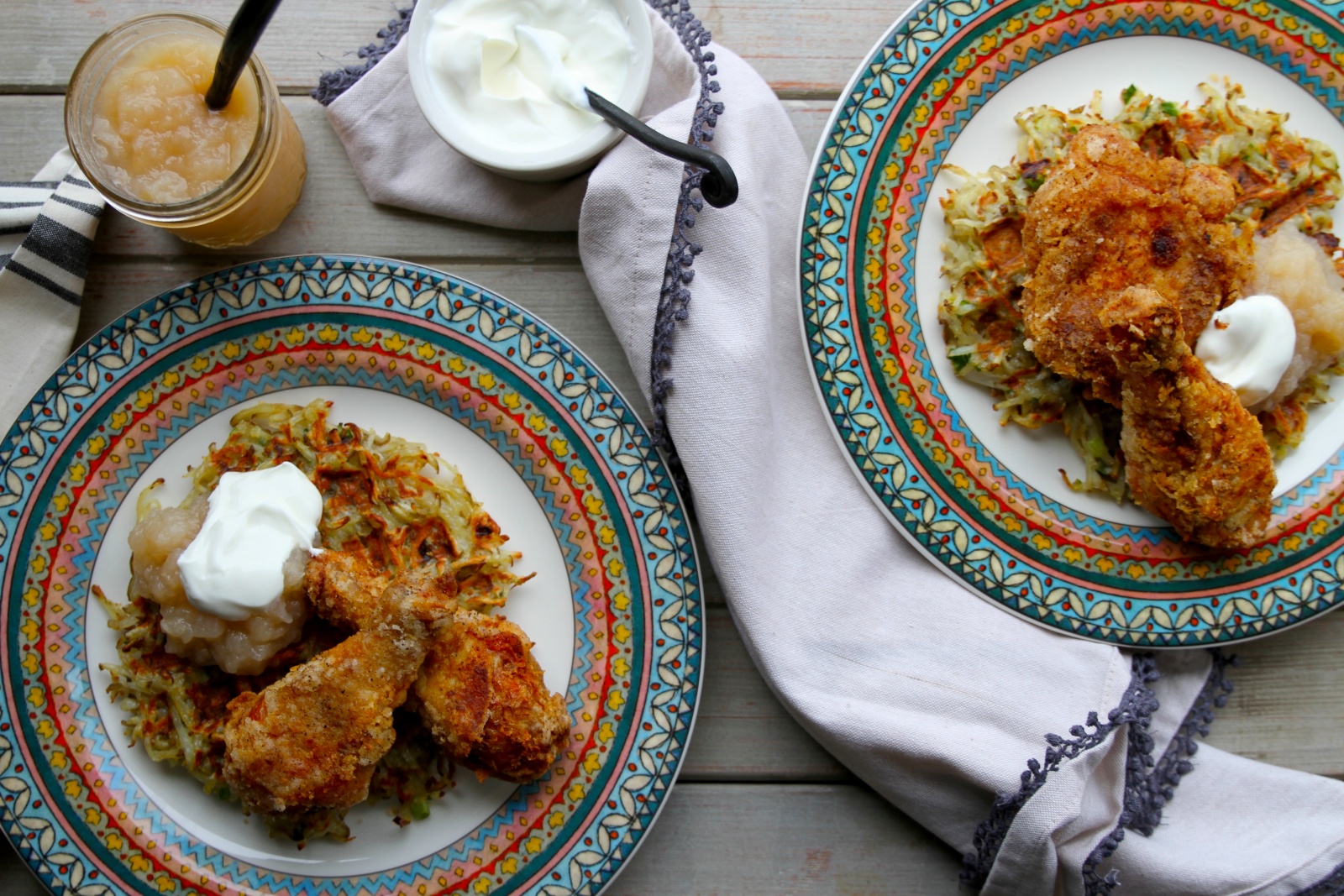 Fried Chicken and Latke Waffles
prep time: 20 minutes, plus time to marinate | cook time: 30 minutes | serves: 4-6
1 whole chicken, cut up OR 2 1/2 pounds thighs and/or legs
1 cup full fat coconut milk
2 tablespoons apple cider vinegar
1 teaspoon salt
3/4 cup potato starch
1 teaspoon salt
1/2 teaspoon garlic powder
1/2 teaspoon paprika
1/4 teaspoon ground coriander
1/4 teaspoon black pepper
2 1/2 – 3 cups oil for frying (light olive, avocado or coconut)
Place the chicken in a plastic bag or glass bowl. Combine the coconut milk, vinegar and salt. Pour over the chicken and refrigerate for at least one hour, and up to four.
In a large bowl, combine the potato starch, salt, garlic powder, paprika, coriander and black pepper.
After the chicken has marinated, drain it well and toss in the potato starch mixture.
Heat large deep skillet over medium-high heat and add the oil. Once it reaches 310-320ºF, add  4 pieces of the chicken, or however many will fit in the pan without crowding. Fry for 10 minutes per side, or until cooked through (165ºF if you're checking).
Remove the cooked chicken to a sheet pan lined with a metal rack, or use paper towels if you prefer. Keep warm while frying the remaining chicken.
Serve with Latke Waffles, along with Apple Sauce and sour cream
Wishing you had more recipes like this one? Your wish is our command; preorder The New Yiddish Kitchen Here!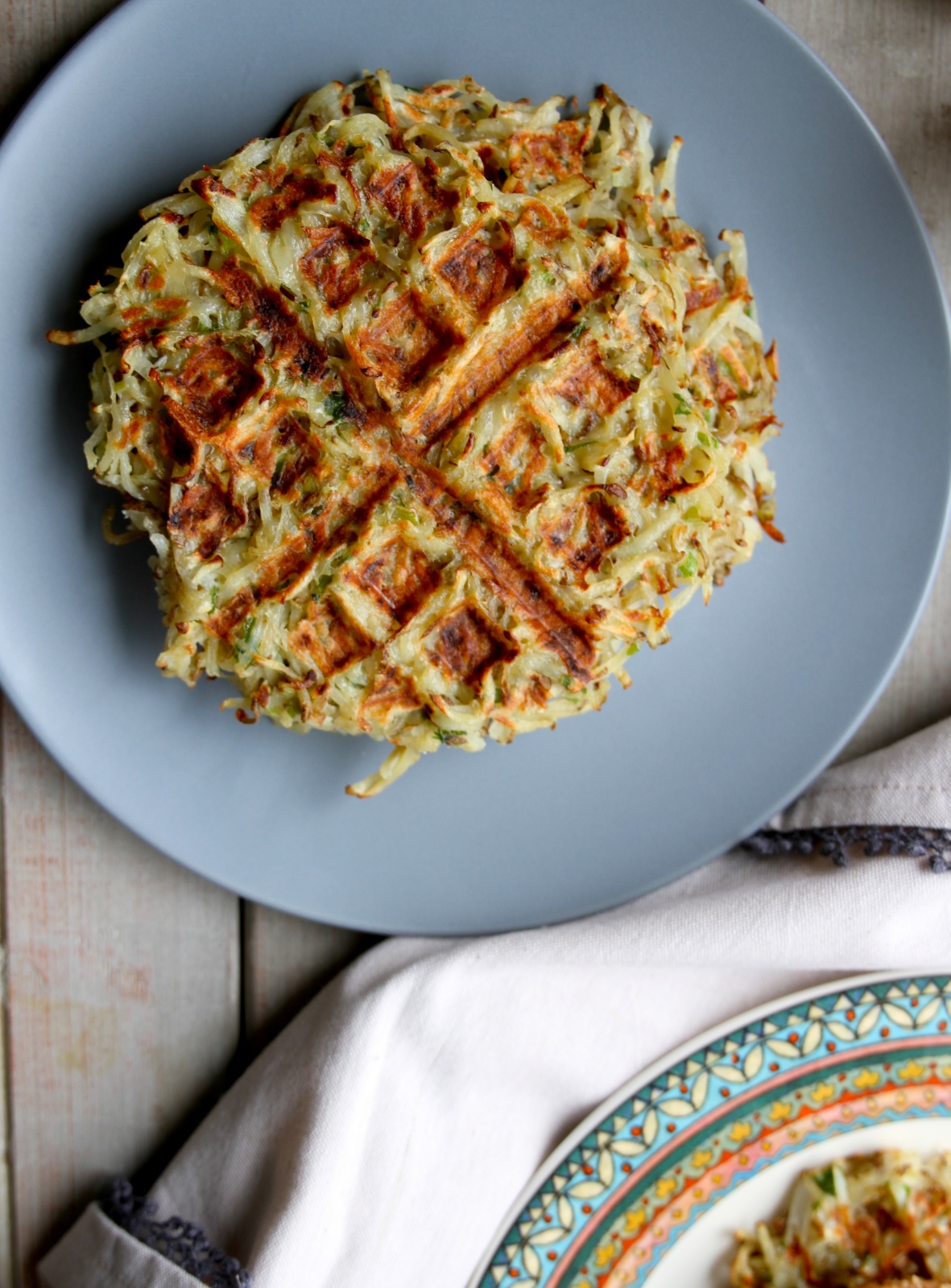 PIN THIS RECIPE: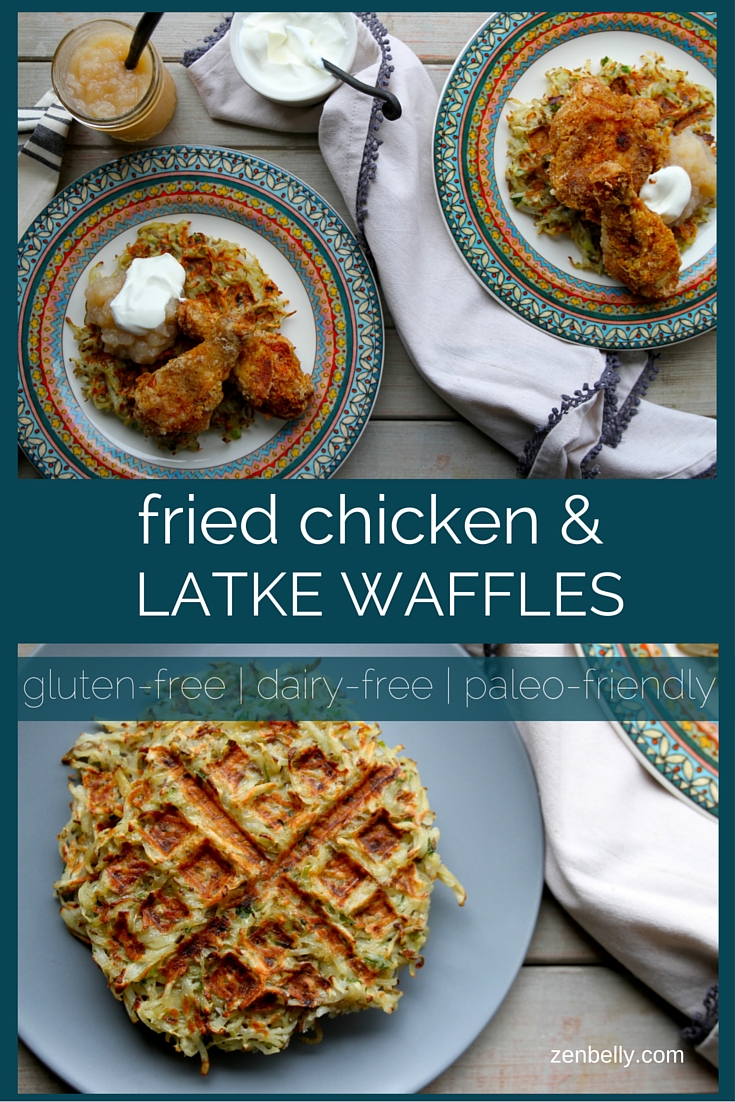 All of the links on zenbelly.com are for information purposes, however some are affiliate links to books, products or services. Any sponsored posts are clearly labelled as being sponsored content. Some ads on this site are served by ad networks and the advertised products are not necessarily recommended by Zenbelly.