Gluten-free pizza can be… less than stellar. I remember the first time I heard someone say "there's no such thing as bad pizza", and the reaction I had to that statement, at least internally, was, I beg your pardon, sir, but there absolutely is such a thing as bad pizza. And life is too short for it, whether you're gluten-free or not! Hi my name is Simone and I am a pizza snob.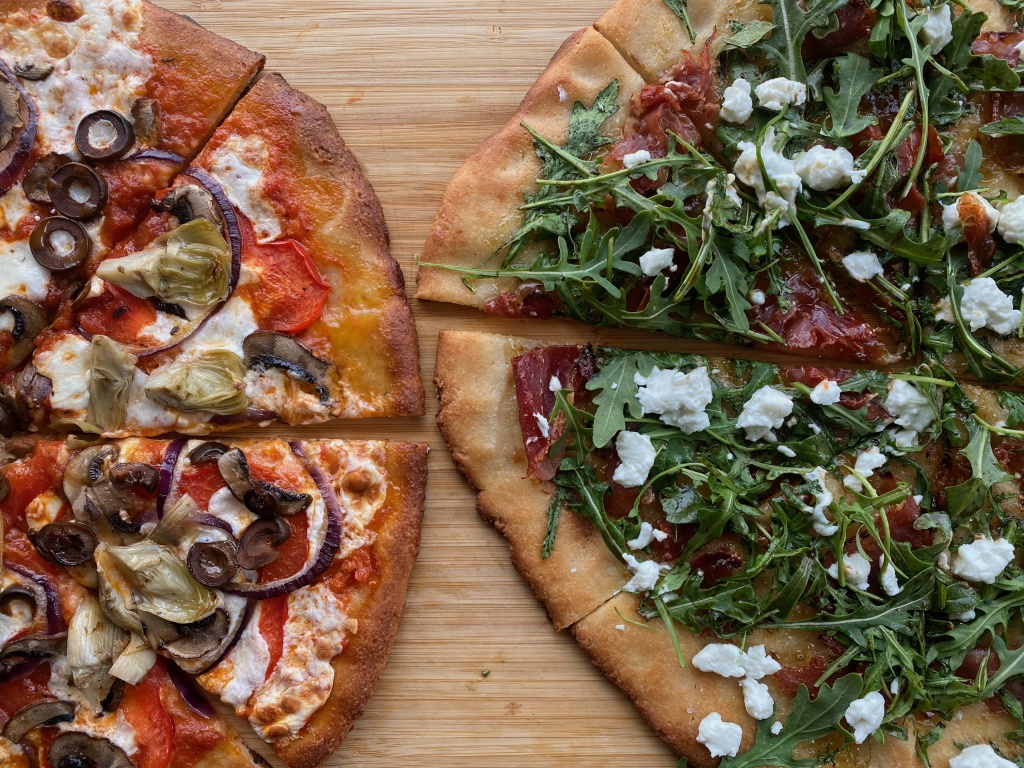 Really good gluten-free pizza? Yes, it exists!
Full disclosure: this recipe is nearly identical to the original NY Style Pizza Crust recipe – one of the oldest recipes that lives here on this site. It's been needing a glow-up for a while now, and I finally made a couple of pizzas this week to photograph and tweak the recipe juuuust a little bit.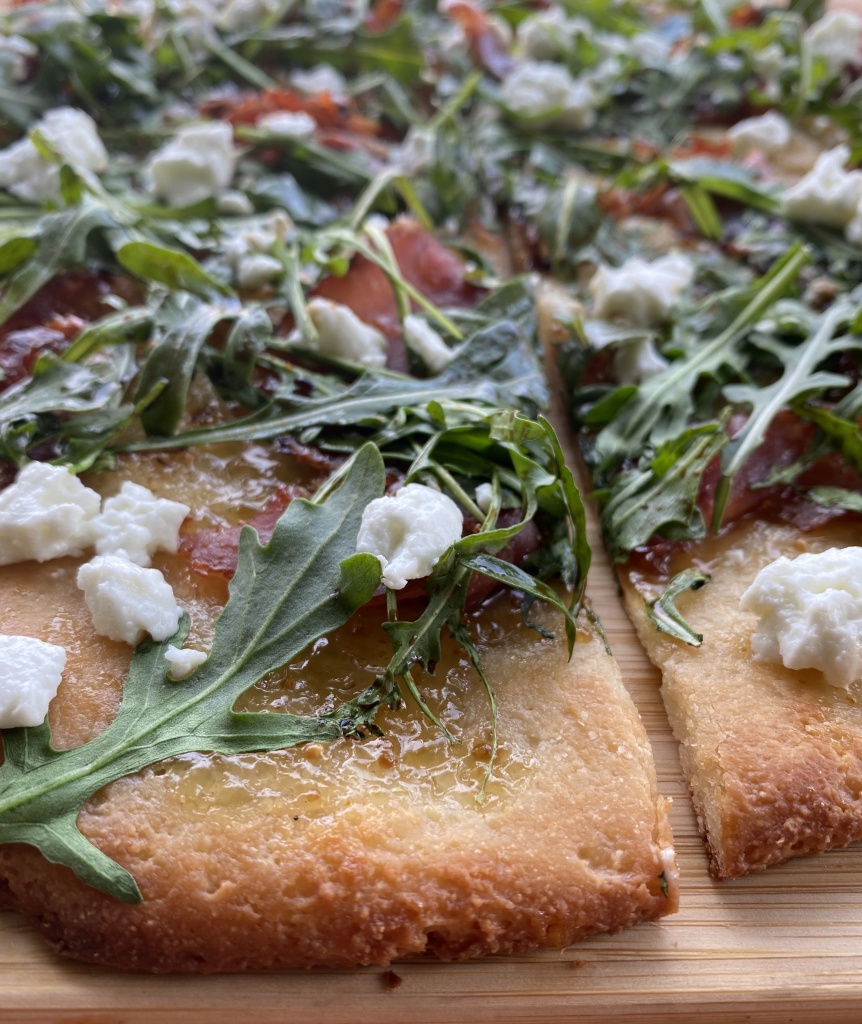 Since it's one of the most popular recipes here at zenbelly, I didn't want to make any changes to the original post; that tends to upset people who have come to rely on it. Instead, I am giving you another option that has even better results (in my opinion), and a more streamlined baking process.
I also doubled the recipe so that it makes two pizzas instead of one. Since creating the recipe, I don't think I have ever made a single batch, so figured it was a good call to make the standard recipe make two 10-inch pizza crusts. Still easily scaleable if you're feeding a crowd!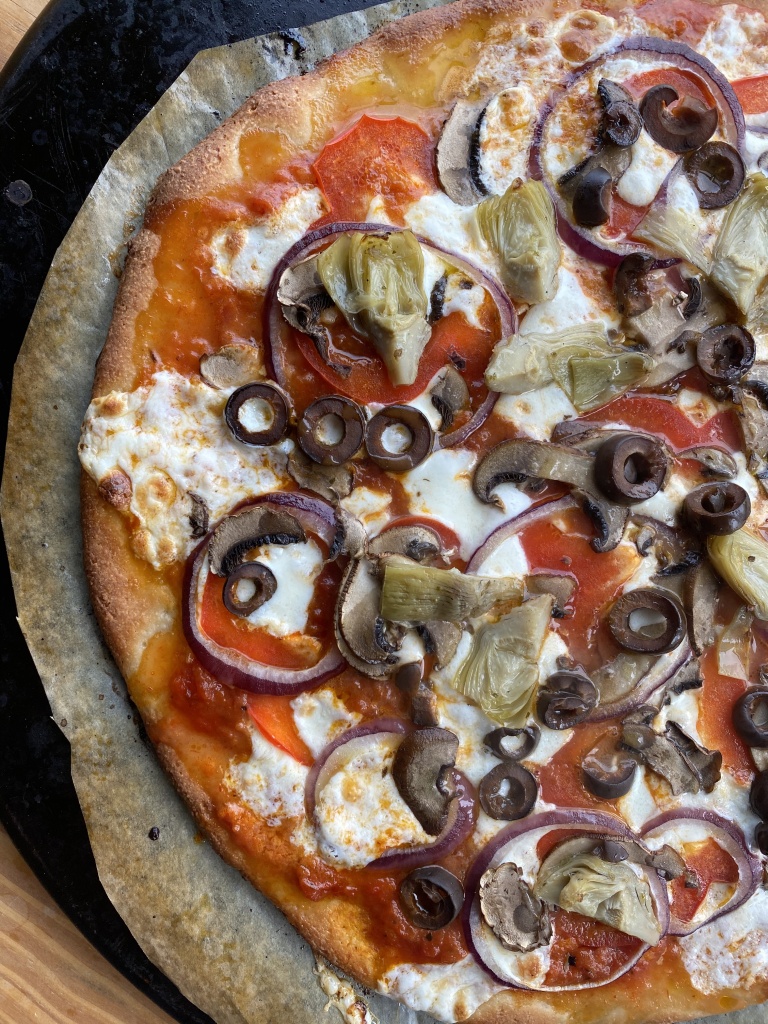 Why am I calling this gluten-free pizza the best? Because it has everything a good New York style pizza has: great flavor, crispy-chewy crust, and is sturdy enough to hold all your favorite toppings even when super thin. And of course you know how I do: it's not just "good for gluten-free", it's good, period!
Just look at that crispy on the outside, chewy on the inside gluten-free pizza crust: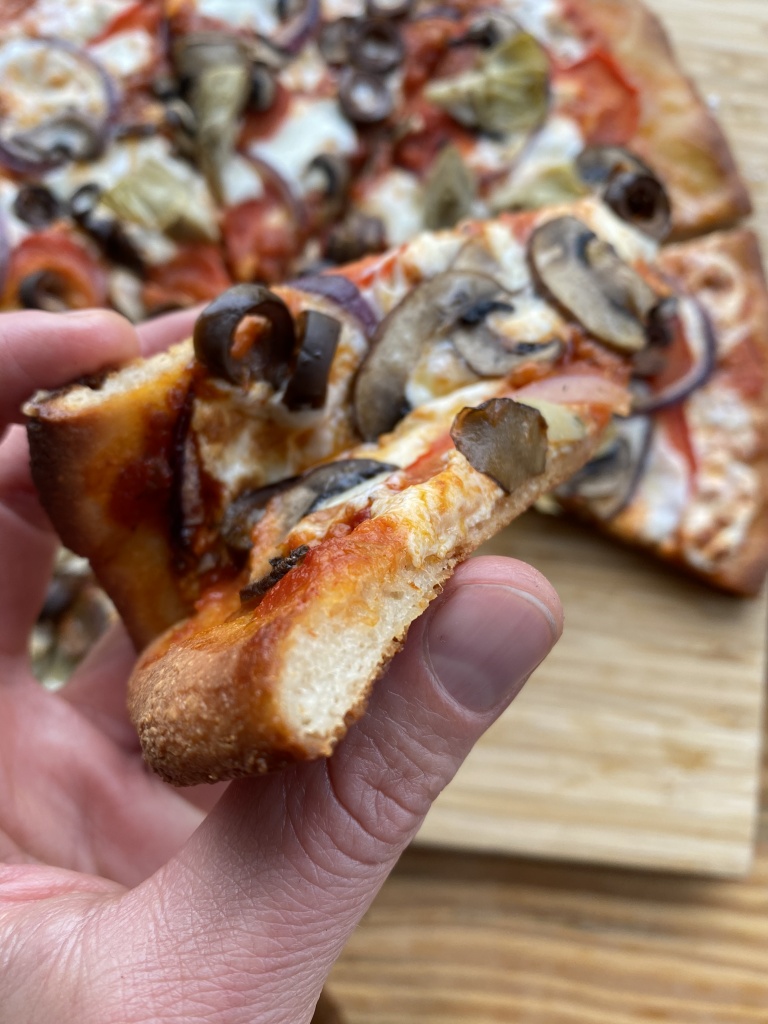 how to make gluten-free pizza crust:
The consistency of this dough is different than the kind you might be used to, if you're used to making regular pizza dough. This one isn't kneadable and stretchable, due to the lack of gluten. Because of that, it has to be handled differently, but I think you'll be thrilled with the end result!
A pizza stone is the best tool to buy to level up your pizza game. If you don't have one, a cast iron skillet is the next best thing. If your skillet is smaller than 10 inches, the pizza will be thicker, so unless you prefer that, you might want to divide the dough into three crusts instead of two.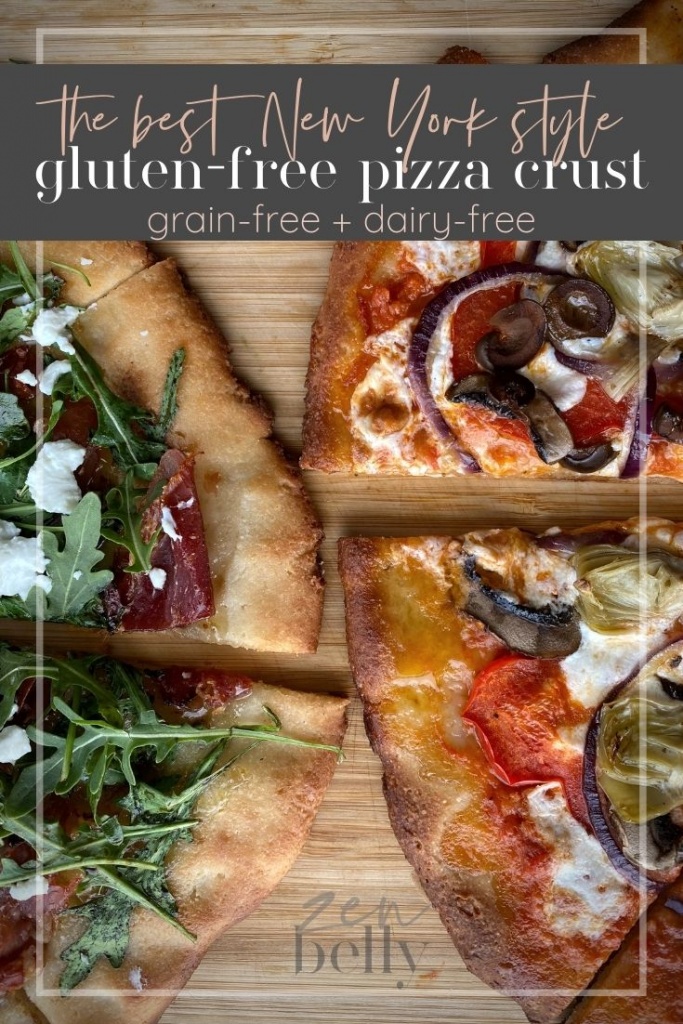 Print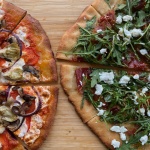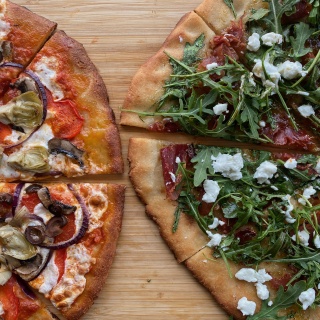 gluten-free pizza crust
Author:

zenbelly

Prep Time:

20 minutes

Cook Time:

12-16 minutes

Total Time:

32-36 minutes + time to rise

Yield:

2 10-inch pizzas

Category:

pizza

Method:

bake
---
Description
Miss pizza since going gluten-free? No more! 
For this recipe, you'll also need parchment paper and a pizza stone or cast iron skillet. 
---
1/2 cup

very warm water

2 tablespoons

honey

2

packets active dry yeast (

4.5 teaspoons

)

2 tablespoons

extra virgin olive oil, plus more for greasing

1

egg white

1 tablespoon

apple cider vinegar

1 1/2 cups

almond flour

1 3/4 cups

tapioca starch, plus more if needed

1 1/2 teaspoon

sea salt
your favorite pizza toppings (see notes) 
---
Instructions
In a large bowl or bowl of a stand mixer, mix together the warm water and honey. The honey should bring the temperature down to a good temp for the yeast – it should feel warm, but not hot, when you drop a bit on your wrist. Stir in the yeast and set aside for about 5 minutes – it should get foamy and active. 
Meanwhile, whisk together the olive oil, egg white, and apple cider vinegar. 
Once the yeast is foamy, add the olive oil mixture along with the almond flour, tapioca starch, and salt. 
Beat with a paddle attachment for about a minute, adding more tapioca starch if necessary, or until it's somewhere between the consistency of pancake batter and cookie dough, but closer to cookie dough. 
Scrape down the sides, beat a bit more so it's all incorporated, and then gather the dough into somewhat of a ball using a rubber spatula. Cover with plastic wrap and place in a warm place for 75-90 minutes. 
After about an hour, preheat the oven to 500°F and cut two pieces of parchment paper just a bit smaller than the pizza stone or pan you're using. Put the pizza stone in the oven to heat up. (without the parchment paper) 
Once the oven is hot, liberally oil the parchment paper and place half the dough on each one. Gently flatten it out so it's as thin as you can get it. Top with sauce, cheese, and any toppings you'd like. 
Carefully remove the pizza stone from the oven and slide the pizza with the parchment onto it. Return to the oven and bake 6-9 minutes, or until it's crispy on the bottom and deep golden brown. 
Repeat with the remaining pizza crust. Allow to cool slightly before slicing. 
---
Notes
For veggie toppings, such as mushrooms, onions, and peppers: slice them very thinly so they cook in the short time the pizza cooks 
Meat toppings should be cooked first if they're raw (like sausage) 
If using tomato sauce, make sure it's cold when you spread it on the dough, or it will make the crust soggy. 
Keywords: gluten-free pizza
All of the links on zenbelly.com are for information purposes, however some are affiliate links to books, products or services. Any sponsored posts are clearly labelled as being sponsored content. Some ads on this site are served by ad networks and the advertised products are not necessarily recommended by Zenbelly.