It's official, now that I know how good sous vide brisket can be, I'll never make it another way. I might get my Jew card revoked for saying this, but I've never been a huge fan of braised brisket. Texas BBQ brisket is another story however; the texture and flavor of that just can't be beat. Since I know I'll never be a pit master, I wanted to find a way to replicate what I love about good BBQ brisket at home. But how?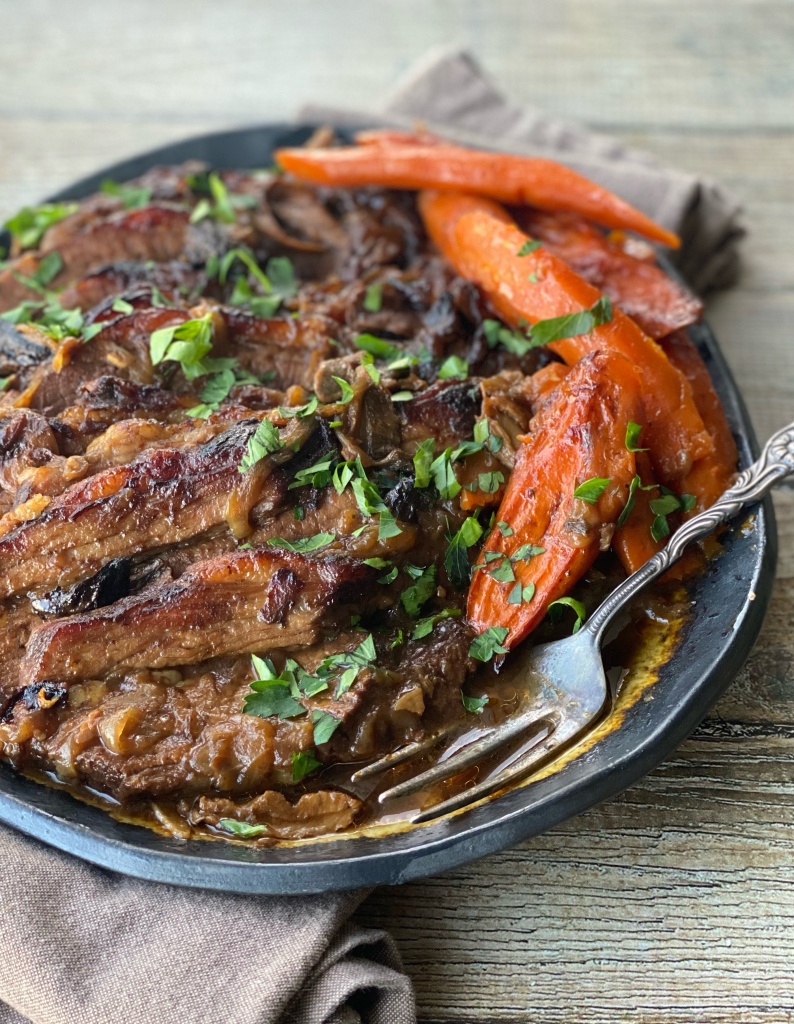 Sous vide brisket – I'll never cook it another way again.
It's not difficult to cook a brisket long enough for the tough muscle fibers to break down and become soft. But to get the texture tender and juicy, not dried out? That's another story. It's truly not easy, but there's a simple solution: sous vide.
I have been making brisket this way for a few years now, and after much tweaking, I can safely say that this is quite possibly the best thing that I make. I make a mean brisket.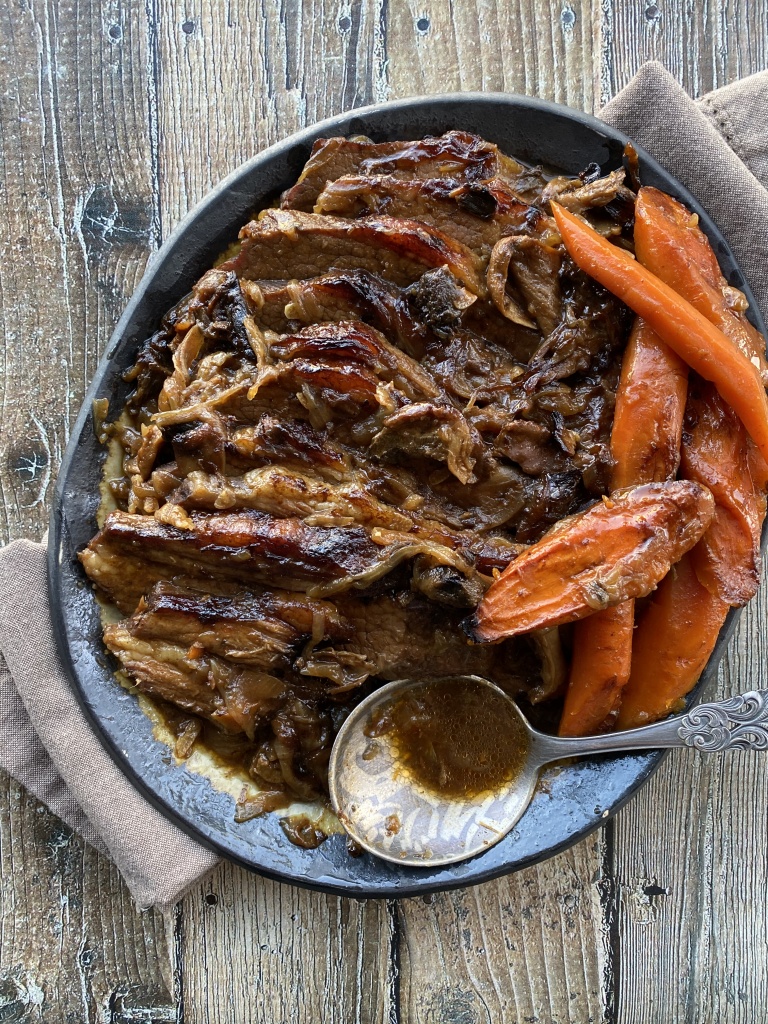 What is sous vide cooking? It means "under vacuum" in French, which refers to the vacuum sealing that takes place before placing the food into a water bath – and that's where the magic happens.
The temperature of the water is set to the temperature you want the meat (or whatever you're cooking) to end up at. What that means is that the food never goes over the temperature it's meant to be cooked to. Instead, the food is slowly and gently cooked at a lower than typical temp for a longer period of time.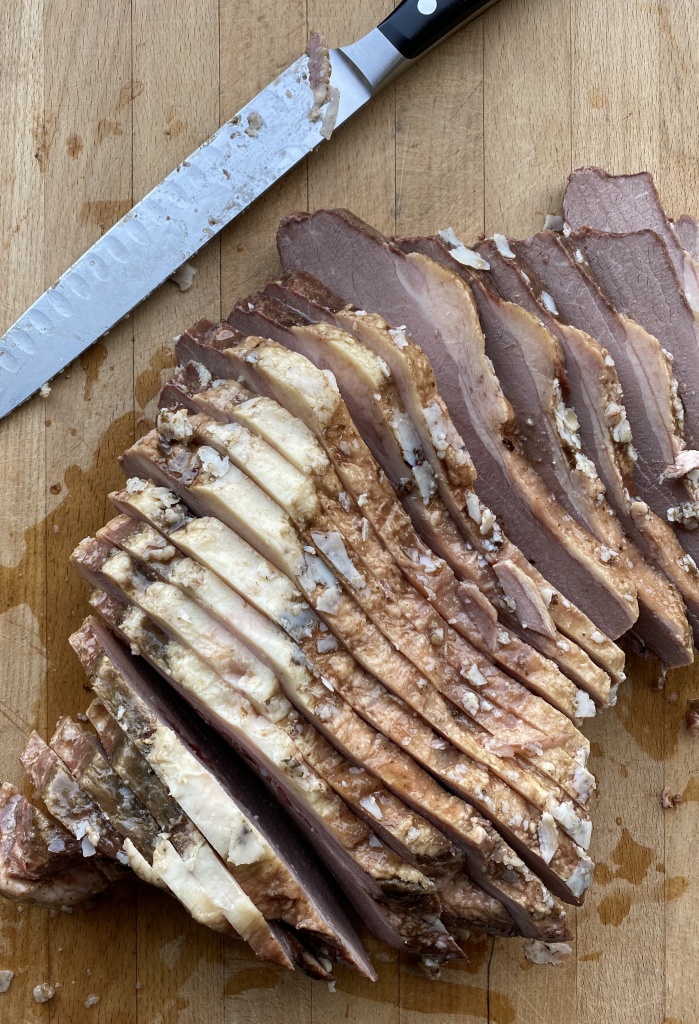 For something like a steak you'd want medium-rare, the sous vide cook time would be something like 1 hour before you quickly sear it. Since brisket needs to be cooked to a much higher temp and it's typically a large piece of meat, it's a process that takes days. But stay with me- most of that time is completely hands off.
The steps to making sous vide brisket.
Season the brisket with salt.
Vacuum seal. I use food saver bags.
Cook in a water bath for 36 hours.
Chill the brisket and make the braising sauce.
Slice the brisket and cook with the braising sauce for 1.5 – 2 hours at low heat.
But Simone, what about cooking in plastic? Isn't that bad? Well yes, and no, in my opinion. Here's my take:
For me, it's all about balance. I don't cook in any plastic aside from this, and my food storage containers are glass. I also don't use my sous vide that often. To me, the benefit of the best brisket I can possibly make outweighs the risk of a little plastic usage. I use food saver bags which are BPA-free.
If you disagree, that's totally fine! You can cook my other brisket instead.
Choosing your brisket: Some butchers remove the fat cap, and you don't want them to do that- the fat can be trimmed off after it's cooked if you prefer, but you want it there for the cooking process. It will result in more flavor and juicier meat.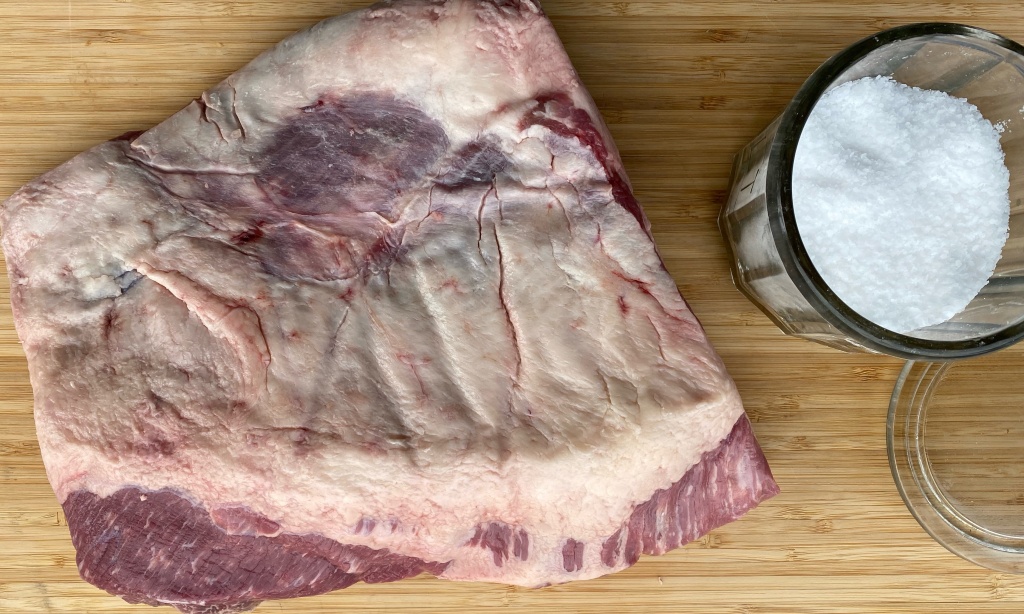 Let's talk equipment: I have an original Anova precision cooker which works great. Since I got this one, they've come out with some more options. I think the Precision Cooker Nano would be a great starter sous vide machine- it's a bit cheaper.
For vacuum sealing, I have a basic FoodSaver and use their bpa-free bags. I think I got mine at Costco years ago, so if you're a Costco shopper, look there next time you're in.
Print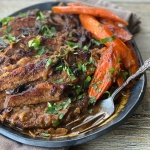 ---
Description
twice cooked brisket that's tender, juicy, and absolutely full of flavor
---
for the brisket:
1

brisket, about

4

–

4.5

pounds
kosher salt
for the braising sauce:
1 ounce

dried porcini mushrooms

2 tablespoons

extra virgin olive oil

1

large onion, sliced

1 teaspoon

salt 

4

cloves garlic, sliced

2 tablespoons

tomato paste

2 tablespoons

brown sugar 

4

medium carrots, cut on a large bias (see photo above) 
---
Instructions
Season the brisket liberally with salt and vacuum seal
Place in a container large enough to easily fit the brisket and cover with water by at least a couple inches. 
Remove the brisket and set the immersion circulator to 155°F. 
Once the water comes to temp, return the brisket to the container. The temperature will drop briefly but that's okay. 
To keep your brisket from floating to the top, place something heavy on top of it. I use an enameled cast iron lid. Once your brisket is nice and cozy, cover the container with plastic wrap and cover with towels – this will help prevent the water from evaporating, and hold the temperature where it should be. Leave it alone for 36 hours, unless you need to add more water to keep it above the minimum water line marked on your circulator. 
After 36 hours, remove the brisket and dump the hot water. Return the brisket to the container and cool it down quickly with a lot of ice and cold water. (see note)
Once the brisket is cold, cut open the pour out the liquid – either into the braising sauce if you've already made it, or into a container if not. 
Slice the brisket 1/4 inch thick and place in a baking dish large enough to fit it as well as the braising liquid. 
Pour the braising liquid over the brisket. At this point, you can refrigerate the brisket overnight, or braise it right away. (I think it's better if you let it sit in the fridge in the sauce overnight, but it's great either way.)
Cook the brisket at 325°F for 1.5-2 hours. 
For the braising sauce: 
Sometime during the 36 hours, make the sauce: Place the porcini mushrooms in a heat proof bowl and cover them with 2 cups of boiling water. Set aside to rehydrate. 
Place a large high sided skillet or dutch oven over medium heat and add the olive oil. Once hot, add the onions and salt. Sauté for 12-15 minutes, or until golden brown and very soft. Adjust the heat as needed if they're browning too quickly. 
Add the garlic and sauté another minute, until fragrant. 
Stir in the tomato paste and brown sugar and cook, stirring often, another 3-4 minutes, or until darker in color. 
Add the carrots, mushrooms and liquid you used to hydrate them. Simmer 5 minutes. Add the liquid from the brisket. 
---
Notes
The cooling step is important- the meat is hot all the way through and if you simply stick it in the fridge, it will take way too long to cool, which is not safe from a food safety perspective. 
passover
sous vide brisket the best brisket
All of the links on zenbelly.com are for information purposes, however some are affiliate links to books, products or services. Any sponsored posts are clearly labelled as being sponsored content. Some ads on this site are served by ad networks and the advertised products are not necessarily recommended by Zenbelly.