First thing's first: When it comes to either regular or gluten-free matzo balls, I am a die hard fan of the sinker. I realize that might be an unpopular opinion, but it's what I grew up with. If you ask me, my mom's matzo balls are the best, but if you prefer a floater, the recipe that follows is probably more your style.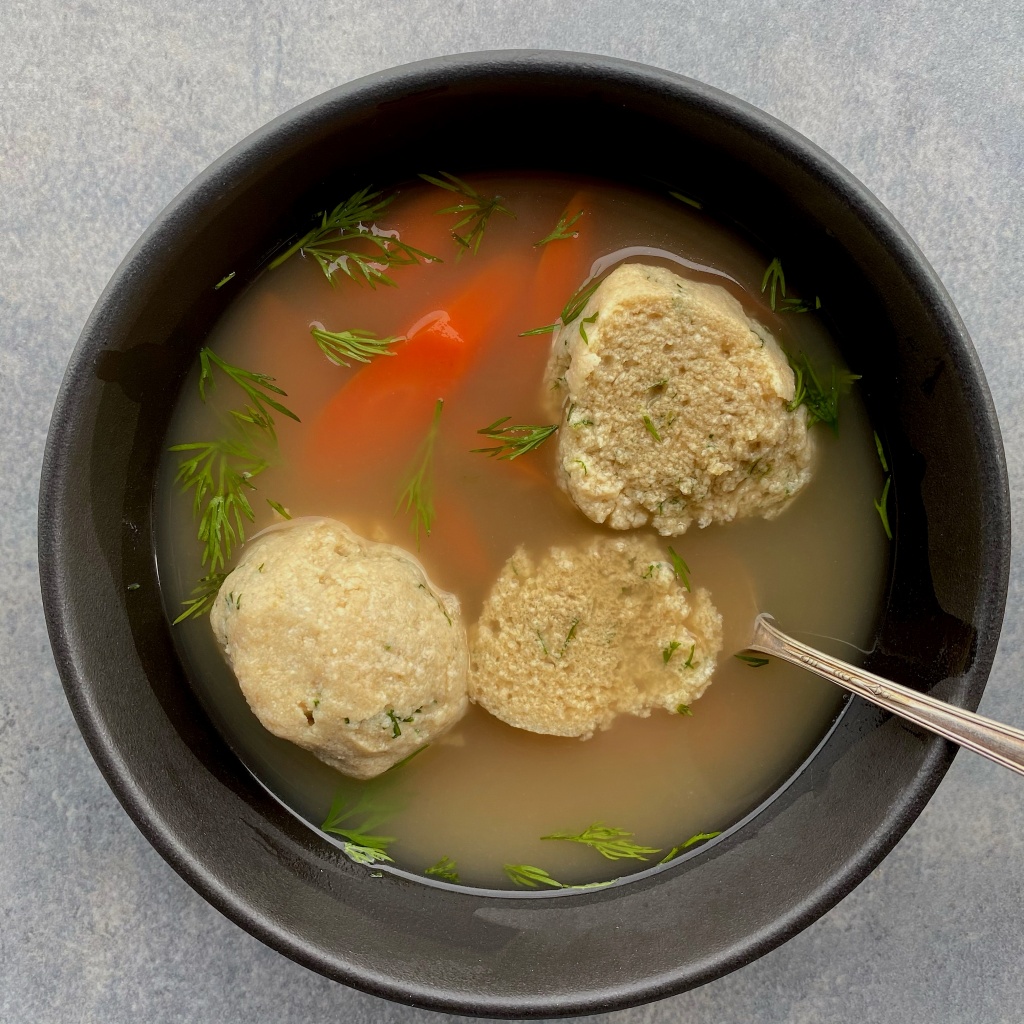 These light + fluffy gluten-free matzo balls are perfect for your seder, or… Tuesday.
People tend to have strong opinions about the perfect consistency of matzo balls. My theory is that it just depends what you grew up with. Still, even though I'm Team Sinker, I found myself really loving these light and fluffy balls, to my own surprise.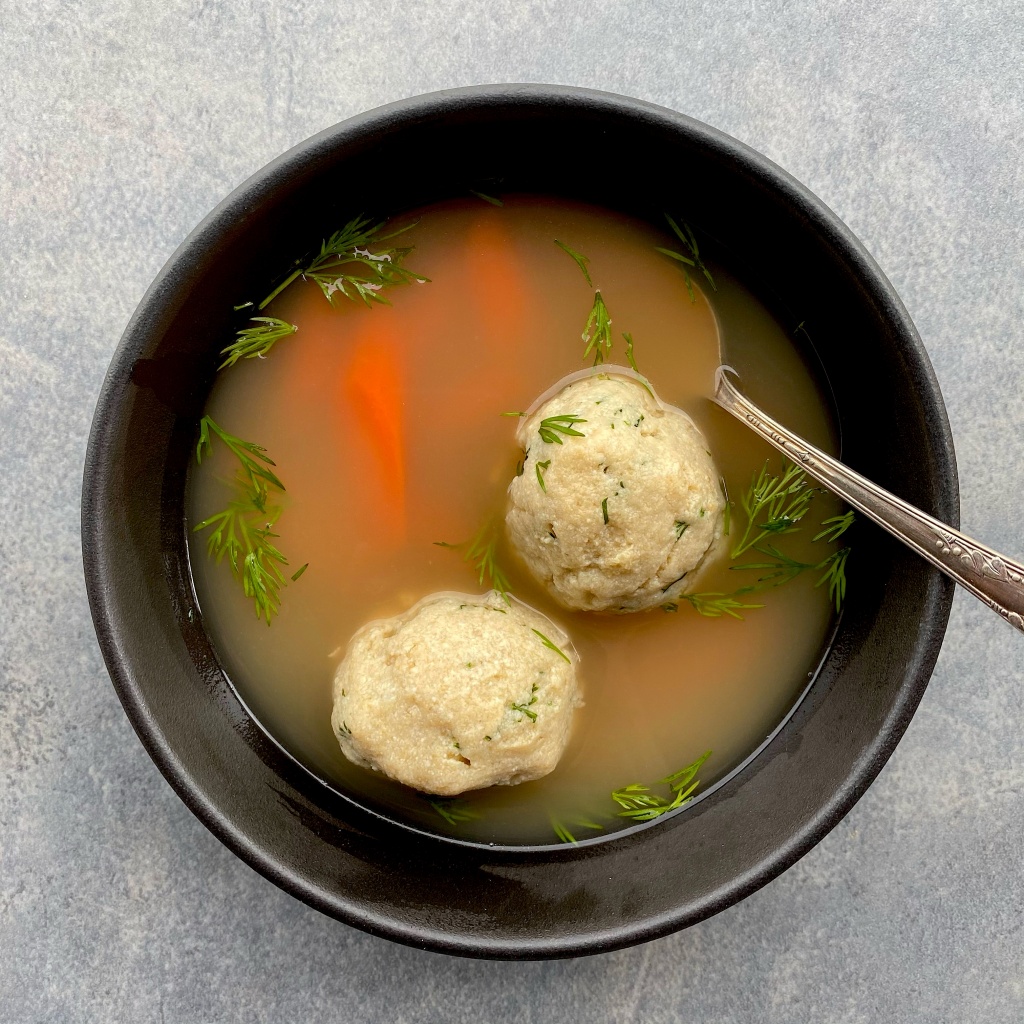 I created this recipe because someone on Instagram asked if I had a lower-carb Matzo Ball recipe. The ones that I have created in the past are potato and/or cassava based, making them extra carby. I haven't calculated the macros on these, since I never do that. But based on the ingredients, I am guessing that these are lower carb than a potato or cassava based matzo ball, and also lower carb than traditional ones.
It sounded like a fun challenge to me, so I got to work. I have vague memories of making matzo balls out of only almond flour back when I first became gluten-free, and they were good but not I wasn't in love with the texture. For these, I used a combo of almond flour and garbanzo bean flour and was really happy with the result.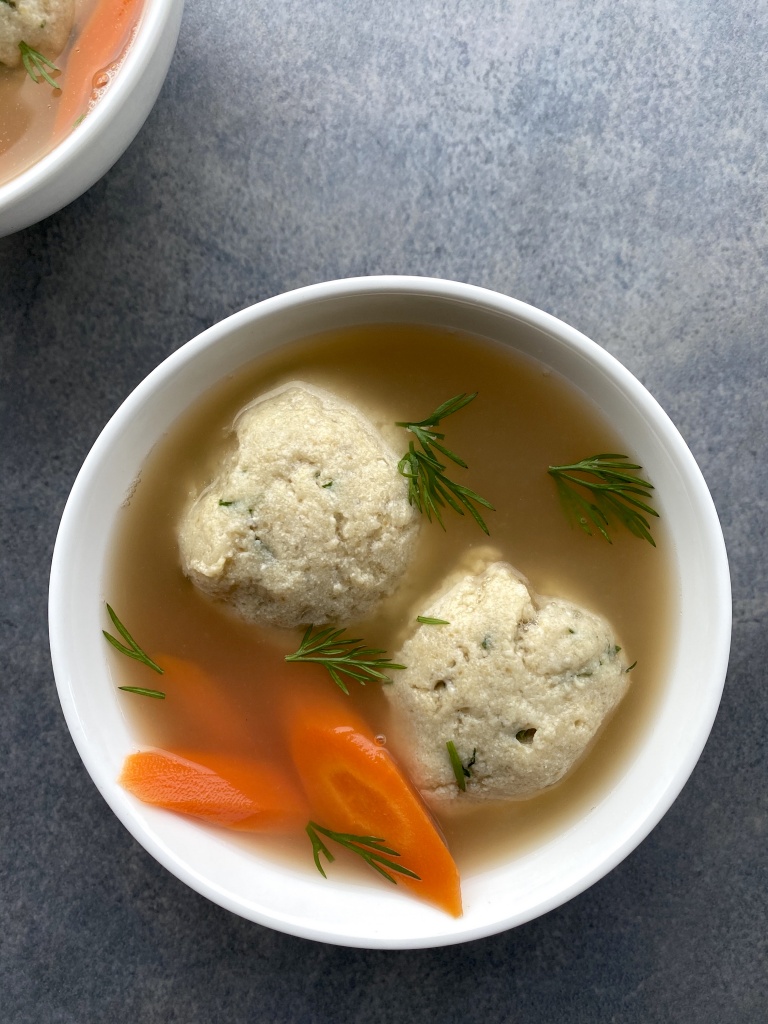 Ingredients you'll need to make gluten-free matzo balls:
almond flour
garbanzo flour
eggs
olive oil or schmaltz
baking soda
salt
This was the first time I've used garbanzo flour, and I was really happy with how it performed. I made my own, which was so much easier than I imagined. All I did was throw dry garbanzos in my blender! And then I sifted through a fine mesh strainer to catch any grit. The result was a lovely fine flour. You can also buy it from most stores that have a gluten-free flour selection.
Is baking soda kosher for Passover?
I always just assumed that anything leavened by anything was off the table for Passover (aka chametz), but when I dug deeper, found that this isn't actually the case! According to chabad.org, Chametz (also spelled "hametz" or "chometz") is any food product made from wheat, barley, rye, oats or spelt that has come into contact with water and been allowed to ferment and "rise."

As long as the baking soda is kosher for Passover, it's fine to use in your matzo balls and baked goods.
A note about the soup you put these gluten-free matzo balls in: The broth needs to be the star; this is not the time for bland boxed broth. Make your own, or get a good quality one from your butcher.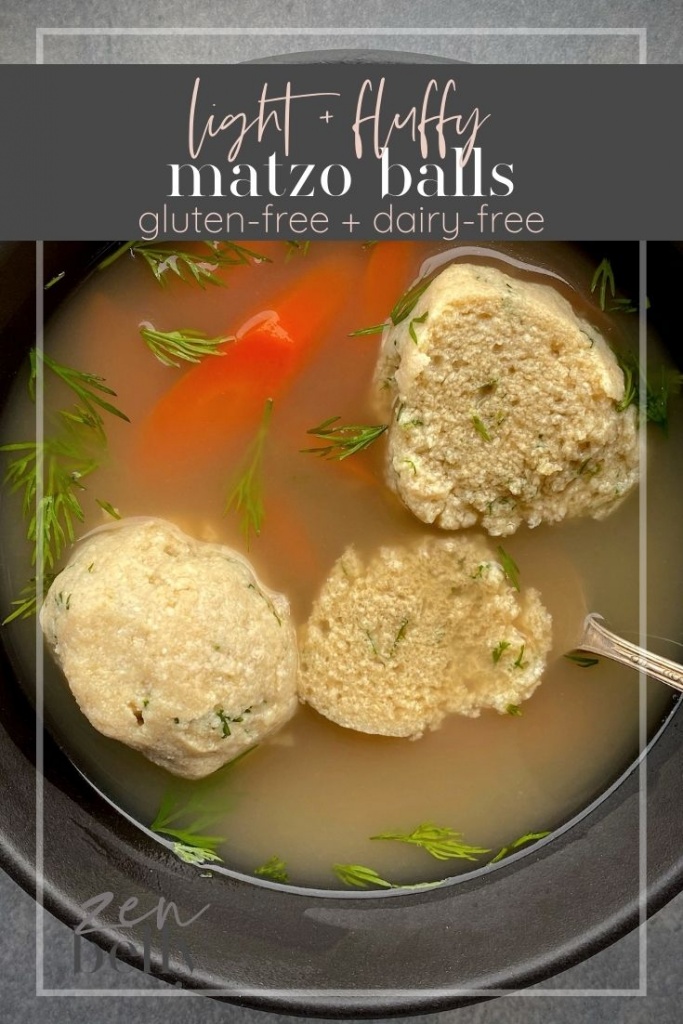 Print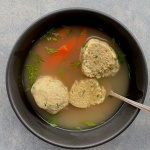 light and fluffy matzo balls (gluten-free, lower carb)
---
---
3

large eggs

2 tablespoons

extra virgin olive oil 

3/4 cup

almond flour

3/4 cup

garbanzo flour

3/4 teaspoon

salt + more for boiling 

1/2 teaspoon

baking soda

1 tablespoon

minced fresh dill 
---
Instructions
In a medium bowl, whisk together the eggs and olive oil until well beaten. 
Stir in the almond flour, garbanzo flour, salt, baking soda and dill. Mix well. 
Cover and refrigerate for at least 2 hours, preferably overnight. 
Bring a large pot of water to a boil and add a couple big pinches of salt. Using wet hands, form the dough into balls about 1 tablespoon each. Drop them into the boiling water. Once they're all in there, turn the heat down so the water is simmering and cover. Simmer for 25-30 minutes, or until they are cooked all the way through- you'll know they are done when they're a consistent color and consistency throughout. 
At this point, you can refrigerate and serve later, or drop them right into piping hot chicken broth. If serving later, heat them up gently in the broth (or simmering water and then transfer to broth if you don't want your broth to get cloudy.)
---
All of the links on zenbelly.com are for information purposes, however some are affiliate links to books, products or services. Any sponsored posts are clearly labelled as being sponsored content. Some ads on this site are served by ad networks and the advertised products are not necessarily recommended by Zenbelly.