It's almost that time.
The time, of course, being when you realize you missed some people on your list, or are attending a party and need small gifts for the host(s) or guests. And it's December 23rd! Ahhhh! Going to the mall is not an option. (I mean it's technically an option, but not a very sane one)
A small jar of Homemade Hot Cocoa is a perfect gift, and just about anyone will surely love it. Throw in a bag of homemade marshmallows and it's a definite win!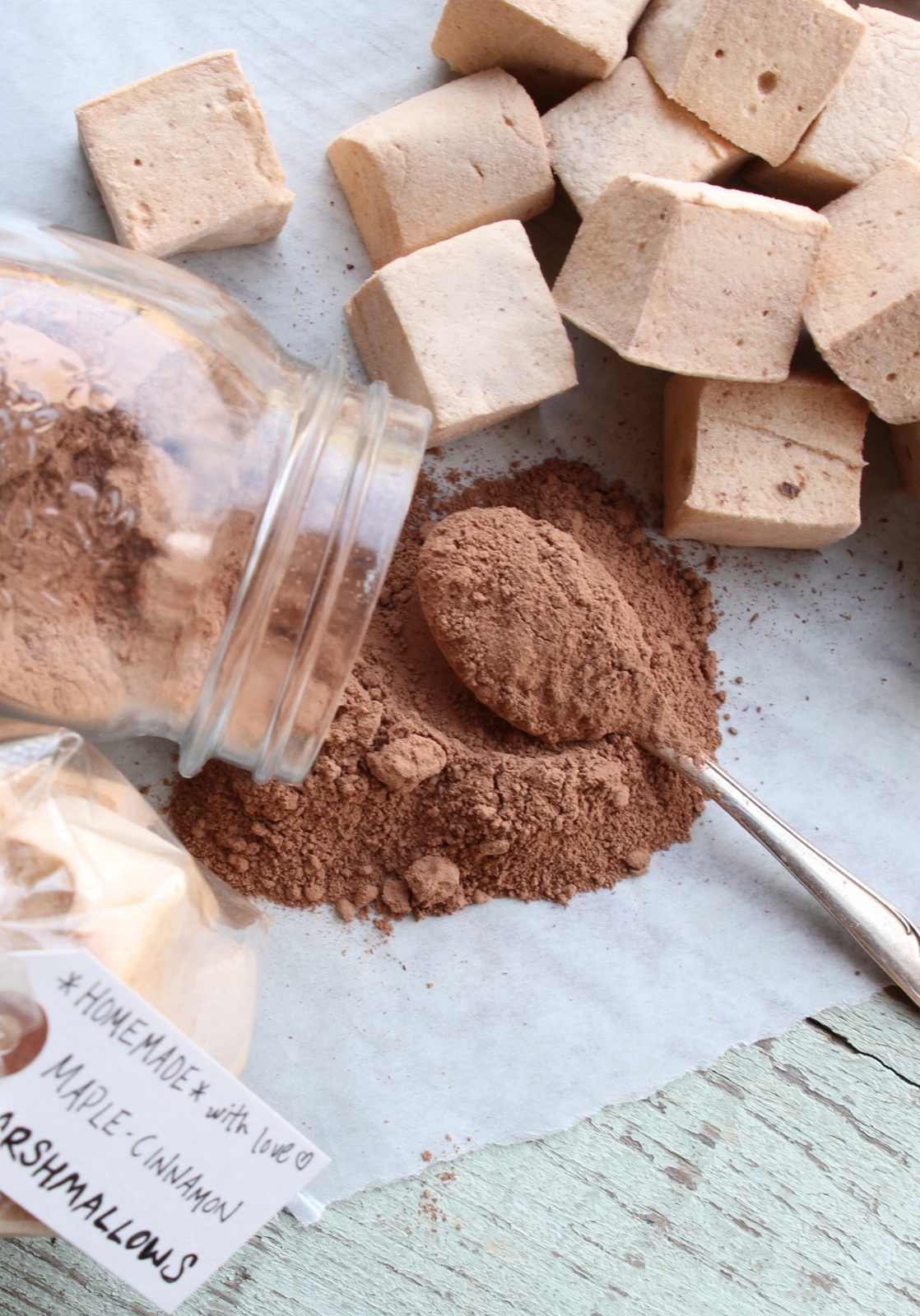 Not that I love bringing a somber note to a post about chocolate and marshmallows, but: Please purchase fair trade chocolate. If you don't, there's a good chance child slaves are involved, and that is nothing short of atrocious. It's a little bit more expensive, but the price difference is negligible when you consider the big picture.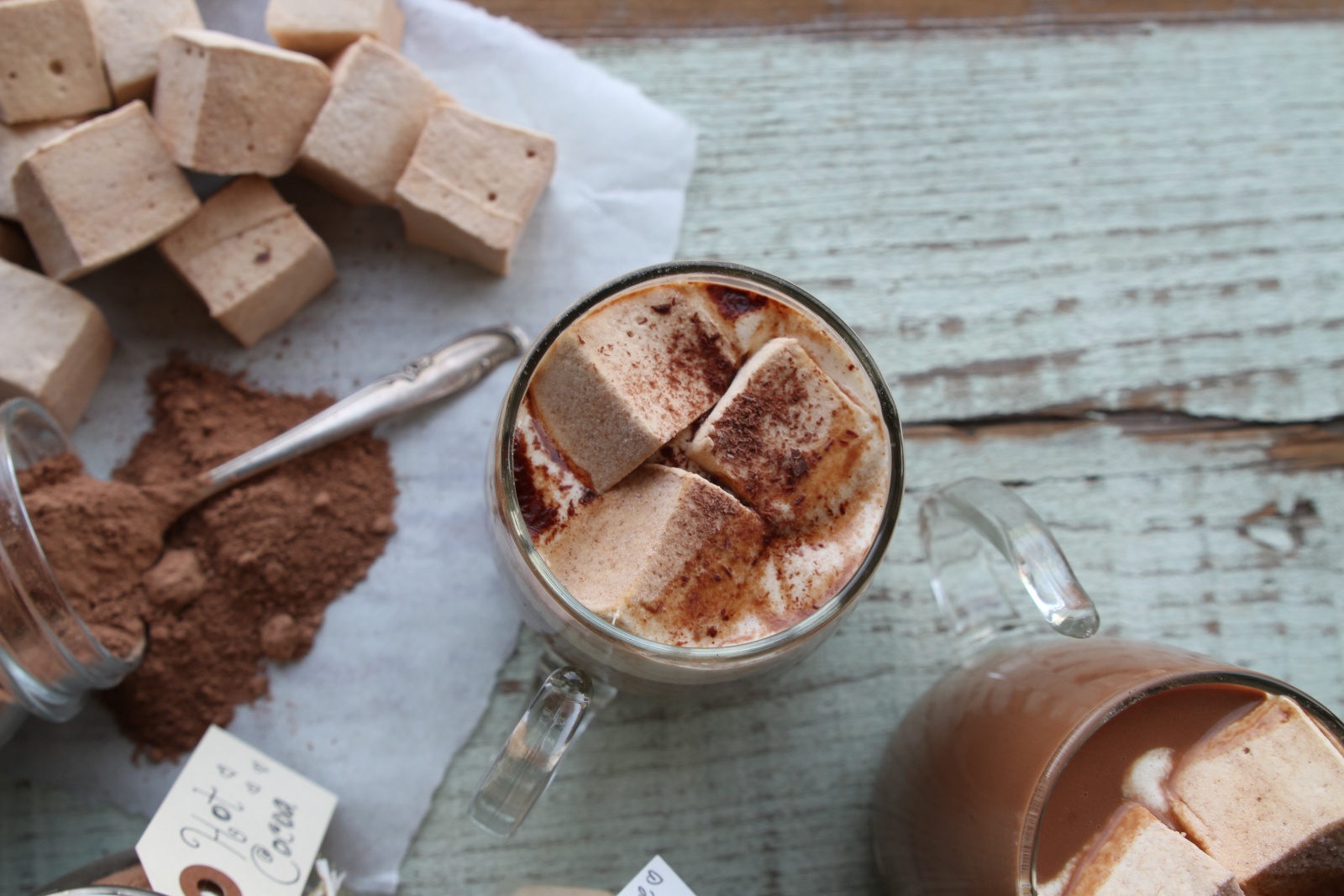 This Hot Cocoa blend is on the subtly-sweet side. If you prefer a sweeter hot chocolate, or are gifting it to people who are used to the mix they buy in stores, just bump up the coconut sugar a bit. For the best mocha ever, add a big spoonful to some heated up Cold Brew!
For the Hot Cocoa Mix:
makes about 2 cups mix / 8-10 servings
4 ounces dark chocolate, chopped
1 cup cocoa powder
1 cup coconut palm sugar
1 tablespoon tapioca starch
1/2 teaspoon vanilla powder or 1 teaspoon vanilla extract
1/4 teaspoon fine sea salt
Place all ingredients in a food processor and pulse several times, or until the mixture is even textured. Store in small jars.
To make a cup of hot cocoa: Heat 1 cup of your milk of choice in a small sauce pan. Once steaming, add two tablespoons of hot cocoa mix and whisk to combine. Heat one minute more, or until thickened slightly.
For the Marshmallows:
(you'll need a candy thermometer for this recipe)
1 cup water, divided
3 tablespoons gelatin
1/4 teaspoon salt
1 cup maple syrup
2 tablespoons honey
3 teaspoons cinnamon, divided
2 tablespoons arrowroot
Line an 8×8 dish with parchment paper, leaving a bit extra for overhang so you can easily pull out the marshmallows once they're done. Sprinkle with enough of the arrowroot to dust the bottom.
In the bowl of your stand mixer (or large bowl if you're using hand beaters), pour in 1/2 cup of water and sprinkle it with the gelatin. Set aside.
In a medium sauce pan, heat the remaining water, salt, maple syrup, and honey until it reaches 235○F.
Using the whisk attachment, start to slowly beat the gelatin mixture. Slowly pour in the hot maple mixture down the side of the bowl. Once the gelatin is all dissolved, turn the mixer to high. Beat the mixture until it's about tripled in size and white, about 5 minutes. Once that happens, mix in one teaspoon of the cinnamon.
Pour the marshmallow mixture into the prepared pan, smooth out with a spatula, and allow to rest at room temperature for at least two hours.
Once the marshmallows are set, pull out the parchment and cut into 1 inch squares.
In a large bowl, combine the remaining arrowroot and remaining 2 teaspoons of cinnamon. Toss the marshmallows to coat. Shake off any excess using a fine mesh strainer.
PIN THIS RECIPE:
All of the links on zenbelly.com are for information purposes, however some are affiliate links to books, products or services. Any sponsored posts are clearly labelled as being sponsored content. Some ads on this site are served by ad networks and the advertised products are not necessarily recommended by Zenbelly.