I feel especially qualified to be writing this post about homemade cold brew coffee. Why? Well, this is going to make me sound like the hipsteriest hipster in all of the land, but: I was a coffee snob before it was cool.
homemade cold brew coffee
I still remember the coffee shop in my hometown of Great Barrington, Massachusetts, where I used to go with my mom- They made the best mochas there (hot chocolate for little me), and the reason their coffee was so spectacular? It was cold brew! That's right, way back in the 1900's before cold brew was officially "a thing"
There's a common misconception about cold brew, and that is that it's exclusively meant for drinking chilled. While it is certainly an excellent way to prepare iced coffee, by no means should it be pigeonholed that way.
When you "brew" coffee without heat, you get all the best stuff out of it; the clean flavor of the beans and the depth of the roast, without nearly the amount of acidity that comes with heat extracted methods.
So, there's absolutely no reason that you shouldn't heat up your cold brew concentrate, dilute it accordingly with hot water, add your favorite creamer (or not, you may find that you enjoy drinking coffee black when it's made this way, if you don't already) and drink it as you would any coffee.
My every day beverage of choice has always been coffee with heavy cream. (Yep, the dairy kind, which I seem to tolerate quite well) The cold brew I make tends to need to be dilluted around 3:1. I have a little countertop milk frother and heater that works perfectly for heating up my cold brew concentrate. It takes about as long as boiling some water in the kettle, and all I have to do is combine the concentrate with the hot water, and add cream. (and collagen, which I add a heaping tablespoon of every morning)
Lately, I've been loving butter coffee, which I wasn't a huge fan of the first time I tried making it for myself. I think I was using a hand held frother, which wasn't getting the coffee-butter combo as frothy as it should be. Oil globules floating on the surface of my coffee? That's gonna be a hard no. But when it's blended in a decent blender, it gets perfectly frothy and delicious.
My daily cup of late has been 4 ounces of cold brew (heated), 10-12 ounces hot water, 2 tablespoons butter, and 1 heaping tablespoon of collagen. I throw it all in my Blendtec, which makes it super frothy and luxe. If I'm feeling like it's a treat yo self kind of day, I make a mocha in a similar fashion. (Recipe for that below!)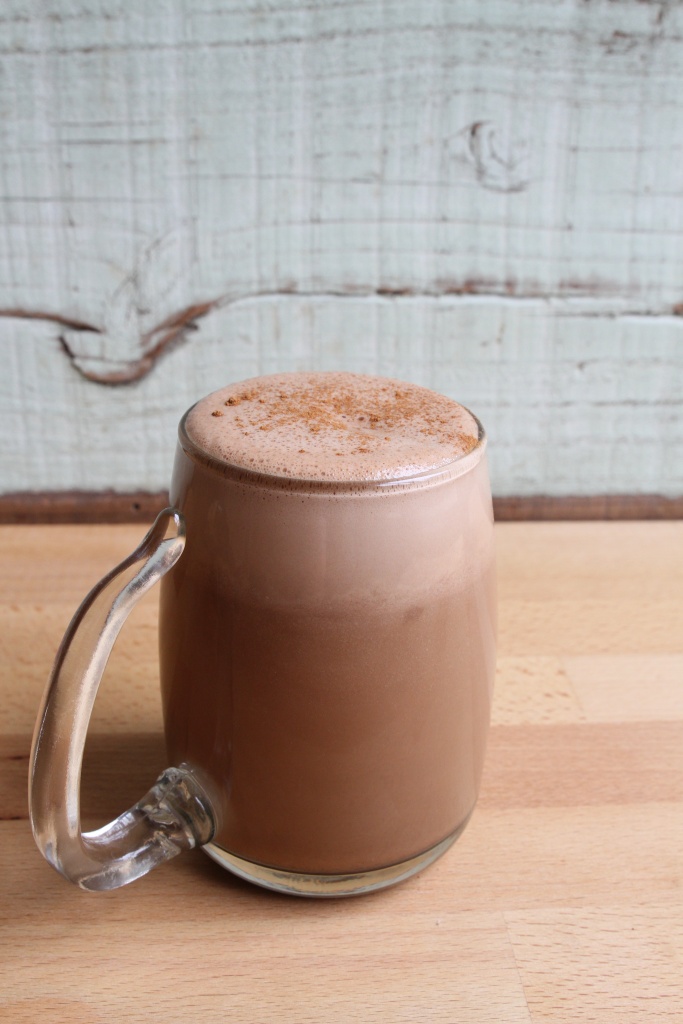 Cold Brew Tips:
Grind COARSE. Like the coarsest the grinder will go. This is not the time to bring home whole beans and be snobby about grinding each cup immediately before you brew it. You're making a batch that will make several cups anyway, so that would be silly. Fill up a bag of bulk beans and run them through the grinder in the store.
Go slightly darker in roast than you would for regular drip coffee. I tend to like the lighter roasts, generally, but with cold brew I prefer those in the medium range. More of the nuance comes through in cold brewed coffee, so you taste less of the bitter notes and more of the complexity of the bean (and roast).
A lot of articles will tell you not to worry about the age or quality of your coffee when making cold brew. I'm sort of on the fence about this, personally, and still prefer to buy organic coffee from a good source.
You will need:
All of the links on zenbelly.com are for information purposes, however some are affiliate links to books, products or services. Any sponsored posts are clearly labelled as being sponsored content. Some ads on this site are served by ad networks and the advertised products are not necessarily recommended by Zenbelly.