Making pesto and need it to be dairy-free? That's easy! Just add more nuts and make sure to season it well. A little bit of acid in the form of lemon juice can help give it that tang that Parmesan does in the traditional version. Making pesto and can't have dairy or nuts? Hm. That's a bit more difficult. At this point, I'm not sure we can even really call it pesto, since two of the main ingredients are gone.
Let's call it Pistou instead, which traditionally still has nuts, but no cheese.  And so it's not simply an herb oil, let's add artichokes so give it some body. While we're at it, let's add some kale, because it's good for us and adds a nice subtle bitterness. And since we're breaking all the rules today… Break out that food processor, even though someone will likely pitch a fit that we're not making this in a mortar and pestle.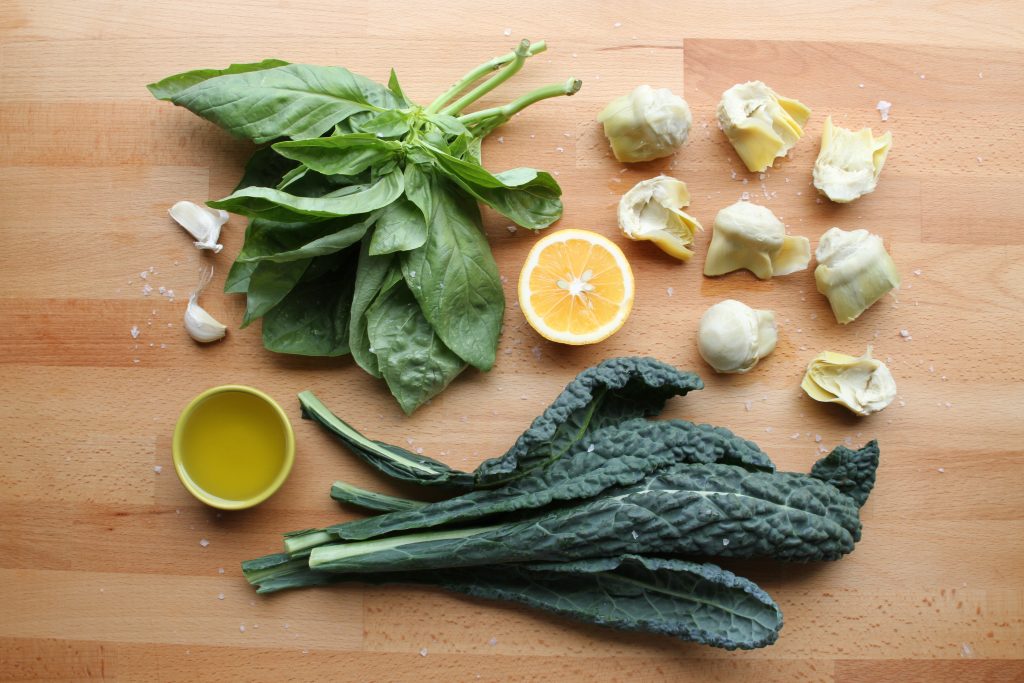 This 7 ingredient wonder is pretty excellent on just about anything- Roasted veggies, lamb burgers, grilled chicken or fish, eggs, zoodles or spaghetti squash… it's crazy versatile.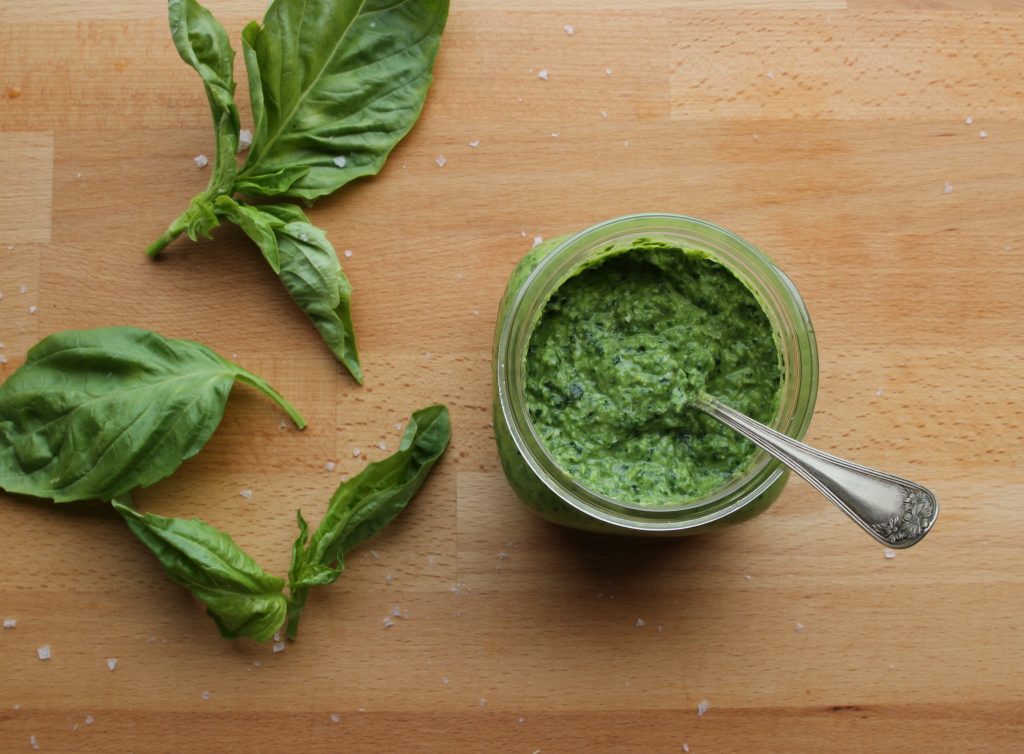 kale artichoke pistou
prep time: 5 minutes | cook time: 0 | yield: about 1.5 cups
5-6 lacinato kale leaves, stemmed and roughly torn
1-2 cloves garlic, peeled *
1 cup packed basil leaves (about 1 small bunch)
6 whole artichoke hearts (packed in brine, not marinade), drained
2 tablespoons lemon juice (about 1/2 lemon)
1/2 teaspoon sea salt
1/2 cup extra virgin olive oil
In the bowl of your food processor, pulse the kale and garlic until it's finely minced.
Add the basil, artichoke hearts, lemon juice and salt and pulse again until you have a somewhat consistent texture.
With the motor running, pour in the olive oil.
Season to taste with additional salt and lemon juice, if desired.
* I do not love when the taste of garlic overpowers the other flavors in the dish, but know that I'm maybe not in the majority on this. I think 1 clove is plenty, but if you're a big-time garlic fan, or your cloves are tiny, you can go with 2.
PIN THIS RECIPE!
All of the links on zenbelly.com are for information purposes, however some are affiliate links to books, products or services. Any sponsored posts are clearly labelled as being sponsored content. Some ads on this site are served by ad networks and the advertised products are not necessarily recommended by Zenbelly.