Oy vey, Simone- A Fresh Ginger Moscow Mule? The Moscow Mule is one of the easiest cocktails you can make; Throw some vodka, lime and good ginger beer in a glass with ice and you're ready to clink glasses. And you're making it complicated?
Of course!
Don't get me wrong, you are more than welcome to make your cocktail with the above recipe, and I do exactly that most of the time I'm in the mood for this sweet-spicy drink. But for the sake of this blog, where I promised cleaner cocktails made with real food ingredients, I went the somewhat more complicated route.
And I do mean somewhat; the ginger syrup for this drink is actually super easy to make. It will just add about an hour on to the time it takes to make your Mule. But! Think of how amazing your house will smell whilst the ginger syrup is doing it's thang. (SO amazing!) And think of all of the other things you can use your fresh ginger syrup for. (Homemade Ginger Ale! Drizzled on the scoop of ice cream atop your Apple Pie! So many cocktails!) Plus, if you're thinking of DIYing for the holidays this year, a decorative jar filled with homemade ginger syrup makes a great gift! Especially if you pair it with a small bottle of good bourbon or vodka.
You can't go wrong with a classic Mule, but make sure to check out the variations below as well.
Fresh Ginger Moscow Mule
makes one 8-10 ounce cocktail
1 1/2 ounces vodka
3/4 ounce fresh lime juice
1 ounce ginger syrup (recipe below)
crushed ice or ice cubes
club soda /seltzer
lime wedge and mint for garnish
In a rocks glass or copper mug, stir together the vodka, lime juice and ginger syrup. Add a handful of ice and top off with seltzer. Garnish with a lime wedge and mint sprig.
variations! (keep in mind I'm making some of these names up. Photographing cocktails in natural light requires day drinking)
For a Mexican Mule, sub the vodka for tequila.
For a Kentucky Mule, sub the vodka for bourbon.
For a Minty Mule, muddle a big sprig of mint in the glass before adding ice.
For a Summery Mule, muddle some fresh berries in the glass before adding the ice.
For a Flowery Mule, sub lemon juice for lime juice and add 1/2 ounce of elderflower liquor.
for the ginger syrup:
8 ounces fresh ginger, sliced thin and roughly chopped (no need to peel it)
2 cups water
1 cup honey
In a medium non-reactive pot, combine the ginger, water and honey and bring to a boil. Turn the heat down so it's at a good simmer. Keep an eye on it to make sure it doesn't bubble over. Let it do it's thang for 30-45 minutes, or until it has reduced by at least half. (1 1/4 – 1 1/2 cups is perfect)
Strain and allow to cool. Store in a glass jar in the fridge.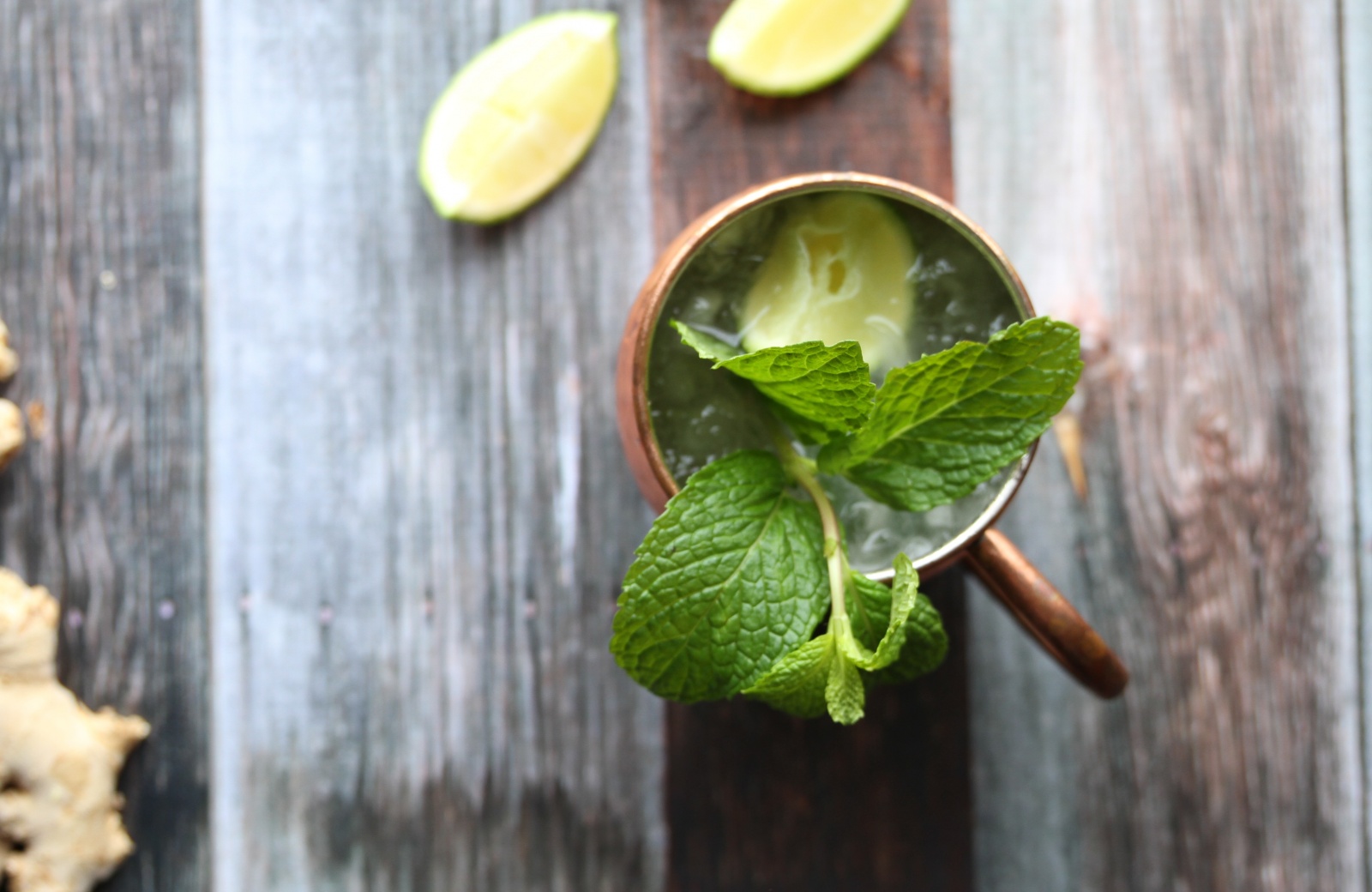 All of the links on zenbelly.com are for information purposes, however some are affiliate links to books, products or services. Any sponsored posts are clearly labelled as being sponsored content. Some ads on this site are served by ad networks and the advertised products are not necessarily recommended by Zenbelly.