When it comes to simple weeknight suppers, you can't beat a stir fry. This Orange Cashew Chicken Stir Fry can be on the table faster than it takes to order takeout. Added bonus: It's soy-free and gluten-free, and the subtle sweetness comes from orange juice, not sugar.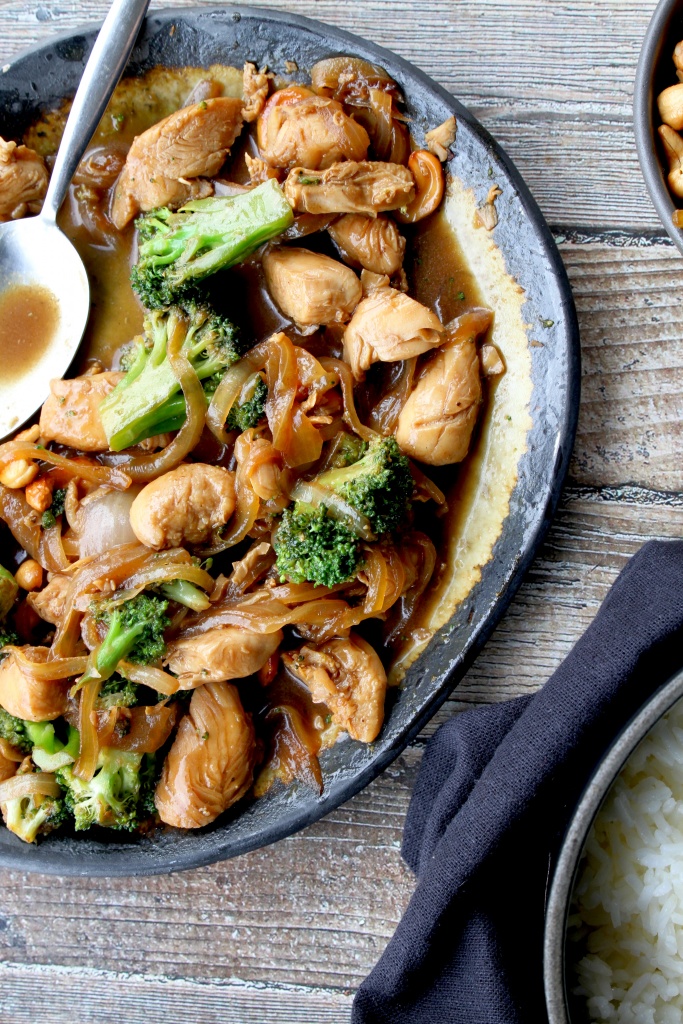 Orange Cashew Chicken Stir Fry
My method for making stir fry looks about the same no matter what protein and veggies I use. Here are the key takeaways. Once you get the gist, you can turn just about any meat and veg into a tasty stir fry!
The marinade doubles as the stir fry sauce.
Mise en place is key – I always recommend prepping all of your ingredients before you start cooking. That is extra important when the steps happen as quickly as they do when making a stir fry!
A strategic order is implemented to cook the ingredients. While it may be easier to throw everything in the pan at once, the end result will be overcooked meat, undercooked vegetables and bland flavors.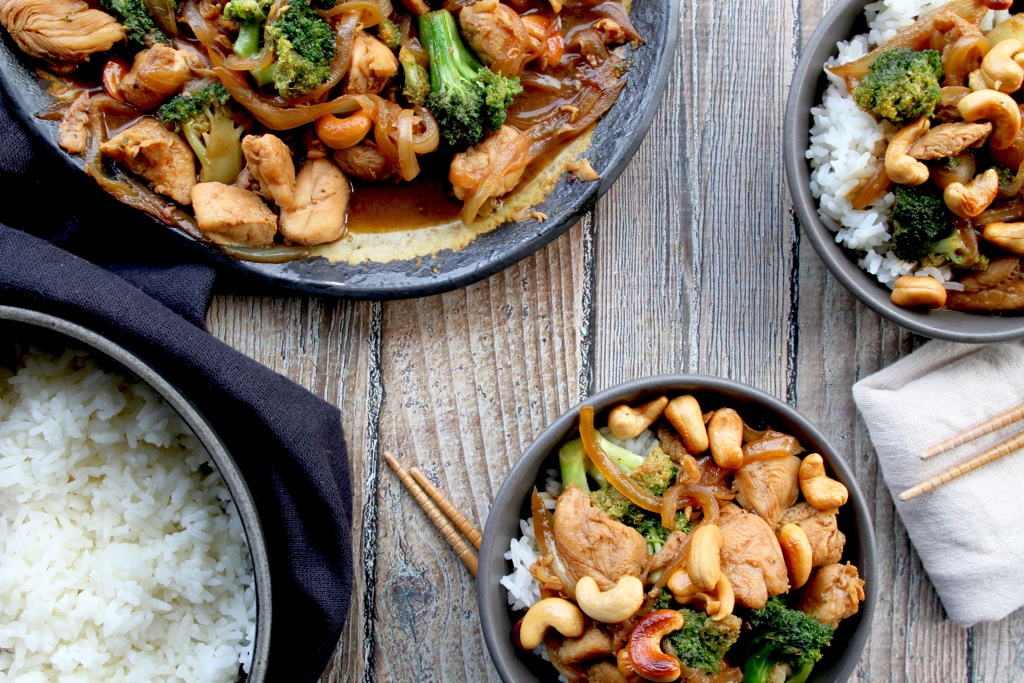 The marinade doubles as a stir fry sauce:
But Simone, won't we die of food poisoning if we do this? That's an excellent question. And no, you won't. The way it works: The simple marinade does indeed come into contact with the raw protein, yes. And then the protein does indeed get put back into the marinade. At this point, you absolutely do not want to eat either the marinade or the chicken.
But then! After the veggies are about half-cooked, you add the protein + marinade back into the pan, at which point the chicken cooks completely, and the marinade boils for long enough to make it totally safe to eat.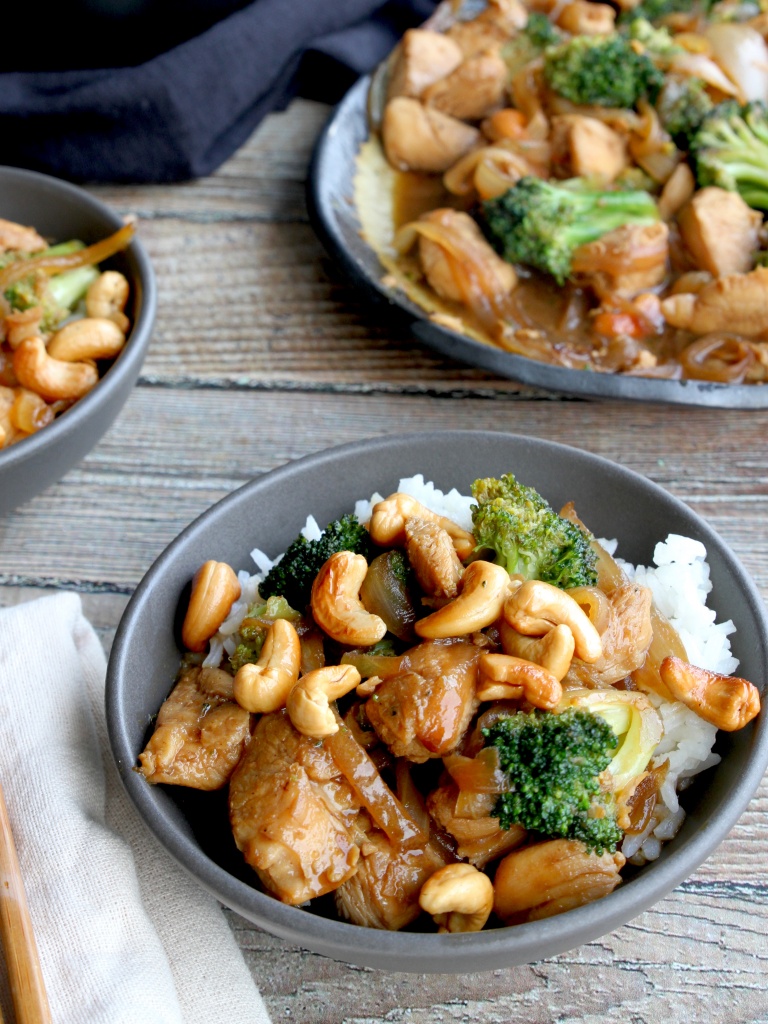 Mise en place:
Mise en place is French for "everything in place". When you prep all of your ingredients before you put a pan on the burner, your cooking experience will be much more enjoyable.
Aside from being more enjoyable, you will be less likely to burn things, or cut yourself because you're rushing to get the next ingredient prepped.
Want to learn more? My Patreon page is the place to be.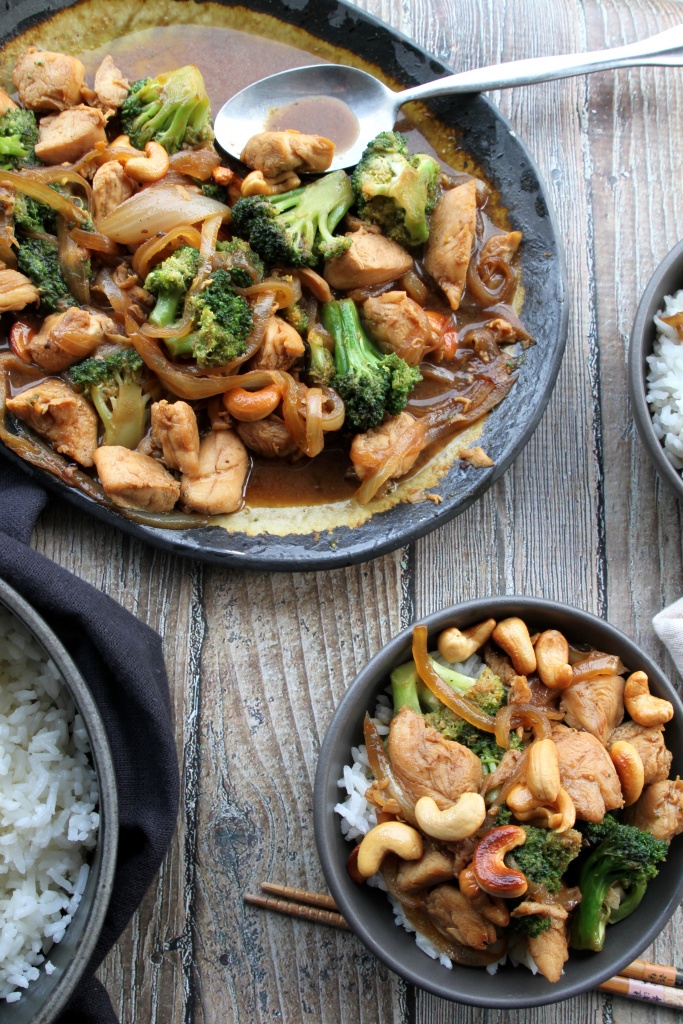 Strategic cooking order:
But Simone, it's a stir fry. Why can't I just throw it all in a hot pan? I mean technically you can. But the result will be not great.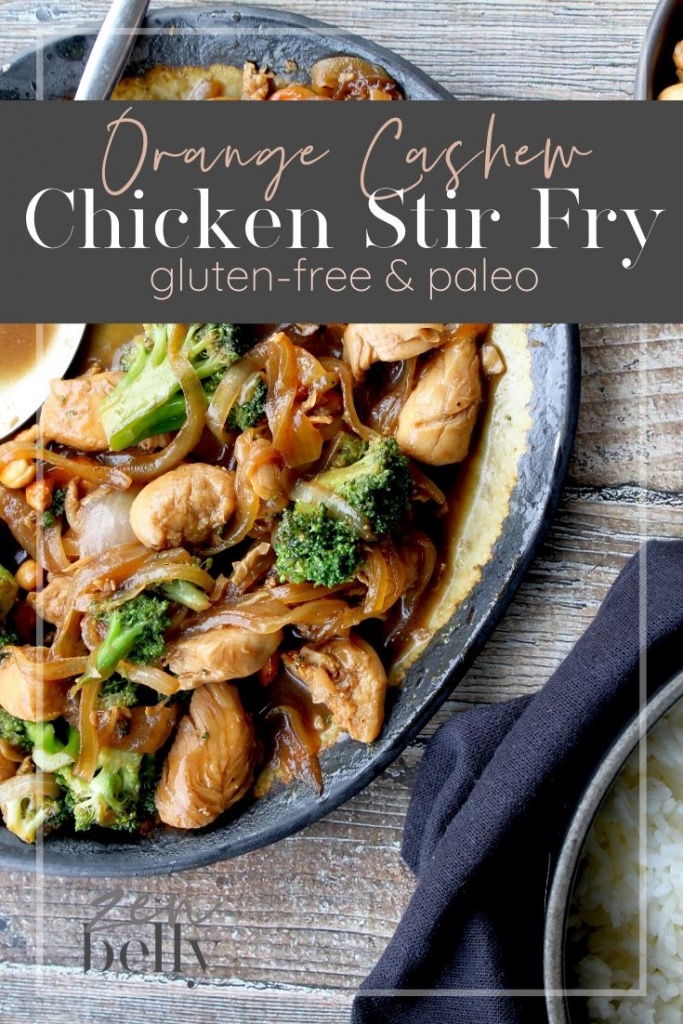 My method still involves only one pan, but you cook some of the ingredients separately. Clean up is still a breeze, and your stir fry will be delicious.
Print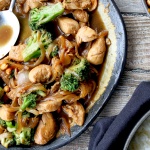 Orange Cashew Chicken Stir Fry
Author:

zenbelly

Prep Time:

15 minutes

Cook Time:

11-15 minutes

Total Time:

30 minutes

Yield:

4 servings

Category:

chicken

Method:

stir fry

Cuisine:

Asian
---
Description
This simple stir fry is even better than takeout, and almost as fast.
---
1/3 cup fresh orange juice + 3 strips orange peel (see note)
1/3 cup coconut aminos
1 tablespoon fish sauce (I like Red Boat)
1 teaspoon fresh grated ginger
2 cloves garlic, minced
1 teaspoon toasted sesame oil
1 pound boneless, skinless chicken breasts, cut into bite-sized pieces
3 tablespoons neutral oil, divided
1/2 cup roasted salted cashews
1 teaspoon tapioca starch
1 small onion
1 bunch broccoli, cut into florets (about 3 cups florets)
rice or cauliflower rice, for serving
---
Instructions
In a medium bowl, combine the orange juice, coconut aminos, fish sauce, ginger, garlic, and sesame oil. Add the chicken and toss to coat. Set aside while you prep the rest of the ingredients.
Heat two tablespoons of oil in a large skillet over medium-high heat. Add the cashews and orange peels and cook until they're deep golden brown and fragrant. Remove with a slotted spoon to a small bowl and set aside. Discard the orange peels.
Set a fine-mesh strainer over a bowl and drain the chicken from the marinade, stirring it around to get it as dry as possible.
Set the pan back on the burner and heat to high. Add the chicken and cook for 4-5 minutes, turning occasionally, until it's lightly browned on each side, about 4-5 minutes. While the chicken is cooking, whisk the tapioca starch into the marinade.
Remove the chicken from the pan and place it back in the marinade.
Add the remaining tablespoon of oil to the pan and add the onions and broccoli. Cook for 3-5 minutes, or until the onions are browned and softened, and the broccoli is about 2/3 of the way cooked (starting to brown, bright green, starting to soften)
Stir the chicken back into the pan. Continue to cook until the sauce has boiled for at least two minutes, and the chicken is cooked through.
Top with the toasted cashews and serve over rice or cauliflower rice.
---
Notes
Before juicing the oranges, use a vegetable peeler to remove 3 strips of peel. Try to get mostly peel, but some pith is fine.
The tapioca starch will thicken the sauce a bit, but if you would rather omit it, that's fine.
Keywords: orange cashew chicken stir fry
Orange Cashew Chicken Stir Fry how to make stir fry glutenfree stir fry
All of the links on zenbelly.com are for information purposes, however some are affiliate links to books, products or services. Any sponsored posts are clearly labelled as being sponsored content. Some ads on this site are served by ad networks and the advertised products are not necessarily recommended by Zenbelly.