This challah recipe is a variation of the original Grain-Free Challah that I wrote last year around this time. I've updated it to yield a regular sized loaf, and also to be dairy-free, so it is both more Paleo compliant and suitable to be eaten with meat if you're kosher.
If you're looking for the original challah recipe, don't worry, it's still here!
This recipe works great in a standard 9×5 loaf pan, but if you'd rather have the traditional braided shape, this mold works great. Or use this one for rolls.
This recipe can also be found in The New Yiddish Kitchen; gluten-free and kosher paleo recipes for the holidays and every day, which will be on shelves in March of 2016! It's available for preorder now.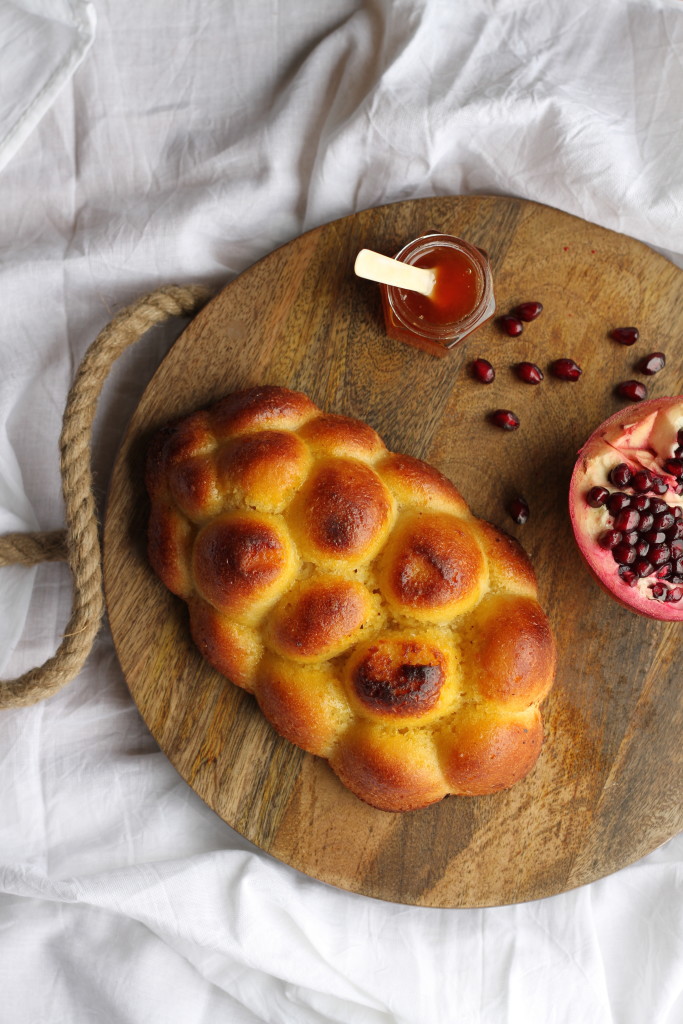 Paleo Challah – Updated
prep time: 15 minutes, plus 1 hour to rise
cook time: 20-25 minutes
makes: 1 9×5″ loaf
¼ cup warm water
2 ½ teaspoons yeast
3 tablespoons honey, divided
4 eggs
⅓ cup palm shortening, melted
75 grams almond flour (scant ¾ cup)
100 grams arrowroot (heaping ¾ cup)
100 grams potato starch (scant ¾ cup)
2 tablespoon psyllium husk
¾ teaspoon salt
In a small bowl, combine the yeast, warm water and 1 tablespoon of the honey. Stir to combine and set aside for 5 minutes.
In the bowl of your mixer, beat the eggs until they lighten in color. In a medium bowl, whisk together the almond flour, arrowroot powder, potato starch, psyllium husk and salt. Add the flour mixture, shortening and honey to the eggs and beat until well combined.
Mix in the yeast mixture and beat until well combined, scraping down the sides a couple of times.
The dough will not be like a traditional bread dough, it will be more like cake batter.
Cover the bowl with a clean dry towel and place in a warm, draft-free place to rise for 45 minutes. After an hour, preheat the oven to 350 and grease a 9×5" loaf pan. Give the dough a stir and pour it into the pan. Let it rise again, for 15 minutes or so, until it fills about ⅔ of the pan.
Bake for 20-25 minutes, until cooked through and golden brown. Allow to cool before removing from the pan.
Want more Paleo Jewish recipes for the holidays and every day? Preorder The New Yiddish Kitchen today!
All of the links on zenbelly.com are for information purposes, however some are affiliate links to books, products or services. Any sponsored posts are clearly labelled as being sponsored content. Some ads on this site are served by ad networks and the advertised products are not necessarily recommended by Zenbelly.