Eclipse mania is in full swing, at least so I hear… I'm looking out my kitchen window while typing this and all I see is fog. I think maybe it's darker gray than usual? But I can't really tell. Let's play it safe and make Paleo Black and White Cookies
In fact there's nothing different about today from where I sit, which is why I was glad when my brilliant coauthor Jennifer Robins had the idea to share these Black & White Cookies from The New Yiddish Kitchen with you all in honor of the eclipse! At least I know I can make eclipse cookies. And I don't have to worry about damaging my eyes.
For more Gluten-free and Paleo Kosher Recipes for the Holidays and Everyday, make sure to pick up a copy of The New Yiddish Kitchen! In it, you'll find recipes for everything from Bagels to Brisket, and everything in between. Plus: full color photos and adorable, snarky tips from Bubbe on each recipe, holiday menus and tips, and a Yiddish dictionary!
You can read more about it HERE, bubula.
Paleo Black & White Cookies
prep time: 10 minutes
cook time: 15 minutes
yield: 6 cookies
FOR THE COOKIES
2 cups (192 g) almond flour
3 eggs
1 teaspoon vanilla extract
1⁄2 cup (72 g) maple sugar
1⁄4 cup (30 g) tapioca starch
1 teaspoon baking soda
Pinch salt
FOR THE BLACK ICING
1⁄3 cup (80 g) chocolate chips
FOR THE WHITE ICING
1⁄3 cup (80 ml) coconut oil or coconut butter
1 teaspoon coconut cream
1 teaspoon light-colored honey
1⁄4 teaspoon vanilla extract
Preheat the oven to 350°F (177°C) and line a baking sheet with parchment paper.

Combine the almond flour, eggs, vanilla, maple sugar, tapioca starch, baking soda, and salt.

Divide the dough into 6 portions and on the prepared baking sheet flatten each one into a disc about 1⁄4 inch (6 mm) think. Press the ball until it flattens into a thinner disc, around 1⁄4 inch (6 mm) thick. These have a cake-like texture, so if you prefer thinner, you can flatten them more, but the texture may change.

Bake the cookies for 10–12 minutes, watching so they do not burn.

While the cookies are baking, make your two icings.
– To make the chocolate icing, melt the chocolate chips in a heatproof bowl over just simmering water.
– To make the vanilla icing, you can use the same method to melt the coconut oil and then add in the remaining vanilla icing ingredients. Set aside and allow it to cool until it thickens and begins to turn opaque again.

Once the cookies have cooled entirely, spread your two icings evenly, each covering half a cookie. 
PIN THIS RECIPE!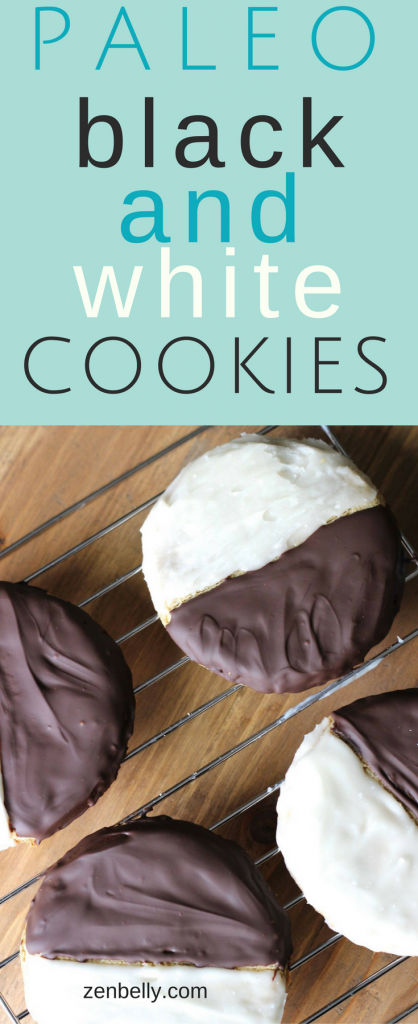 All of the links on zenbelly.com are for information purposes, however some are affiliate links to books, products or services. Any sponsored posts are clearly labelled as being sponsored content. Some ads on this site are served by ad networks and the advertised products are not necessarily recommended by Zenbelly.