Cooked carrots are something I make maybe once a year, and that's just because they're traditional for Rosh Hashanah. They're just not a go-to veggie side dish for me. But when I made these Roasted Carrots with Honey and Thyme this week? I wondered why I don't make them more often!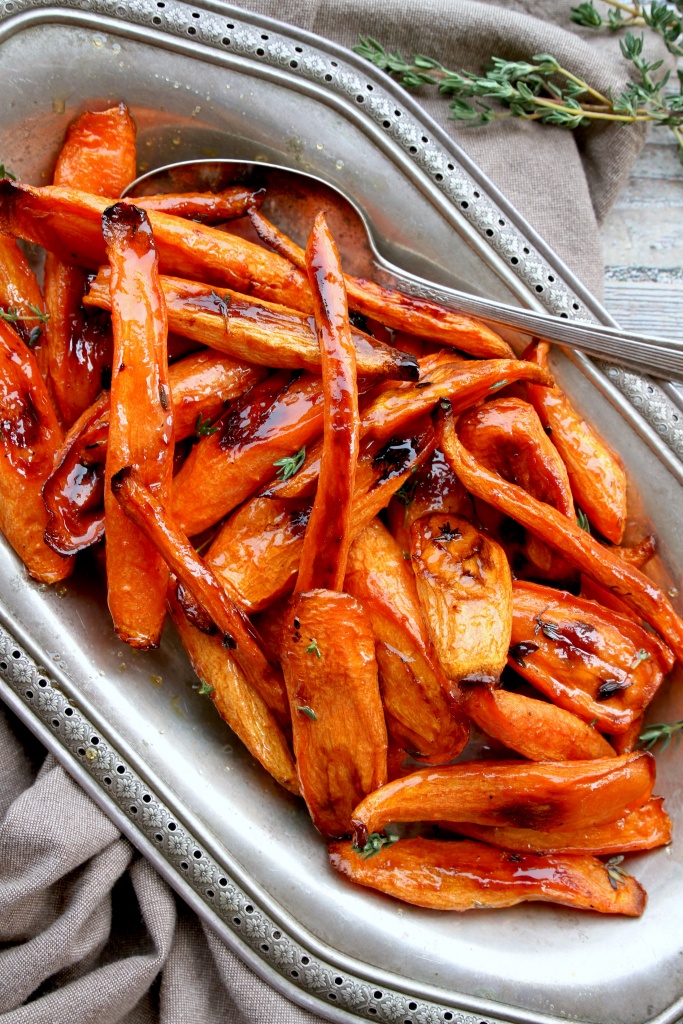 Roasted Carrots with Honey & Thyme are the perfect side dish.
When I think about any type of cooked carrots, I imagine them being sweeter than I want a veggie side dish to be. But these were not. I found them to be quite balanced and simple in flavor, in a really good way.
They're simple to make, too. You just mix 5 ingredients – honey, olive oil, thyme, salt and pepper – in a large bowl and then toss the carrots in the mixture. Then, throw them on a sheet pan and roast. They're mostly hand-off at this point, except for a couple stirs to ensure they cook evenly.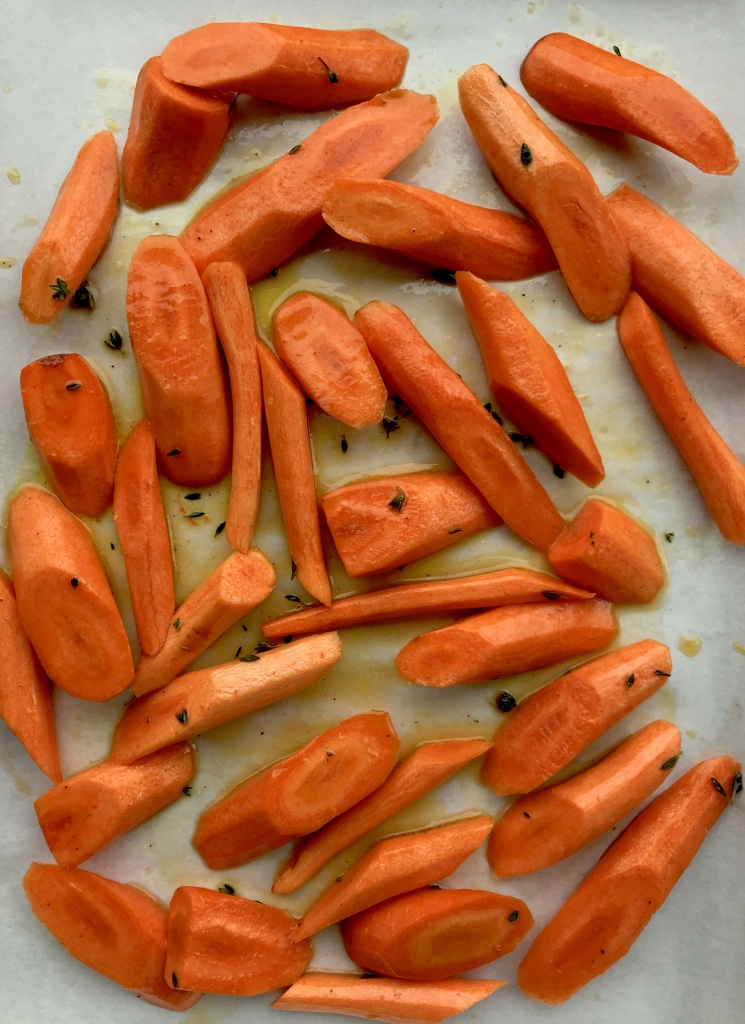 Despite the addition of honey, these are not too sweet. The earthiness of the thyme balances it all out, and when carrots slow roast, the flavor intensifies, and the charred bits add a nice depth and flavor contrast.
Normally my instinct with roasting veggies is to go high with the temp. I almost did that with these carrots but held back; I knew the honey would accelerate the browning process, and I wanted the carrots to be evenly cooked throughout to bring out all their flavor.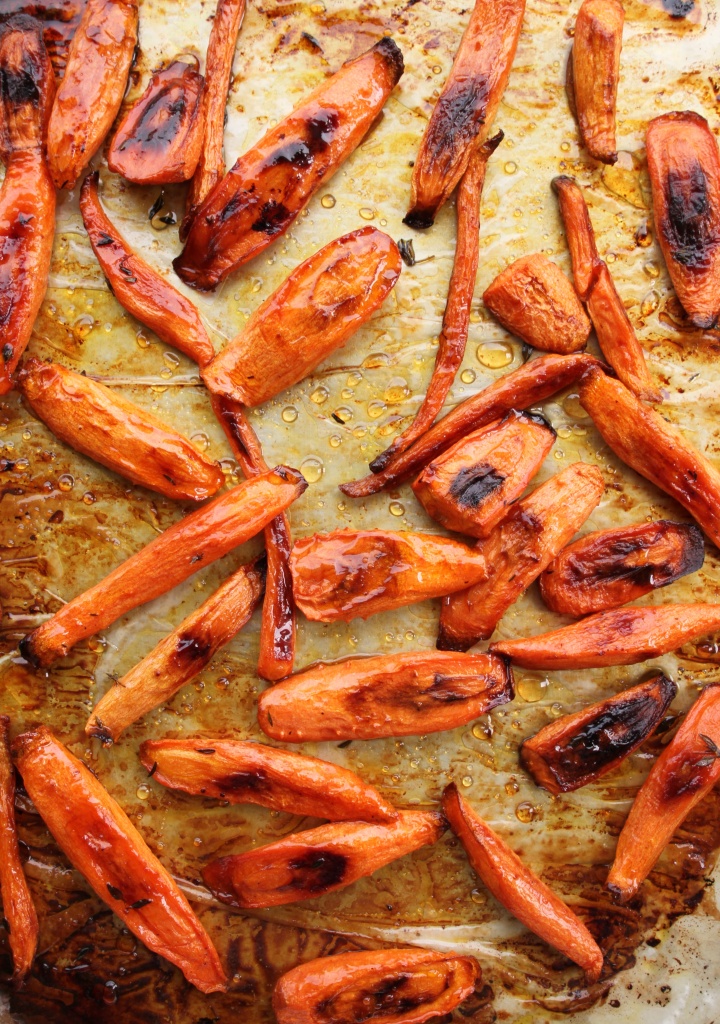 I'm glad I did- I loved how these came out, and I'm calling it: 400°F is the perfect temperature to roast carrots at. You could easily take the template of this recipe and incorporate any flavors you'd like, too. In The Zenbelly Cookbook, I have a carrot dish with cumin and orange, which is one of my favorite flavor combos.
Other ideas: cilantro and lime, lemon and parsley, yogurt and dill, chile pepper and orange… The possibilities are virtually endless. And if you like to play up the sweetness of the carrots, you could go with warm spices and a little brown sugar and walnuts.
I created these roasted carrots with Rosh Hashanah in mind, when we eat sweet foods for a sweet year to come. I don't know about you, but I am ready for a New Year right about now. 2020 / 5780 can fuck all the way off. Bring on 5781!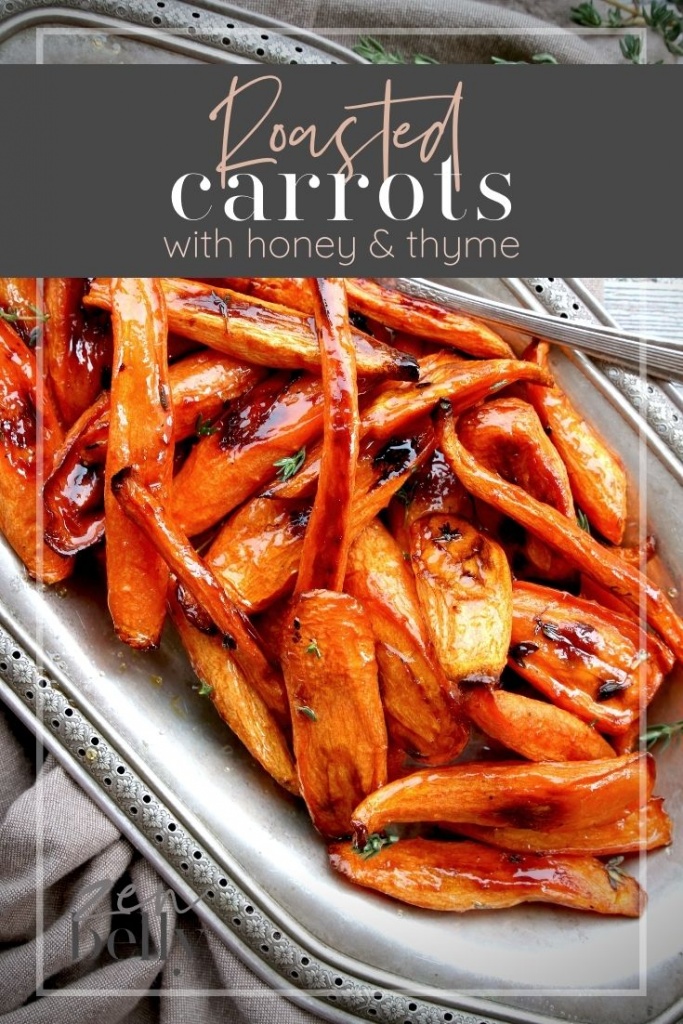 Print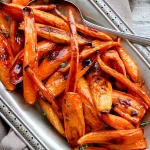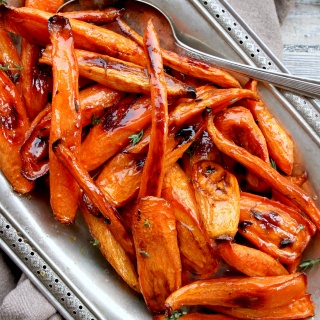 Roasted Carrots with Honey & Thyme
---
2

pounds carrots, peeled or scrubbed

2 tablespoons

extra virgin olive oil

2 tablespoons

honey, plus more for drizzling, optional

1 teaspoon

fresh thyme leaves

1/2 teaspoon

salt
freshly ground black pepper
---
Instructions
Preheat the oven to 400°F.
Cut the carrots into somewhat even chunks, about 1 1/2 inches thick
In a large bowl, mix together the olive oil, honey, thyme, salt, and a few turns of black pepper.
Toss the carrots to coat with the honey mixture and spread onto a rimmed baking sheet.
Roast for about an hour, stirring / flipping 2-3 times. Cook time will vary depending on the thickness of your carrots, so keep an eye on them.
Drizzle with additional honey and sprinkle with a little fresh thyme, if desired.
---
passover
All of the links on zenbelly.com are for information purposes, however some are affiliate links to books, products or services. Any sponsored posts are clearly labelled as being sponsored content. Some ads on this site are served by ad networks and the advertised products are not necessarily recommended by Zenbelly.