I Love Pozole. Capital L love it. This is where I should probably mention that I am not Mexican, nor have I spent time in Mexico learning from chefs who learned from their grandmothers. This recipe is the result of bowls I have tasted, talking to a Mexican friend who makes excellent pozole, and a little research. I applied what I know about building flavor, adapted it for the pressure cooker, and this is what I came up with.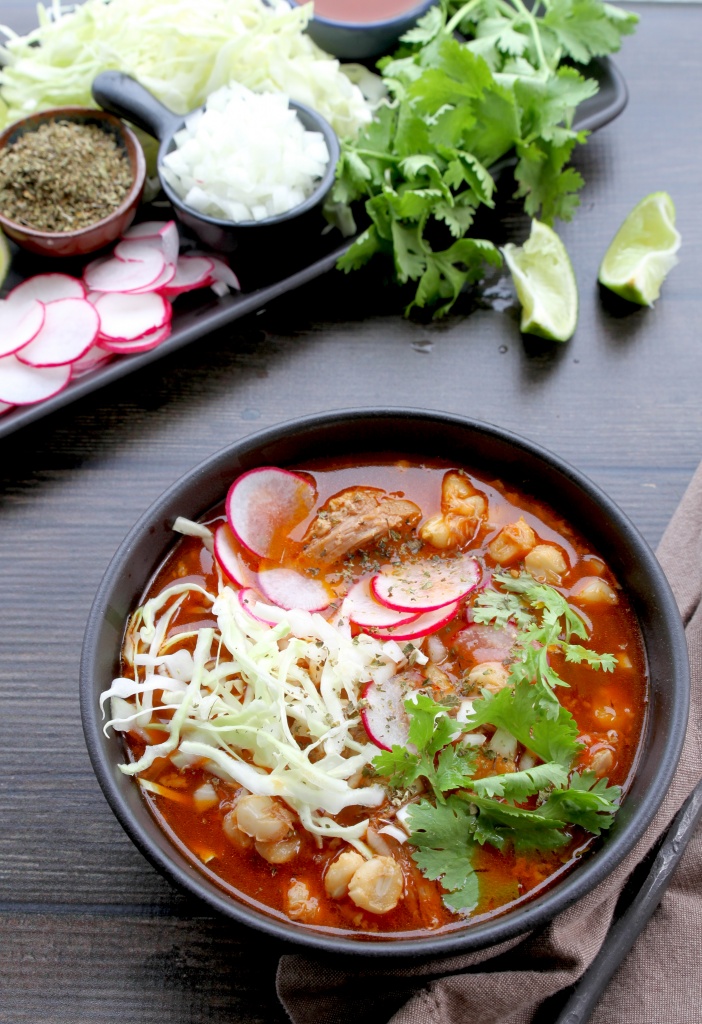 The main components of pozole are hominy, meat, and a chile-spiked broth.
The backbone of the broth is a chile puree, which is made with dried chile peppers and a few ingredients you have in your pantry. Ancho and Guajillo peppers seem to be the peppers that are traditionally used, but we're living in covid times, so mine looked a little different.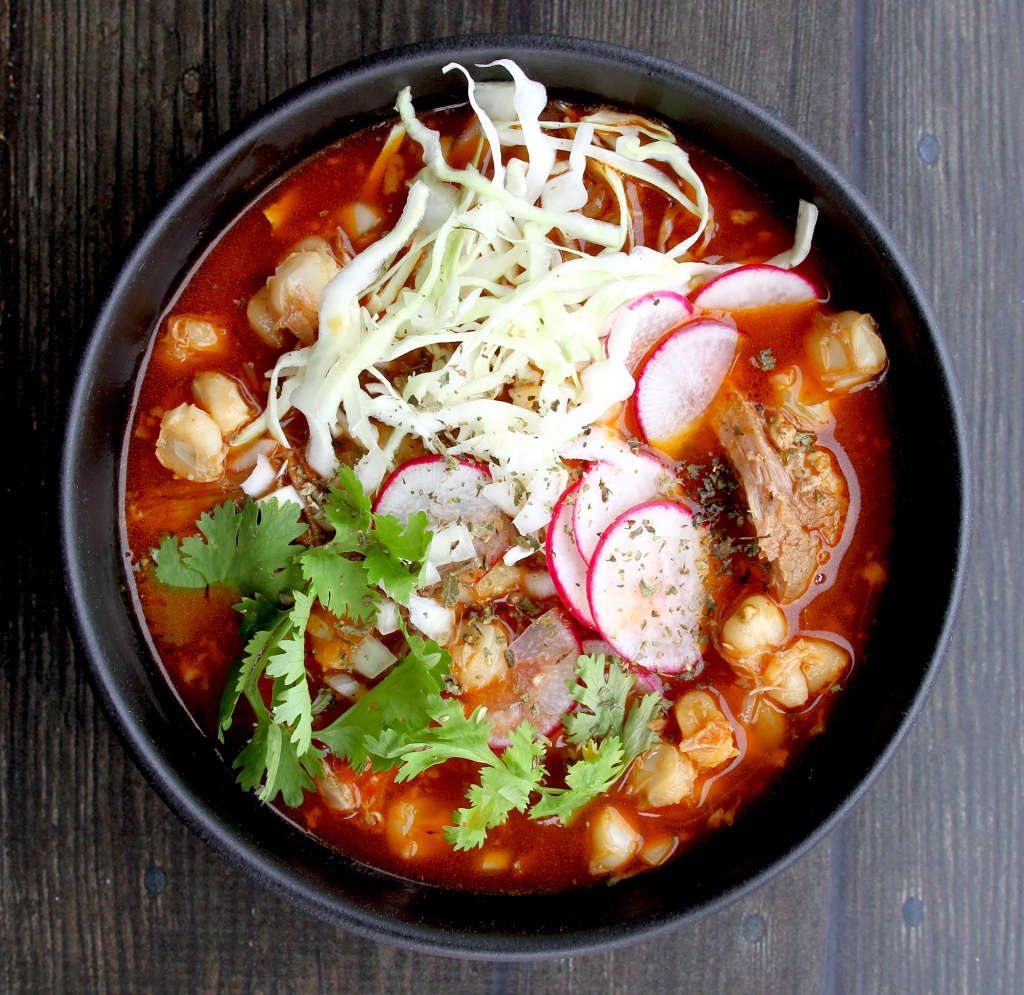 I already had a pork shoulder thawed to make this, and had recently made a huge batch of chicken broth. I was 2/3 of the way to pozole, for the stew part, anyway. For the ingredients I was missing, I placed an Instacart order.
Knowing that ingredient availability is a funny thing these days, I did a little experiment: I ordered every type of dried chile available at the store that had the largest variety. I ordered Chile del Arbol, chipotle, New Mexico, Guajillo, and Anaheim. My shopper was able to find all but the Arbol! Score.
Feeling like I won the lottery (it's the little things these days), I made the decision to make the chile sauce using all the chiles I got. I mean why not? You might have an excellent answer to this, and you might be screaming at your screen right now. But the result was great, so I don't regret it.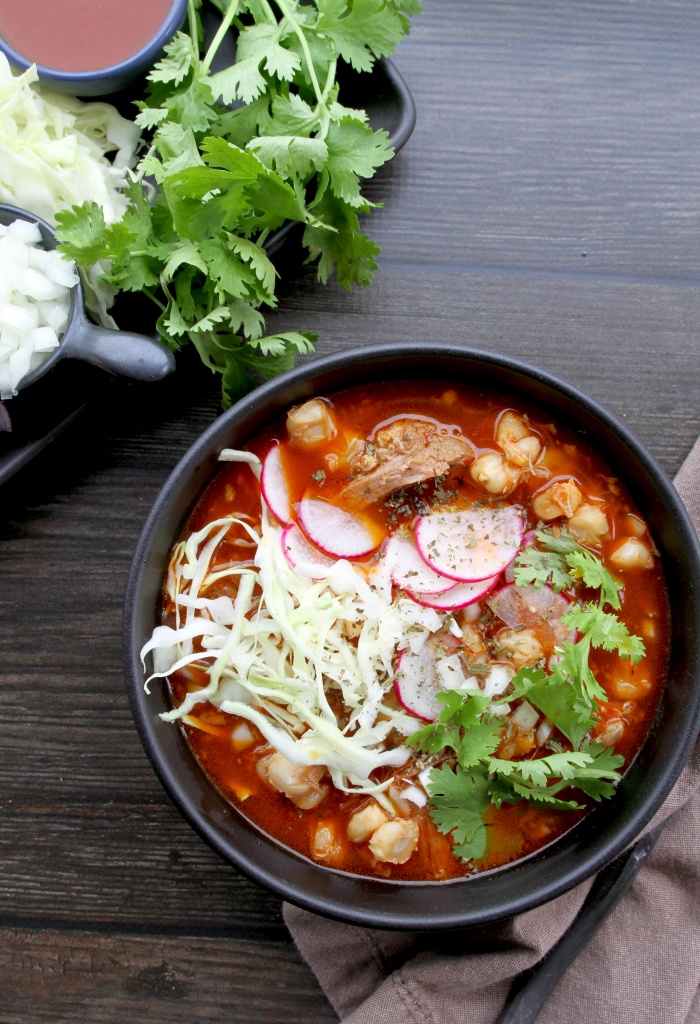 I also wanted to make sure that the chile puree worked with a completely random assortment of chiles. So I can tell you not to stress about finding specific ones. Anything spicy should work!
A note: You will have way more chile puree than you need for this recipe. That's a good thing. I only added 1/2 cup of it when I cooked the pork shoulder in the broth, but added more as it simmered at the end. And I served some at the table for people to add as they desired. I put some in ice cube trays and froze it, so I have little cubes of spicy flavor to throw into anything that needs a little oomph. The rest went into a jar in the fridge, which I will add to things like eggs and chicken marinade, and BBQ sauce, and maybe even dressing for slaw.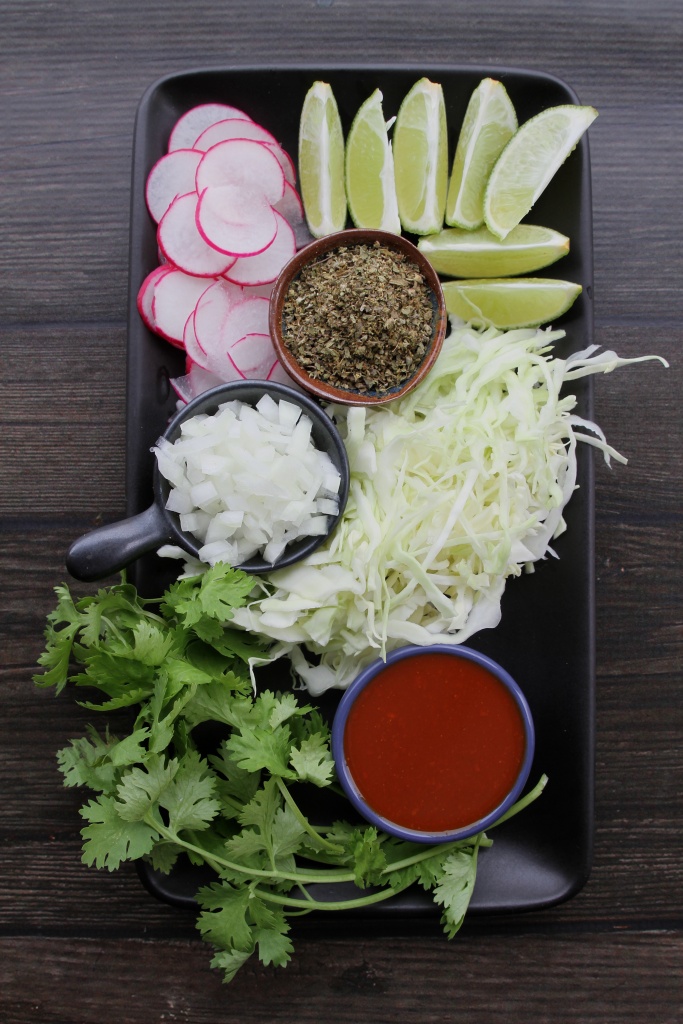 One of the reasons I love pozole so much is all the fun additions you add at the table. The stew itself is complex in flavor, but simple in its ingredients. And then! You add shredded cabbage, thinly sliced radish, oregano, diced onions, lime wedges, and fresh cilantro. Oh and of course extra chile puree for anyone who wants some extra spice.
Here are the steps to make this pozole:
Make the chili sauce / puree: Dried chiles are rehydrated in hot water and then blended with a few simple ingredients. One of them is cocoa powder, which is not necessarily traditional. But one of the recipes I found had Mexican chocolate added to it, and I loved that idea. So I added just a bit, to give it a little bit of depth.
Brown the pork shoulder in the instant pot. If you hate doing this, it can be optional. I think it will add some flavor but there's so much flavor in this stew that you can probably get away with skipping it.
Pressure cook the pork with broth and a little chile puree.
Add hominy and simmer for 10 minutes or so. This is a good time to season with more chile puree.
Serve with lots of fun additions.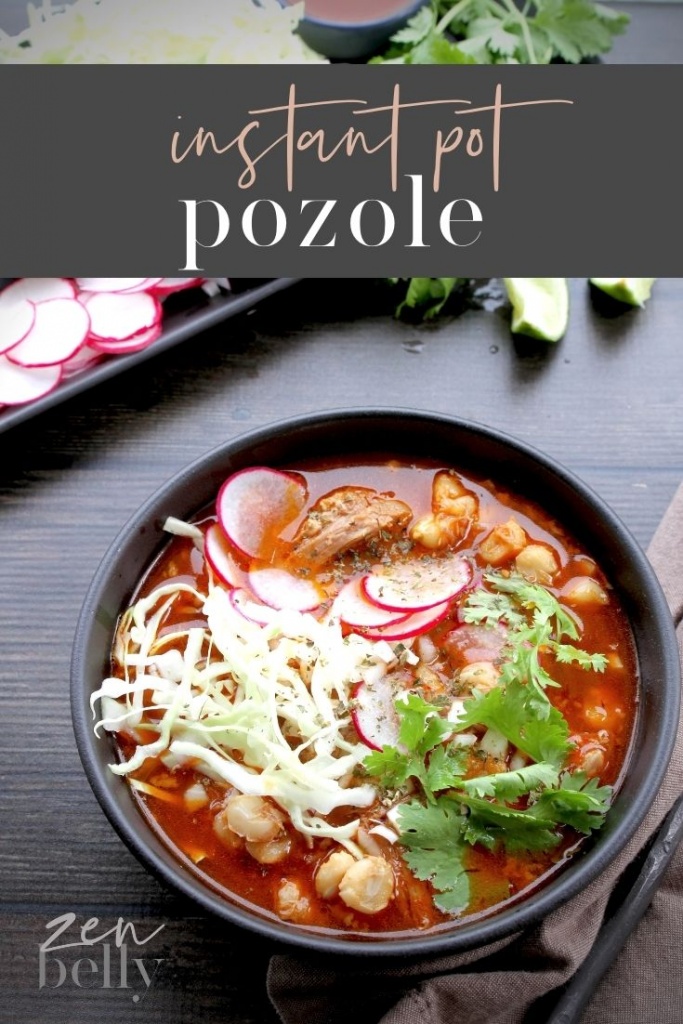 Looking for more easy recipes, meal plans, and shopping lists? My Patreon page is where you want to be!
Print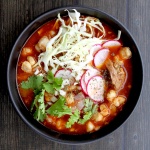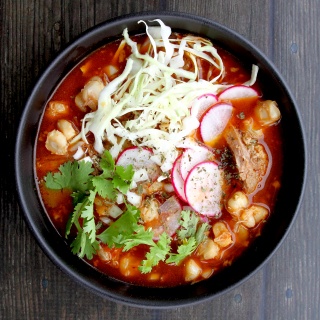 Pozole
Author:

zenbelly

Prep Time:

30 minutes

Cook Time:

90 minutes

Total Time:

2 hours

Yield:

4-6 servings

Category:

soup + stew

Method:

pressure cook

Cuisine:

Mexican
---
For the chile puree:
2 ounces

assorted dried chiles (about

8

–

10

large) – I used a combination of New Mexico, Guajillo, anaheim, and a couple small chipotle (see note)

4

large cloves garlic, peeled

1 tablespoon

cocoa powder

2 teaspoons

ground cumin

1 teaspoon

salt

1/8 teaspoon

ground clove

For the Pozole:
1 tablespoon

avocado oil

3

pounds pork shoulder, excess fat removed and cut into

4

–

5

chunks

3 cups

chicken broth

1/2 cup

chile puree, plus more to taste

1

15 ounce can hominy, drained and rinsed
For serving:
shredded cabbage
sliced radishes
diced onions (soak them in cold water to take out some of their sharpness)
lime wedges
Mexican oregano
extra chile puree
cilantro
---
Instructions
To make the chile puree:
Tear off the tops of the chiles and pour out the seeds. Place in a large bowl and cover with 4 cups of very hot water. Cover with a plate and set aside for 20-30 minutes, until the chiles are soft.
In a blender, puree until very smooth the chiles with the soaking water, garlic, cocoa powder, cumin, salt, and cloves.
To make the pozole:
Turn the instant pot on sauté and adjust to high temp if it's an option. Once the screen reads HOT, add the oil.
Add the pork and sear until well browned on all sides, about 10-15 minutes.
Add the chicken broth and chile puree. Hit cancel and lock on the lid, making sure the seal is in place and the valve is set to sealing.
Cook on high pressure for 60 minutes. After the time is up, hit cancel and turn the valve to venting. (Careful- the steam that releases is very hot)
Once the lid unlocks, add the hominy and turn to sauté. Boil for about 10 minutes, or until it's reduced to your liking. Taste as it cooks and adjust with additional chile puree if desired.
Serve with shredded cabbage, sliced radishes, lime wedges, oregano, and additional chile puree
---
Notes
    I used a combination of all the dried chiles that my Instacart shopper could round up. Since I anticipate availability varying quite a bit throughout the world, I wanted to make sure it worked with a completely random combo of chiles. Traditionally, guajillo and ancho are used.
    You will have more chile puree than you need for this batch of pozole. You can freeze it for the next time you make a batch, or freeze it in ice cube trays to drop into anything that needs a little oomph. And you'll want to serve some with the pozole for people to add as they wish!
   The 1/2 cup of chile puree added to the pozole will not make it spicy. You will probably want to add more after the pozole cooks, so taste and adjust as desired.
All of the links on zenbelly.com are for information purposes, however some are affiliate links to books, products or services. Any sponsored posts are clearly labelled as being sponsored content. Some ads on this site are served by ad networks and the advertised products are not necessarily recommended by Zenbelly.