You know how some people get the 7 year itch with relationships? (and what does that have to do with Earl Grey Peach Cake? I'll get to that)… I get the 7 year itch with careers. And it just so happens that I've been catering and personal cheffing for about 7 years now…
And just like clockwork, I've been feeling the winds of change blow right in my face and mess up my bangs. It's been coming for a while; As much as I love catering, it causes a stress that I feel in my body that does not feel healthy. It has not been an easy decision to step away from feeding people in this way, but it feels like the right choice.
So what's next? Well, over the years I've found myself really loving the recipe development part of this job. I love the challenge of creating things that are seemingly impossible to make paleo, like real pizza crust and perfect cinnamon rolls. That's fun for me. And writing cookbooks. I love that, too.
So my focus for the next 7 years (hah!) is to do just that. Create. I've mentioned in another post that this blog is finally getting the attention it deserves from me. New posts every Saturday, a new cocktail post the first Thursday of every month, and bonus recipes here and there when partner with a brand that needs some recipes created from their product (this goes without saying, but that only will happen when I love the product in question).
So I was thrilled when my friend Jessica from Pique Tea reached out to me to ask if I'd develop some recipes with their tea crystals and seasonal produce. They recently started selling their incredible tea through Good Eggs, and wanted to celebrate with some recipes that featured both their tea and the seasonal produce that's abundant this late summer season.
If shopping on Good Eggs for the first time, make sure to use GOODEGGS15 at checkout. It will get you  for $15 off of your first order!
Why do I love Pique Tea Crystals? I'm glad you asked!
Most importantly, they taste great, and you know I wouldn't even be here telling you about them if that weren't the case. They are super high quality and organic, so that's like two reasons in one. You can read more about their process here.
The other thing I really love about them is (and this is going to sound silly but bear with me) The tea packets are tiny! Seriously, each packet holds the same serving as a traditional tea bag, but takes up about 1/5 of the space. I happened to get my sampler pack of tea crystals when I was reorganizing my entire kitchen to make room for a dishwasher, so this was a very exciting feature to me.
They're super convenient. The tea crystals dissolve in water, no there is no steeping time required, and no need to worry about your cup of tea turning too strong and bitter because you jumped in your car with your travel mug, tea bag and all. They are fat soluble as well, making them so great for baking!
Consistency! This is especially great for cooking and baking. As a recipe writer, I don't need to worry that the tea you're using in your recipe is twice as strong than what I'm using in mine. I know that the packet of tea crystals + amount of water or fat designated will taste the same, every time.
When deciding what to make with Pique Tea Crystals, I couldn't help but think about how wonderfully peaches and bergamot go together, so just had to pair the Earl Grey tea with sweet summer peaches. The Earl Grey infused almond flour cake layered with peaches and topped with an Earl Grey spiked glaze is nothing short of sublime.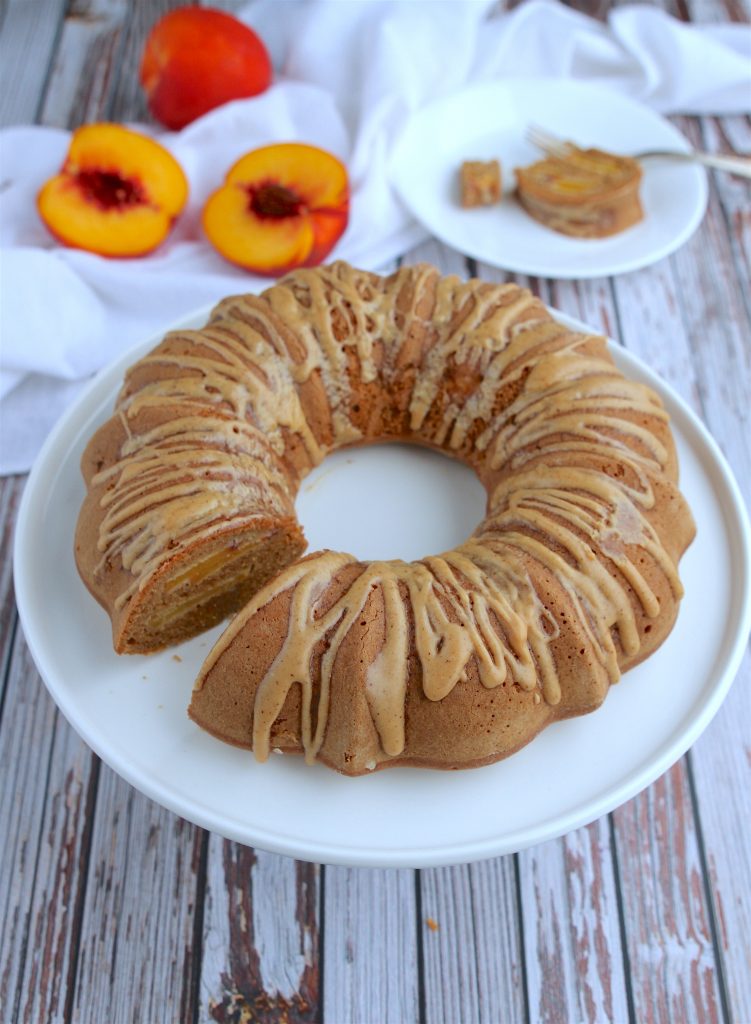 Earl Grey Peach Cake
makes 1 10-inch bundt cake, serves 8-10
¼ cup melted ghee, plus more for greasing the pan*
5 eggs*
1/2 cup coconut sugar
1 teaspoon vanilla extract*
2 packets Pique Earl Grey tea*
1 1/2 cup almond flour*
½ cup arrowroot starch, plus more for greasing the pan
2 tablespoons coconut flour*
½ teaspoon baking soda
1/8 teaspoon salt
2 medium peaches, cut in half and thinly sliced
for the glaze:
¼ cup confectioner's sugar**
1 tablespoon melted ghee
1 packet Pique Earl Grey tea
Preheat the oven to 350ºF. Grease and flour a 10-inch bundt pan with ghee and arrowroot starch.
In a large bowl, whisk to combine the melted ghee, eggs, coconut sugar, vanilla extract, and Earl Grey tea.
Into the bowl, sift the almond flour, arrowroot starch, coconut flour, baking soda, and salt. Stir to combine.
Pour 1/3 of the batter into the prepared pan and layer in ½ of the peaches. Pour in another 1/3 of the batter, the remaining peaches, and then the remaining batter on top.
Bake for 25-30 minutes, or until the top springs back when you lightly press it.
Allow to cool in the pan before inverting onto a plate.
To make the glaze: Mix together the confectioner's sugar, melted ghee and Earl Grey tea. Whisk in a small amount of water at a time until the consistency is smooth and pourable.
Drizzle the glaze atop the cooled cake and allow it to harden a bit before slicing.
*Shop for ingredients on Good Eggs!
**You can find organic cornstarch-free confectioner's sugar on Good Eggs, or in your quality grocery store, but if you'd rather not use cane sugar at all, you can grind coconut sugar to a fine powder with a coffee or spice grinder. Adding a little tapioca or arrowroot helps keep it from clumping.
All of the links on zenbelly.com are for information purposes, however some are affiliate links to books, products or services. Any sponsored posts are clearly labelled as being sponsored content. Some ads on this site are served by ad networks and the advertised products are not necessarily recommended by Zenbelly.