It's Spring! According to the calendar and what I'm seeing on social media, anyway. Living in San Francisco, I've essentially given up on the concept of seasons. They just don't exist here on any kind of level, which is fine by me, after spending many a winter in the Northeast. But for those of you just digging out your flip flops and spending more time in the sun, you're probably looking for more recipes to throw on that grill that has been gathering dust (or snow) for the past 6 months or so. These BBQ Baby Back Ribs are a terrific way to break in your grill for the season.
This recipe is actually made mostly in the oven, where the ribs cook low and slow to give them a chance for the meat to become tender and richly flavored by the rub and cider they cook in. The grill is just to finish them and char the incredibly flavorful sauce on them. So if you're having a backyard BBQ where you're grilling all the things, these won't monopolize your grill grates all day. And if you don't have a grill, or if your backyard is currently torn up to be renovated (our current situation is a sand pit- not inviting), you can finish these under the broiler. But if it's nice out, eat 'em outside. Don't forget the roll of paper towels!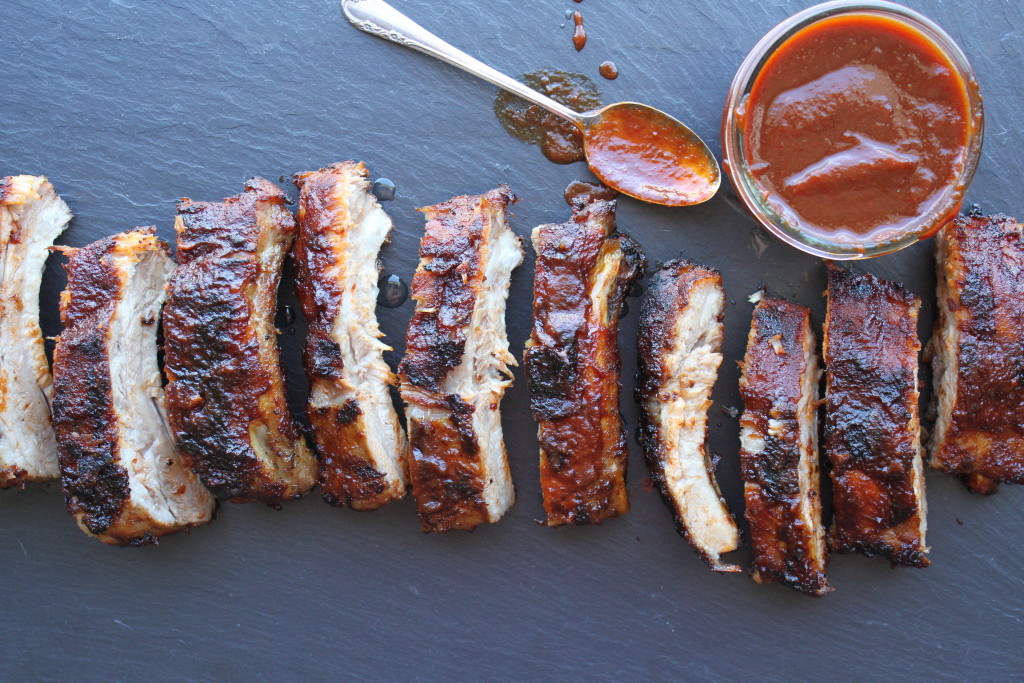 BBQ Baby Back Ribs
prep time: 30 minutes  
cook time: 1:45-2:15 hours  
serves: 4-6 
2 racks baby back pork ribs
½ cup hard cider (or 3 tablespoons apple cider vinegar and enough water or broth to equal 1/2 cup)
Rub:
1 tablespoon salt
1 tablespoon paprika
2 teaspoons coconut sugar
1 teaspoon cumin
1 teaspoon coriander
1 teaspoon smoked paprika
1 teaspoon black pepper
¼ teaspoon ground chipotle
1/8 teaspoon cinnamon
For the sauce:
1 tablespoon lard or coconut oil
½ cup diced shallots
3 cloves garlic, sliced
2 teaspoons rib rub (from above)
1 teaspoon smoked paprika
1 can tomato paste
1 cup brewed coffee
1/3 cup maple syrup
¼ cup coconut aminos
2 teaspoons fish sauce
1 tablespoon Worcestershire sauce
1 tablespoon blackstrap molasses
Preheat the oven to 300ºF.
Combine the rub ingredients in a small bowl, setting aside 2 teaspoons for the sauce. Rub the ribs on both sides with the spice rub and place in a large roasting pan along with the cider. Cover tightly with aluminum foil and roast for 1 ½ – 2 hours.
In a medium sauce pan over medium heat, sauté the shallots in the lard for 3 minutes, or until beginning to soften and turn golden. Add the garlic and sauté one minute more. Mix in the reserved rib rub and smoked paprika, and then add the tomato paste. Cook for a minute or two, stirring constantly.
Add the coffee, maple syrup, coconut aminos, fish sauce, Worcestershire sauce and molasses. Bring to a boil and then turn the heat down to medium-low. Simmer for 20 minutes, stirring occasionally.
Puree the sauce, either with a stick blender or by transferring to a blender, until smooth.
To finish the ribs: Heat your grill to medium-low. Set the ribs on the grill, meaty side down. Coat the exposed side with a layer of sauce. Grill for 4 minutes. Flip, and add another coating of sauce. Grill 4 minutes. Repeat, so that you've grilled both sides twice, and added 2 layers of sauce to each side.
Remove the ribs to a cutting board and allow to rest for 4-5 minutes before cutting between the bones. Serve with additional sauce.
PIN THIS RECIPE: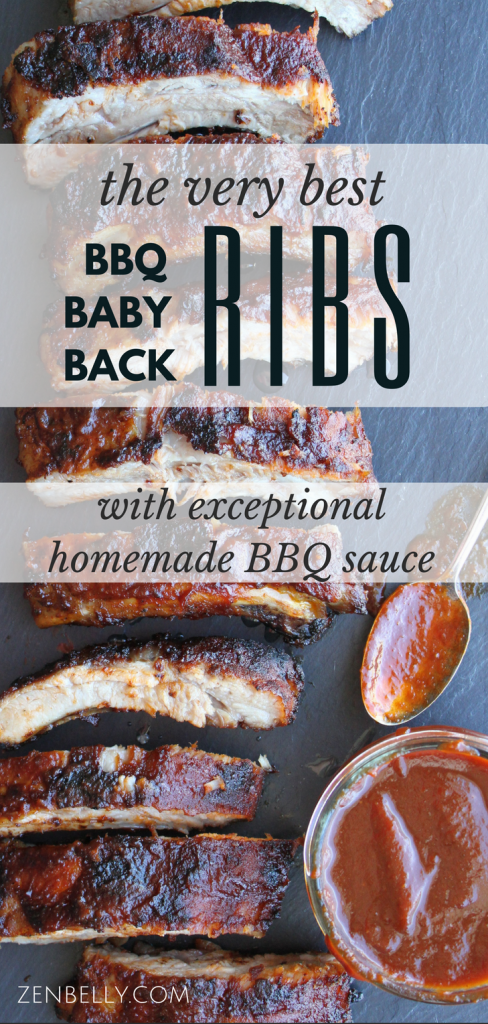 All of the links on zenbelly.com are for information purposes, however some are affiliate links to books, products or services. Any sponsored posts are clearly labelled as being sponsored content. Some ads on this site are served by ad networks and the advertised products are not necessarily recommended by Zenbelly.