Raise your hand if you like chocolate ice cream. Keep it up if you love it but can't have dairy!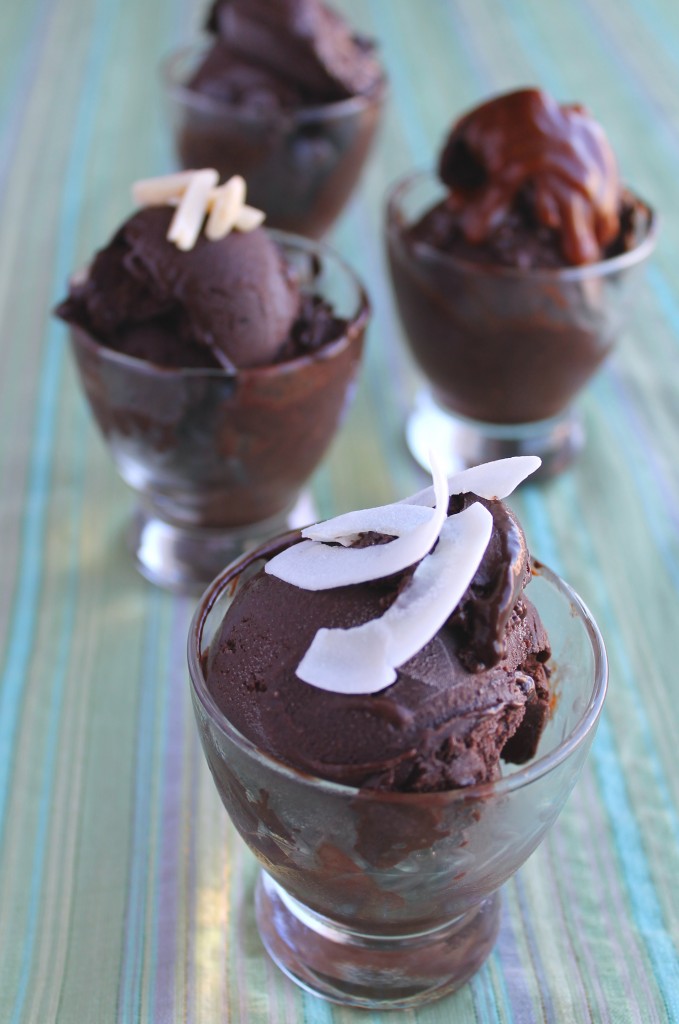 dairy-free bittersweet chocolate ice cream
Okay now keep your hand up if you like to make ice cream every time you want a bowl of it.
Right.
Anyone who has dabbled in the world of dairy-free ice cream has probably felt the elation that comes with tasting ice cream fresh out of the ice cream maker. Super creamy, like soft serve. Yum. And then you put it in the freezer. And then the next day, you suddenly remember that YOU MADE ICE CREAM YESTERDAY. YAY! (You might even proclaim this out loud, if you're anything like me)
And then. You RUN to the kitchen, open the freezer and retrieve the ice cream that isn't yet a day old. And you try to scoop it. But you can't. Because your ice cream has turned into a brick. Womp Womp.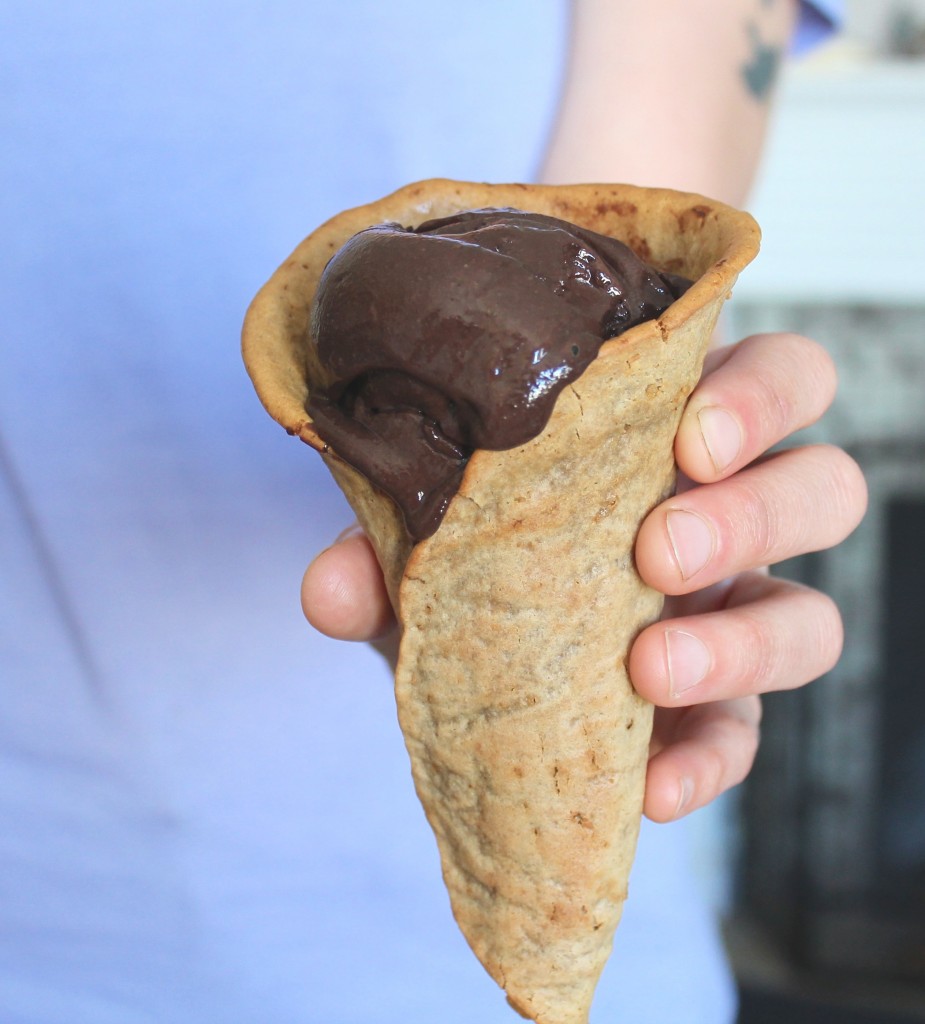 I researched several chocolate ice cream recipes in the process of perfecting this dairy-free treat. Here is what I came up with:
Fat. Ice cream isn't 100% fat. Most recipes include both milk and cream. I have to assume there is a reason for that. Fat helps the ice cream remain creamy, but it also tends to freeze solid, especially when we're talking about coconut. For this reason, I opted to go with cashew milk instead. I didn't go so far as to calculate the fat percentage of coconut milk vs cashew milk. I just went with my intuition on this one. Feel free to experiment with coconut milk for a nut-free option. I will someday, but am already obsessing about something else.
Booze. It's the magic ingredient. It doesn't freeze, which means it keeps ice cream from freezing solid, helping to maintain the creamy texture we all know and love.
Eggs. I know there will be some questions about an egg-free version of this recipe. I do not have one. There are, however, vegan ice cream recipes that you could try if eggs are an issue. I was going for a frozen custard, here, so eggs were a must.
And you'll need an ice cream maker; Cuisinart makes some good ones.
If you're actually reading this, I'm sincerely impressed. The last thing I'll add is that this ice cream is crazy rich. I can do some damage to a pint of ice cream, but find myself eating tiny scoops of this in tiny cups. A little bit goes a long way.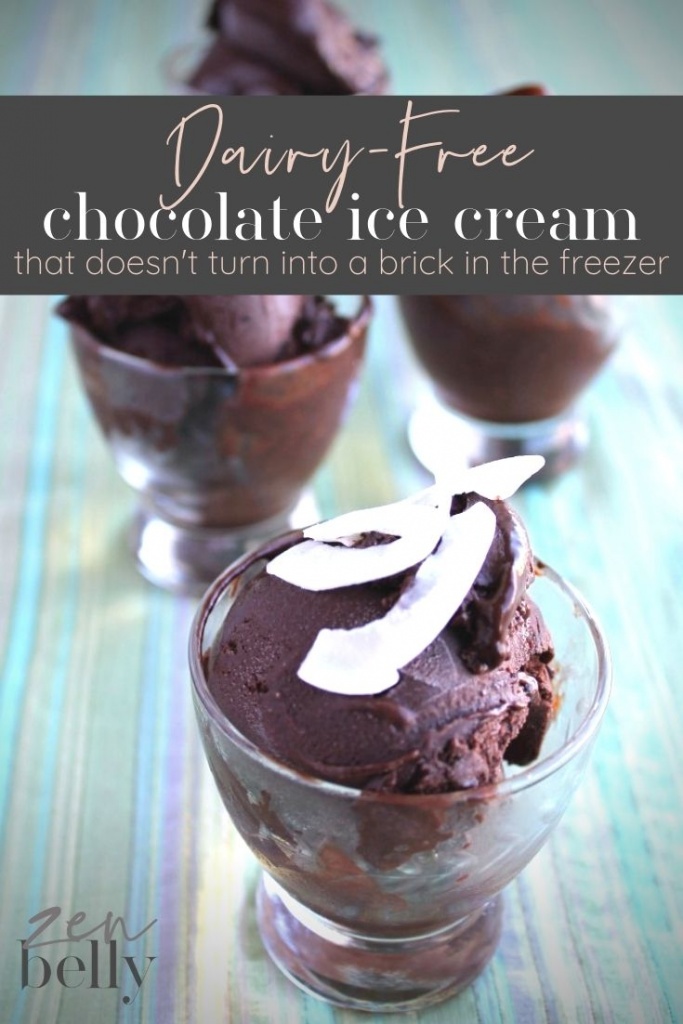 Print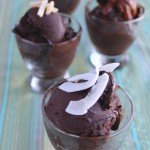 dairy-free bittersweet chocolate ice cream
Author:

zenbelly

Prep Time:

30 minutes

Cook Time:

10-15 minutes, plus time to chill + freeze

Total Time:

45 minutes, plus time to chill + freeze

Yield:

1 quart

Category:

dessert
---
Description
creamy (yes, really!) dairy-free chocolate ice cream
---
1 cup raw cashews

2 cups

filtered water

1 ¼

 cups coconut sugar

10

egg yolks (preferably pastured eggs)

¼

t salt

¾

C cacao powder

2

T cognac

1

T +

1

t vanilla extract
---
Instructions
Soak the cashews in 2 cups of filtered water for 30 minutes, then blend for one minute, or until very smooth.
Meanwhile, whisk the egg yolks, salt, and coconut sugar until the sugar is dissolved and the mixture is creamy.
After blending the cashew milk, transfer to a medium sauce pan and add the cacao powder, whisk to combine and heat over medium-low heat or until steaming. Stir constantly to keep it from sticking to the bottom of the pan.
Pour one ladle (about 4 ounces) of the steaming milk mixture into the egg yolk mixture. Stir, and then slowly pour the warmed yolks into the pan.
Heat over low heat for 2-3 minutes, or until thickened. Once it is the consistency of warm pudding, pour the custard into a clean bowl set inside an ice bath.
Stir until cool and then add the cognac and vanilla extract.
At this point, you can either continue to cool the custard in the fridge for several hours or until very cold. OR you can be impatient like me, and continue to stir it in the ice bath until it's very cold.
Transfer to an ice cream maker and process according to the manufacturer's instructions.
---
Keywords: dairy-free chocolate ice cream
All of the links on zenbelly.com are for information purposes, however some are affiliate links to books, products or services. Any sponsored posts are clearly labelled as being sponsored content. Some ads on this site are served by ad networks and the advertised products are not necessarily recommended by Zenbelly.