For the past week (er, month, okay 2 years), I've been slightly (read: extremely) anxious about the midterm elections. The days leading up to November 6th, I found myself doing a lot of pacing around the house and stress baking. And stress eating, of course.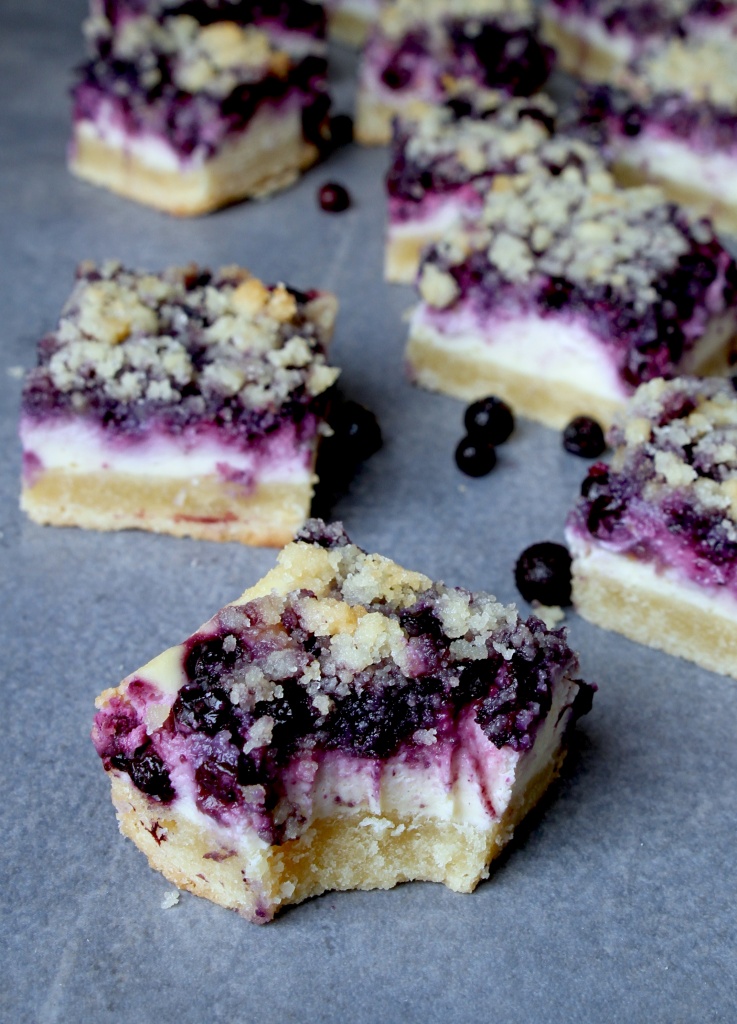 Blueberry Cheesecake Bars
On a more productive level, I've been writing postcards to voters, texting voters, calling voters, and knocking on their doors.
I have never done anything like this before. I've never done more than vote in elections in the past, and I'm sure I missed a midterm or two. But this year was different. It felt good knowing how many people were fired up, and doing so much more than they usually did.
I knew a couple of people would be joining us at the house to watch the results, so I wanted to make something blue for us to eat. Blueberries might cook up more purple than blue, but they still seem like the best option. After all, Kool-Aid isn't our drink of choice 😉
(Mad that I'm referencing politics on my food blog? Aw. There is nothing more political than food, so it's bound to happen once in a while. Please read more about that here)
When I made these the first time, I used the crust recipe from my Blueberry Lemon Tart but used sugar instead of honey. The rest was somewhat thrown together without measuring or recipe following. That means that I had to make them again to record what I did.
Darn.
Note: The baked goods I've been creating for the 8 years for this blog have been paleo-friendly, but I went off the rails with this one. I wasn't intending to share the recipe here when I made them, but they turned out so great that I wanted to make them again to share. Plus, when the I asked the crew on Instagram if they wanted me to share the recipe, it was almost unanimous.
See? The people have spoken.
Here's the thing: The recipe is the recipe. It is the one way I've made it, and the one way I can guarantee the best results. If you want to sub one ingredient for another, go for it, but I cannot tell you whether or not it will work without testing it myself. And I'm not doing that unless I'm getting hired to do so (which is also an option!) Cool? Cool.
Print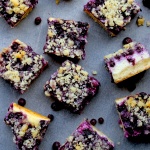 Blueberry Cheesecake Bars
Author:

Simone Miller

Prep Time:

20 minutes

Cook Time:

40 minutes

Total Time:

60 minutes

Yield:

16 squares

Category:

Dessert
---
for the shortbread crust:
1

large egg

2 tablespoons

sugar

2 tablespoons

butter, (melted)

1 1/2 cups

almond flour

1/2 cup

arrowroot flour

1 tablespoon

coconut flour

1/4 teaspoon

finely ground sea salt
for the cheesecake layer:
1

8 ounce package cream cheese, (softened)

1

egg

1 tablespoon

arrowroot flour

1 teaspoon

vanilla

3 tablespoons

sugar

1 1/2 cups

fresh or frozen (but not thawed) blueberries ((I used wild blueberries))
for the topping
1/2 cup

almond flour

1 tablespoon

butter, (melted)

2 tablespoons

sugar
---
Instructions
Preheat the oven to 350ºF and line a greased 9×9 inch baking dish with parchment paper. Lightly grease the parchment. (see photos below)
To make the shortbread crust:
In the bowl of your stand mixer or large bowl if using hand beaters: beat the egg, melted butter, and sugar until well combined. Add the almond flour, arrowroot flour, coconut flour, and sea salt and mix on low until mostly combined and then turn it up to medium-high until it forms a dough.
Press the dough into the bottom of the prepared pan. Bake for 12-14 minutes, or until it is dry to the touch.
Wipe out the bowl you were using.
To make the filling:
In the same large bowl, beat the cream cheese, egg, arrowroot flour, vanilla and sugar on low until it is mostly combined, and then turn up to high and beat until it is completely smooth. Scrape down the sides as needed.
Pour onto the par-baked crust and smooth out. An offset spatula comes in handy here.
Sprinkle on the blueberries, and then the topping.
Return the baking dish to the oven, and bake for 350ºF for 30 minutes, or until the topping is golden brown and the center is just set.
Allow to cool completely before cutting. Place on a rack at room temperature for about an hour before transferring to the fridge to finish cooling.
To make the topping:
Combine the almond flour, butter, and sugar in a small bowl and stir to combine. It should be the consistency of wet sand.
---

All of the links on zenbelly.com are for information purposes, however some are affiliate links to books, products or services. Any sponsored posts are clearly labelled as being sponsored content. Some ads on this site are served by ad networks and the advertised products are not necessarily recommended by Zenbelly.