Several years ago, some family friends went to a restaurant owned by a celebrity chef who's name won't be mentioned in this post. When they were disappointed that the meatballs were sold out that evening, the chef in question came out from the kitchen and hand wrote the recipe for them. The family friends then made me a copy of this handwritten recipe, knowing I'd want to get my hands on it. I was delighted.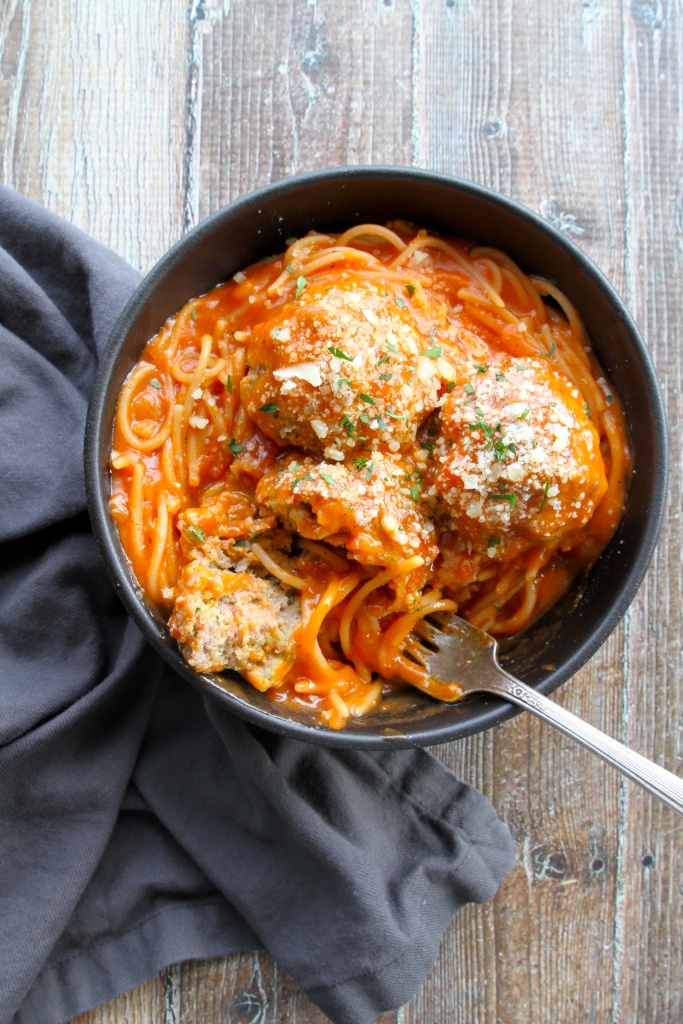 The Best Gluten-Free Meatballs were only a couple of substitutions away.
I made the meatballs almost exactly as written. I used gluten-free breadcrumbs instead of panko, and used beef instead of veal. Other than that, I stuck to it. They were the best meatballs I had ever eaten, and from that day forward, are the only meatballs I've made. I always wanted to share the recipe with you all, but didn't feel like I had changed it enough to publish it here and call it my own.
And then when the #metoo movement happened, this particular celebrity chef was outed as one of the worst. I believe it was Anthony Bourdain that I heard it from first. "It's ___, and it's bad", he tweeted. The allegations that came out after that were horrifying, and any respect I had for this particular chef was gone in an instant. He is a vile human. His email "apology" was insulting, and included a link to his recipe for fucking cinnamon rolls. VILE.
But the meatballs… the meatballs are good. I still make them, and am glad that having this recipe never resulted in him getting a dime from me. And now that IDGAF about sharing a recipe of his that isn't "mine" enough, I'm sharing these meatballs with you.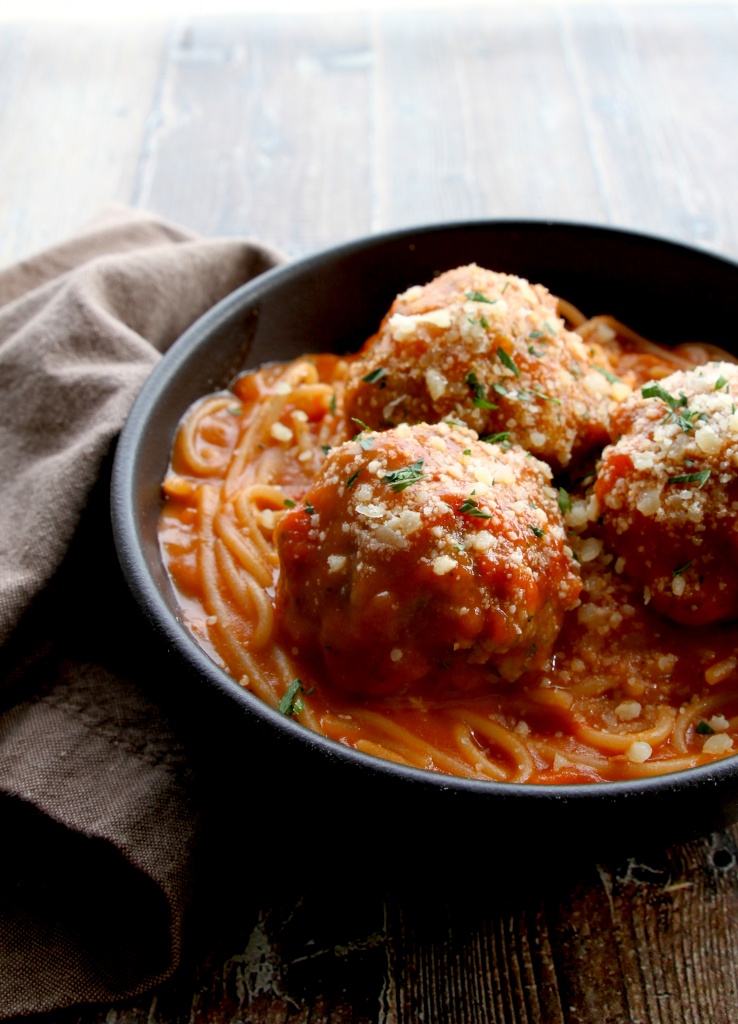 Binders? Fillers? Can't you just roll meat into balls and call them meatballs?
I discussed this on Instagram (where you should be for all the good stuff) but if you missed it: The ingredients in meatballs aside from the meat aren't necessarily there to keep the meatballs from falling apart. Meat rolled into balls and cooked will more of less hold together. Meat rolled into balls and cooked will also be somewhat bouncy, chewy. That is not what you want in a meatball. You want it to be tender, light, and flavorful. Nobody wants bouncy balls of meat.
In this recipe, some of those non-meat ingredients are dairy and rice crumbs, which are not paleo. That's why the recipe is called The Best Gluten-Free Meatballs, not The Best Paleo Meatballs.
As always, I don't know how this recipe will turn out if you substitute ingredients that aren't listed. I've made them with gluten-free breadcrumbs many times and they've come out great. If you try them with pork panko or anything else, please report back in the comments!
Shaking your fist at me because this recipe contains dairy and grains? That's cool, I'm rolling my eyes at you for having an issue with a free recipe on the internet, so we're even 😉 Anyway, I have a bunch of ground beef recipes that don't contain either of those things, so you can make those instead.
Oh one more thing: these are incredible made bite-sized and served as a passed appetizer at your holiday party, with a cup of warm marinara on the side for dipping.
Wondering what wine to serve with this? I like how you think. I'd go with a lighter red like Che Fico Nero di Trioa or if you like a bolder wine, my current favorite is the Hushkeeper Cabernet Sauvignon.
Print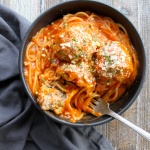 The Best Gluten-free Meatballs
Author:

Simone Miller

Prep Time:

20 minutes

Cook Time:

20 minutes

Total Time:

40 minutes

Yield:

6 servings

Category:

Main Course

Cuisine:

Italian
---
1 cup

Trader Joe's gluten-free rice crumbs

1/2 cup

heavy cream or

half an

d half

3

eggs

1/2 cup

grated parmesan cheese

1/4 teaspoon

grated nutmeg

1/4 cup

fresh minced parsley

2 teaspoons

salt

1

pound ground beef

1

pound mild pork sausage, (removed from its casing)
---
Instructions
Preheat the oven to 350ºF.
In a large bowl, whisk together the rice crumbs, cream, eggs, parmesan cheese, nutmeg, parsley, and salt. Using your hands, mix in the ground beef and sausage until it's just incorporated and uniform. Over squeezing / over mixing can result in chewy meatballs.
Using wet hands, roll the mixture into 20-24 balls, placing them on a rimmed baking sheet as you make them. Bake for 20-25 minutes, or until cooked through.
---
All of the links on zenbelly.com are for information purposes, however some are affiliate links to books, products or services. Any sponsored posts are clearly labelled as being sponsored content. Some ads on this site are served by ad networks and the advertised products are not necessarily recommended by Zenbelly.