Great news everyone! My Annual Pumpkin Recipe has arrived, and it is Pumpkin Spice Cupcakes. Huzzah. If you've been following this blog for a while, you know that I don't get as excited about pumpkin as some people do; I'm much more of a berry / stone fruit / apple / pear enthusiast. For some reason the squashes just don't do it for me.
And yet! I am very excited about these pumpkin spice cupcakes with cream cheese frosting.
Even though I don't jump on the #PumpkinAllTheThings train, I can appreciate getting in the fall spirit for a recipe or two. It's like a tradition: Each year, I lament over the fact that summer produce is coming to an end, and then roll my eyes at every freaking thing having pumpkin spice added to it. (Cheerios? SPAM?) And then I stop being whatever the fall version of bah humbug is and buy some cans of pumpkin puree and get in the kitchen.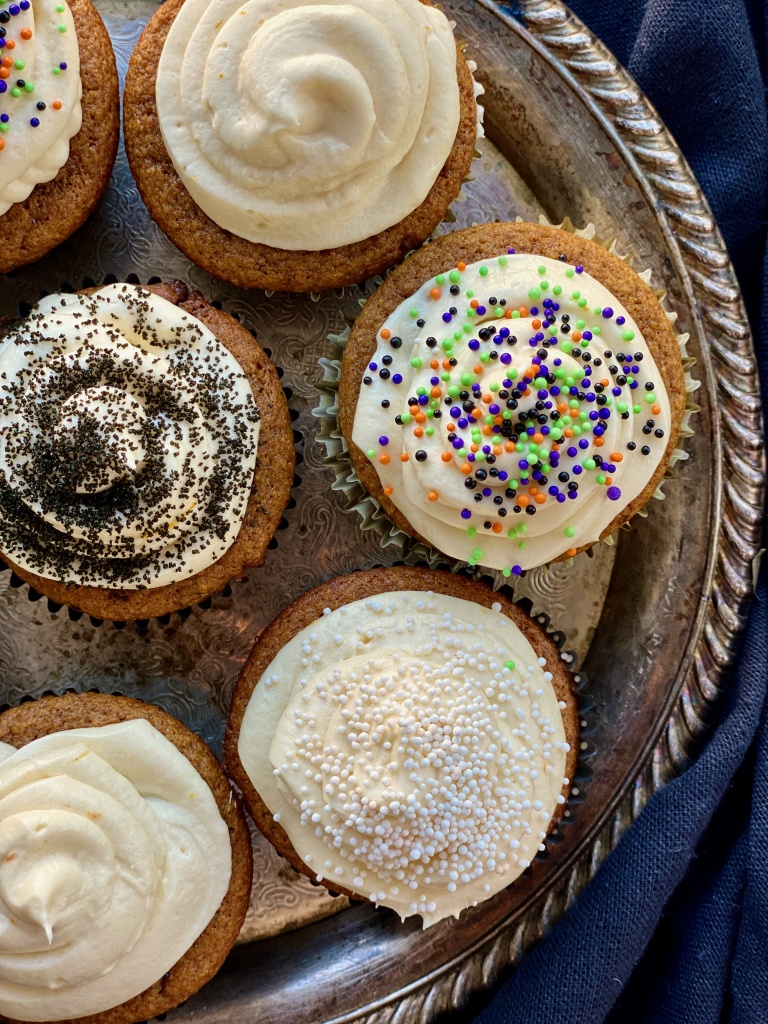 I don't even remember what inspired me to make pumpkin spice cupcakes this year, but once I got the idea in my head, I was sort of obsessed. And unlike some of my other pumpkin recipes, this one didn't take me a dozen tries to get right.
The first batch was not sweet enough, they were more like a savory muffin. After adjusting the sugar and trying them again, they were not too sweet, but could definitely be called a cupcake, especially once topped with frosting. Although… Technically, they're muffins until you frost them, right? Which makes them breakfast.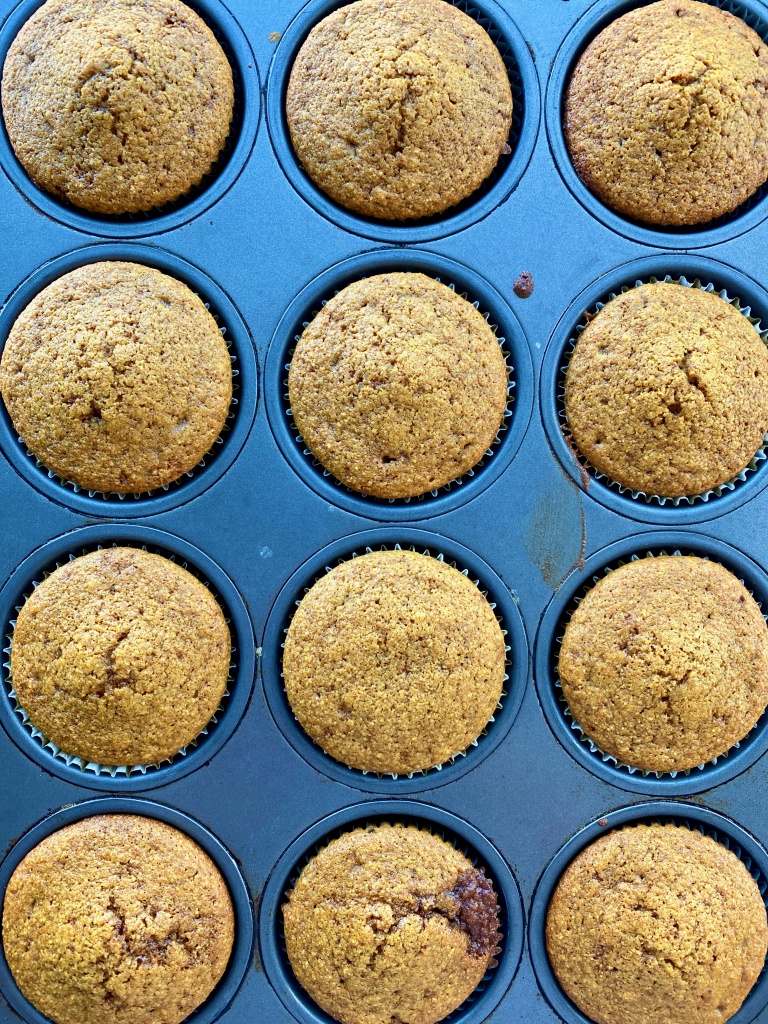 Don't come at me telling me to buy pumpkins and process them into puree, either. That's going way too far, but you are more than welcome to go that route if it's the type of effort you'd like to make for the almighty pumpkin. I am very much fine with the canned option, thank you very much.
These are already gluten-free and grain-free and can easily be made dairy-free as well. Just sub the butter for dairy-free butter (shortening might work too, but I haven't tried it) and make my dairy-free cream cheese frosting to top them with!
Feel like walking down the memory lane of my Annual Pumpkin recipes? Here's what I've come up with over the years:
Welp, I guess I haven't exactly kept up with the pumpkin recipe a year thing, considering I've had this blog for closer to 10 years than 5! Nobody's perfect. Maybe I'll make up for it this year, since I'm far more in the Halloween spirit than I usually am. I even bought all sorts of spooooky supplies for the occasion!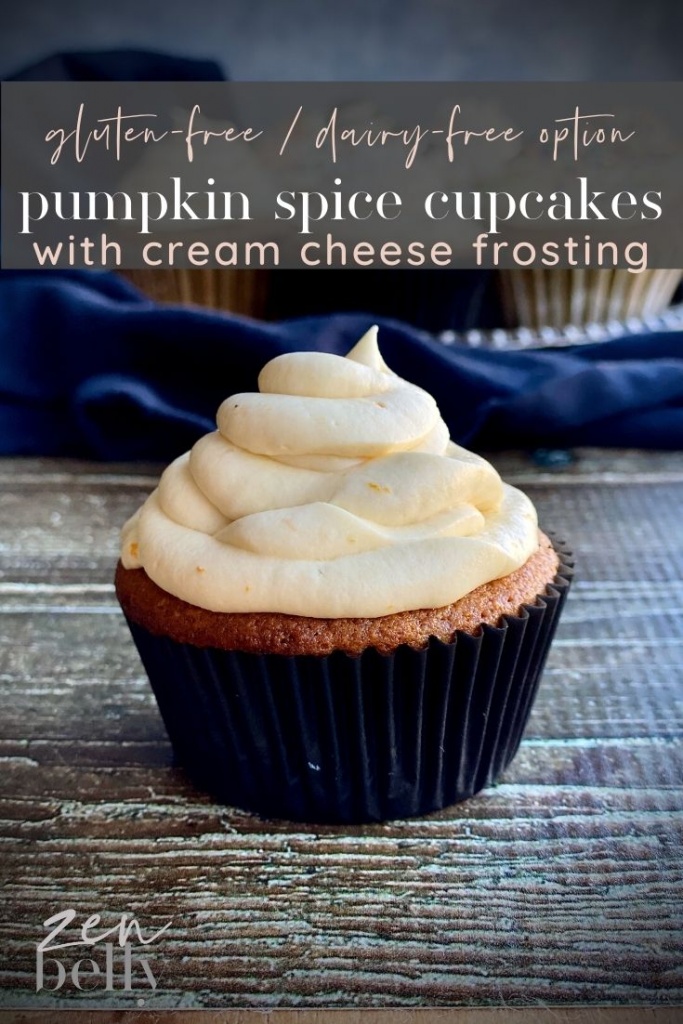 Print
Pumpkin Spice Cupcakes with Cream Cheese Frosting (gluten-free, grain-free)
Author:

zenbelly

Prep Time:

30 minutes

Cook Time:

16-20 minutes

Total Time:

50 minutes

Yield:

12 cupcakes

Category:

dessert

Method:

bake
---
1 1/2 cups

almond flour

1/2 cup

tapioca starch

1 tablespoon

pumpkin spice (see below)

1 teaspoon

baking powder

1/4 teaspoon

baking soda

1/2 teaspoon

turmeric (optional, for color)

1/4 teaspoon

salt

1/2 cup

butter or dairy-free butter, softened ⑴

1 cup

coconut sugar

4

eggs, at room temperature ⑵

1/2 cup

pumpkin puree

1 teaspoon

vanilla extract
for the cream cheese frosting: 
1

8-oz packages cream cheese, room temp 

8 oz

butter (

2

sticks /16  tablespoons), softened ⑴

2

–

3

cups powdered sugar, sifted ⑶

1 teaspoon

finely grated orange zest
for the pumpkin spice – if you're making your own – blend the following and store in a jar:
2 tablespoons

cinnamon

2 teaspoons

ground ginger

1 teaspoon

allspice

1 teaspoon

nutmeg

1 teaspoon

cardamom
---
Instructions
Preheat the oven to 350ºF and line a muffin tin with liners.
In a medium bowl, whisk together the almond flour, tapioca starch, pumpkin spice, baking powder, baking soda and salt. Set aside.
In a stand mixer or large bowl if using hand beaters, beat the butter and sugar until lighter in color and fluffy, several minutes and you'll have to scrape down the sides of the bowl a few times.
Add the eggs one at a time, beating well after each one. Then add the pumpkin and vanilla and beat until well incorporated. It might look a little speckled, don't worry about it.
Add the dry ingredients and mix until just combined.
Divide among the muffin tin and bake for 16-20 minutes, or until they spring back when gently poked. Allow to cool completely before frosting. (Mine took exactly 18 minutes each time but ovens vary) 
to make the frosting:
Beat the cream cheese and butter until smooth.
Gradually add the powdered sugar, mixing on low until there is no more dry sugar visible. Add the orange zest and beat until smooth and fluffy.
---
Notes
⑴ If your butter is cold and you don't want to wait for it to soften: Place it between two sheets of parchment paper and whack the crap out of it with a rolling pin or meat pounder. It will soften right up, and you'll get to work out some rage. 
⑵ If your eggs are cold, just place them in a bowl with warm water for 15 minutes, while you gather the rest of your ingredients.
⑶ You'll get more of a frosting consistency if you add the full 3 cups, but it will be sweet – possibly sweeter than you're accustomed to if you're used to paleo baked goods. It will still be sweet, and frosting-like close to 2 cups, so go with what tastes best to you. 
Keywords: pumpkin spice cupcakes
pumpkin cupcakes gluten-free pumpkin cupcakes paleo pumpkin cupcakes pumpkin spice recipe zenbelly cupcakes
All of the links on zenbelly.com are for information purposes, however some are affiliate links to books, products or services. Any sponsored posts are clearly labelled as being sponsored content. Some ads on this site are served by ad networks and the advertised products are not necessarily recommended by Zenbelly.